In this post, I compile all the recipes that I had about Watermelon Rind. I usually cut the red flesh from Watermelon to serve but keep the rind for making another dish or boil to make a drink. DO NOT WASTE as it has many health benefits.
Benefits of Consuming Watermelon Rind:
1. It breakdowns kidney stones
The potassium in watermelon rind is essential ingredient for healthy kidneys as it helps to regulate and maintain acid level in kidneys. Water content of watermelon rind helps to flush out any stones that may be linking in kidneys.
2. Helps in weight loss
Citrulline present in it can aid weight loss and fiber found in rind can help you feel fuller for longer period of time.
3. It has anti-inflammatory properties
The lycopene found in watermelon rind may be able to help reduce the inflammation responsible for arthritis pain.
Watermelon rind is good source of beta carotene. Its also good for your eyes.
4. It can treat urinary tract infections
The hydrating and diuretic properties of watermelon rind means that it's highly effective at treating urinary infections. Therefore at the first sign of a UTI, you should start drinking watermelon rind juice.
5. It helps in reducing pregnancy symptoms
Pregnant women can consume watermelon rind to reduce heart burn and any swelling associated with pregnancy. Natural sugars present in the rind can even help reduce morning sickness.
6. It helps in regulating blood pressure
Due to its water content, consuming watermelon rind can help lower blood pressure. Furthermore, if you happen to suffer from low blood pressure, consuming watermelon rind will regulate your blood circulation and normalise your blood pressure.
7. Economically Smart
Using every single part of watermelon does not just benefit your health, it also benefits your wallet.
---
Watermelon Rind Recipes
Pork Rib Watermelon Red Dates Soup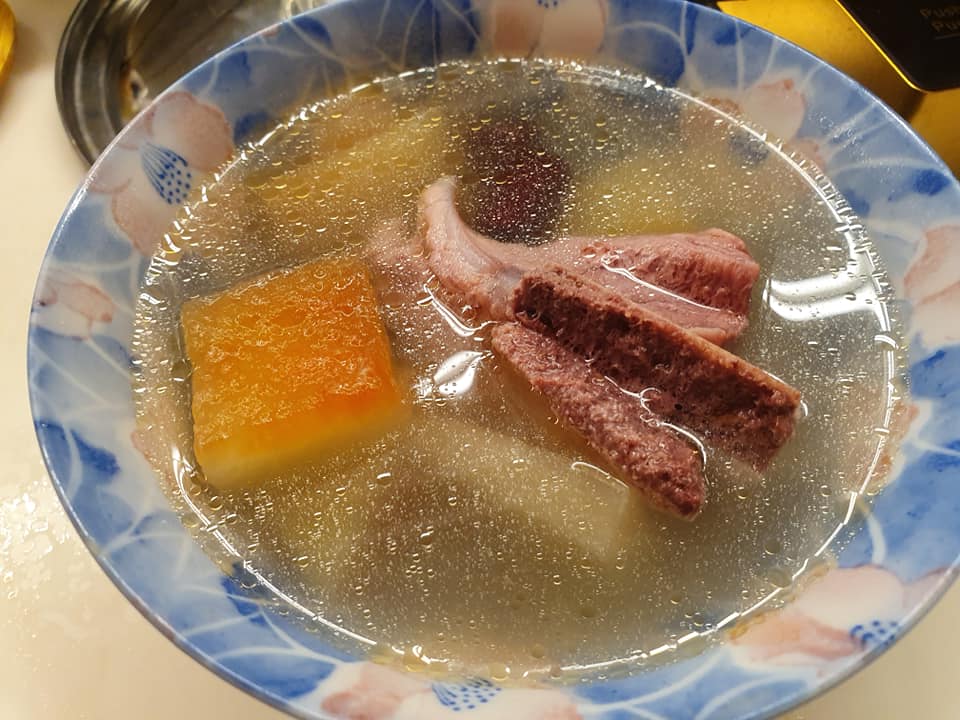 For making this Pork Rib Watermelon Red Dates soup, I boiled 500g Pork Ribs, 300g Watermelon White part from the Rind and 8 Red Dates in 1.5 Liter water till rapidly boiling. After that, lower down the heat and continue simmering for 45 mins.

Lastly, add in some Himalayan Pink Salt to taste. Off fire and serve hot.

(Read original post: Lunch: "3 Kinds Rice" Watermelon Soup and Teppanyaki Pork)
---
Watermelon, Celery & Cherry Tomatoes Soup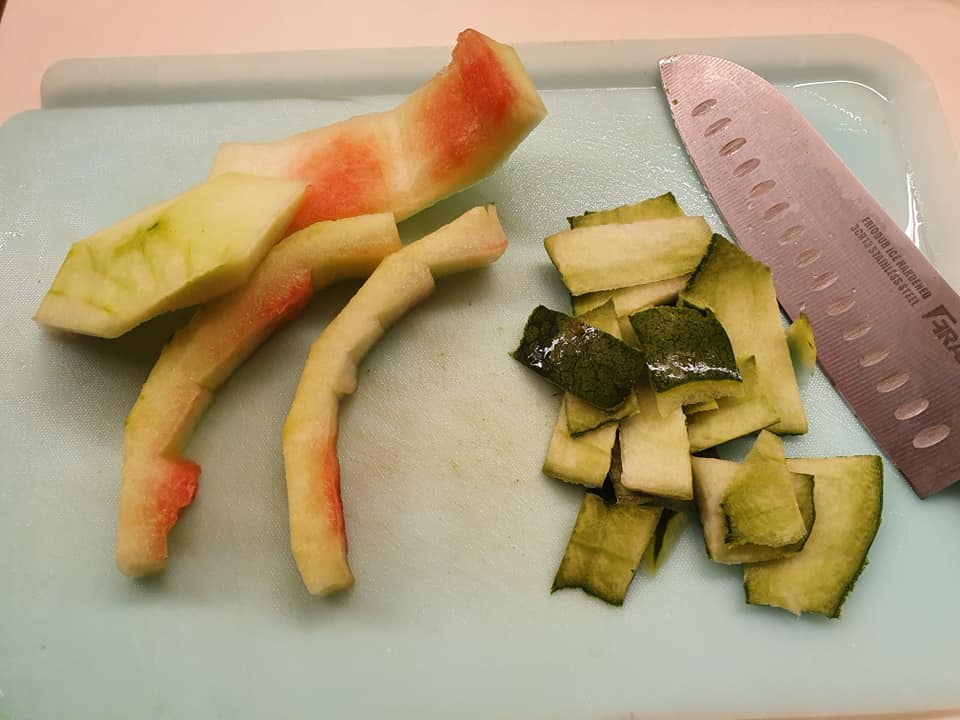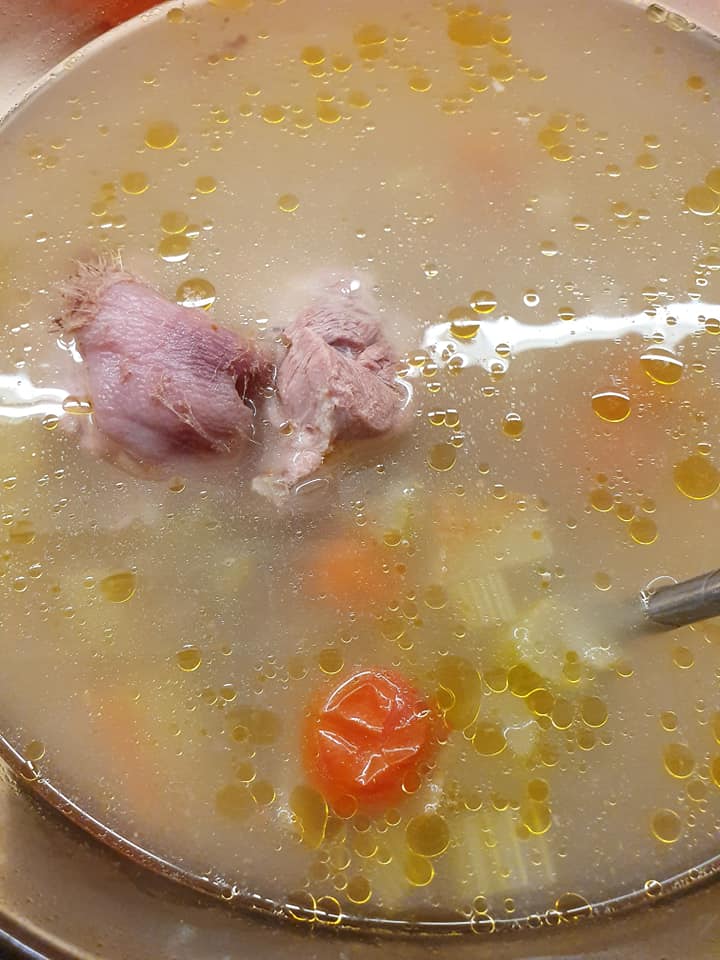 For this soup, I have 1 big cut of a Pork Big Bone which comes with some meat, 1/4 Watermelon which I save the white Part from the rind, 6 stalks Celery cut to slices and a handful of Cherry Tomatoes.

Boil all with 14 cups of water, turn heat to low once boiling rapidly and keep simmering for 1 1/2 hours.

Lastly add in Himalayan Pink Salt to taste.

(Read original post: Watermelon, Celery & Cherry Tomatoes Soup with One Pot Rice)
---
Watermelon Rind Mung Beans Sweet Drink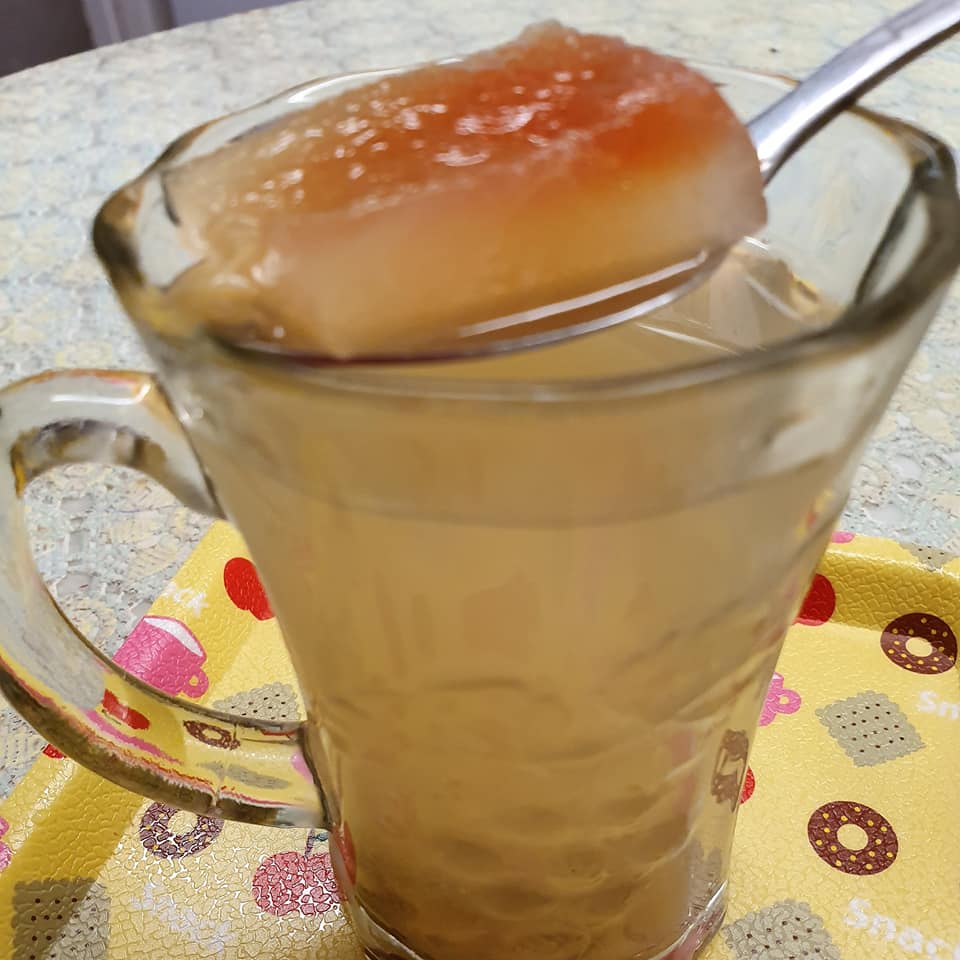 Here is a Sweet Drink I boiled for my loved ones. I need 500g Watermelon Rind, just remove the hard green part and cut to bite sized pieces. Rinse 100g Mung Beans.

Boil both in a pot with 14 cups water. When it boils rapidly, turn heat to low and continue simmering for 35 mins till Mung Beans split and the rind becomes soft. Add Crystal Rock Sugar to taste or any Sugar to sweeten.

Cool and chill in the fridge to serve. A good drink to serve on a hot day. Or serve hot as a sweet soup dessert by itself.

(Read the original post here)
---
Watermelon Rind Porridge with Homemade Meatballs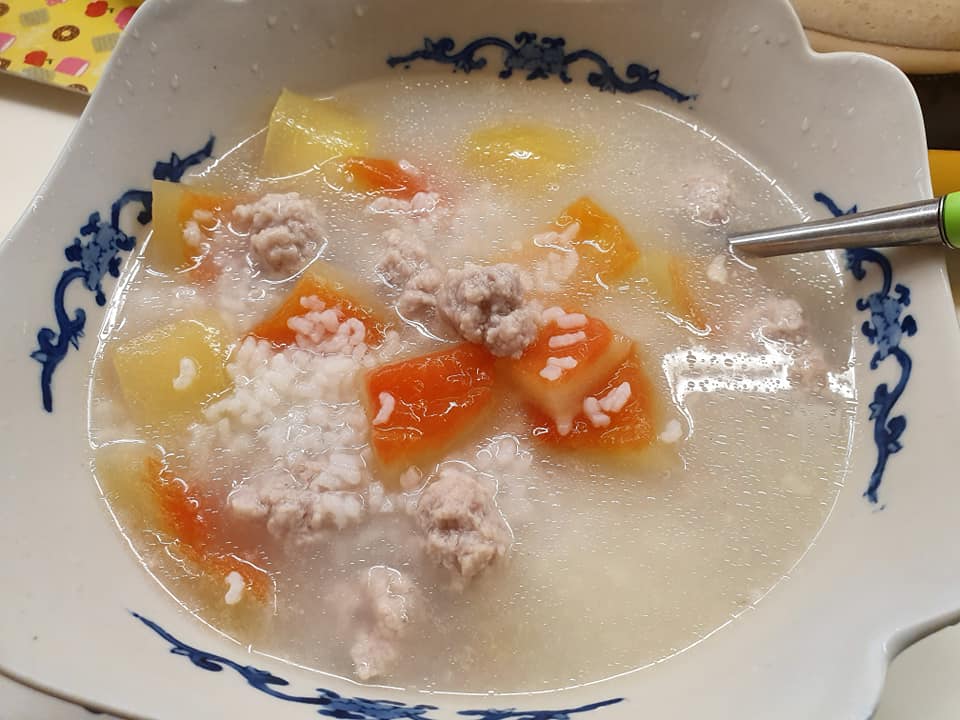 First I need 500 g minced Pork or minced Chicken, mix with 1 tsp Salt, 1 tsp Sugar, a few dashes Pepper and 2 TBS Cornstarch for binding to make Meat Balls.
Took out 500 g Watermelon Rind (green outer skin had been cut off) which I froze in the freezer and rinse 1/2 cup Japanese Short Grain Rice.

Put Rice and Watermelon Rind in a pot and fill with 7 cups water. Bring to a rapid boil and turn heat to low, continue to simmer for 30 mins, now and then have a stir to prevent sticking to the base of the pot.

Towards the last 10 mins of simmering, use a teaspoon to scoop up the prepared meat mixture 1 teaspoonful by 1 teaspoonful and drop into the boiling gruel. This way to make and cook meat balls. When all the Meat Balls float on top, it means they are cooked. Stir in a little Himalayan Pink Salt to taste. Off heat, serve piping hot.

(Read the original post here)
---
Watermelon Rind Wakame Soup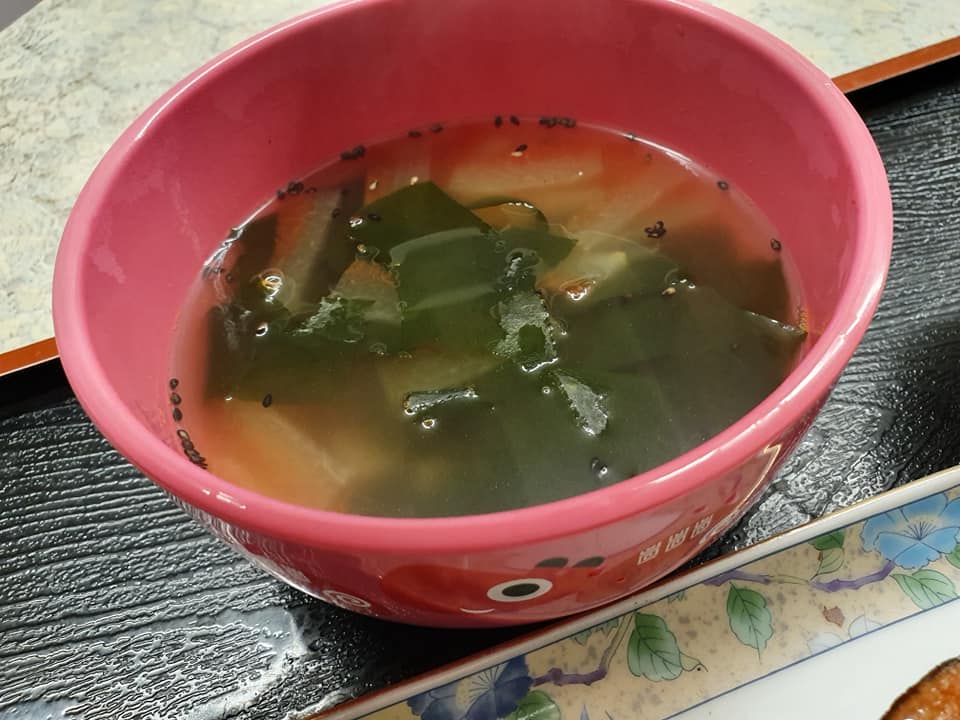 To prepare for the soup, I cut 200g Watermelon Rind without the green hard skin to thin shreds, thaw and rinse away salt from the 100g preserved raw Wakame seaweed and cut to short length.

In a small pot, add in 5 cups water and Watermelon Rind and bring it to boil with lid covered for 5 mins. Open lid and add in Wakame to heat through, sprinkle in some Black Sesame Salt. Off heat and transfer soup to bowls.

(Read Original Post: Japanese Teishoku)
---
Watermelon Rind Mung Beans Sweet Dessert Soup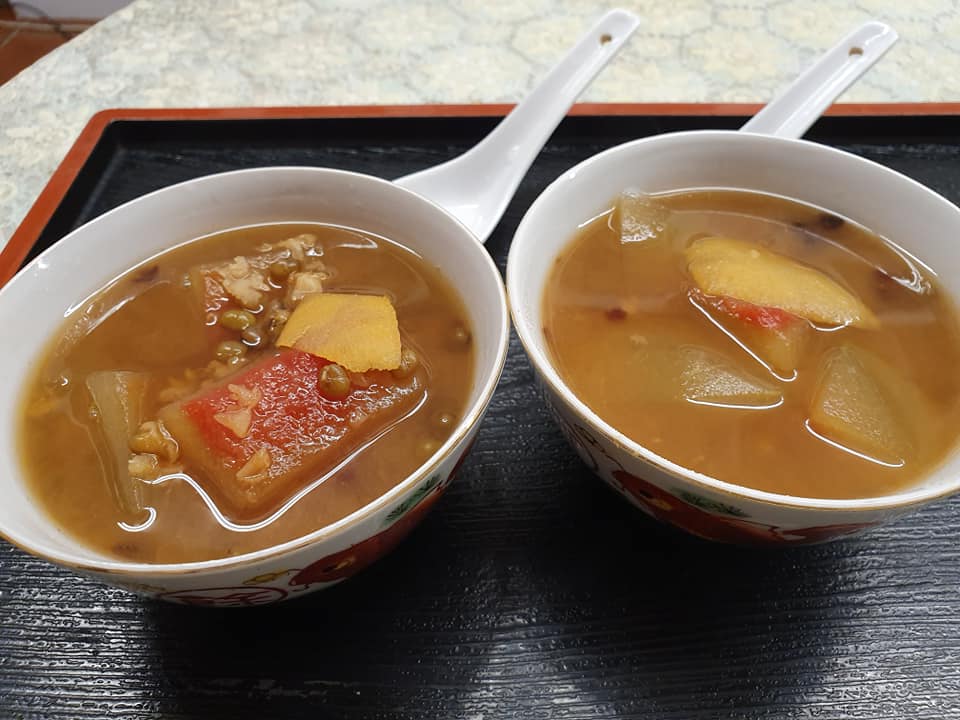 First, I cut 200g Watermelon rind, remove the green hard skin. Than, I rinse 1 cup of Dried Mung Beans. Next, I have rind from 1 fresh orange which I cut away the white bitter part.

Fill all into my Slow Cooker, add in 7 cups Water and set 3 hours to slow cook.

When time is up, add in half cup of seasoned Black Currants which have been soaked with Brandy for months (this was meant for my baking, I took some to use today), and also some Crystal Rock Sugar to taste. (You can use any kinds of Sugar you have). When the sugar melted, turn off the heat.

This Watermelon Rind Mung Beans Sweet Dessert Soup can be served piping hot or leave it to cool then chill in the fridge. I usually serve the chilled Sweet Dessert Soup for my loved ones the next day. Cool, nice and yummy.

(Read Original Post: Watermelon Rind Mung Beans Sweet Dessert Soup)
---
Watermelon Rind Bacon Soup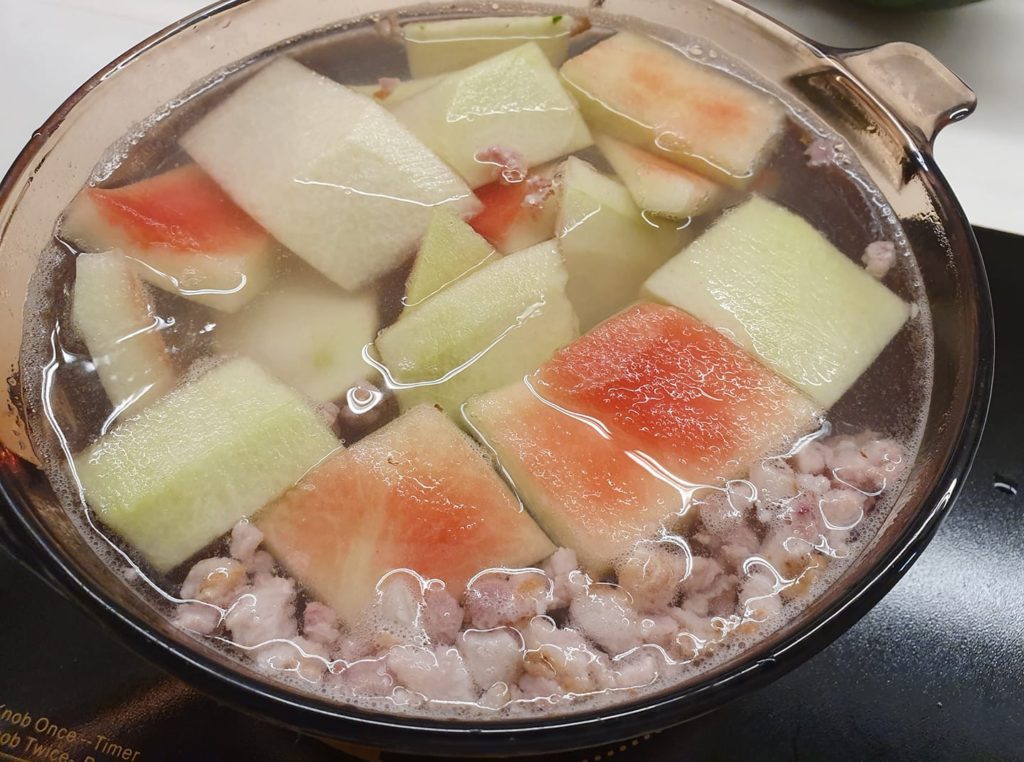 Never waste the Watermelon Rind. Cut away the green hard skin. Have a small tub of roughly chopped Bacon (about 50 to 80g).

Put it in a pot with 6 cups water and bring it to a rapid boil. Then add in 400g cut Watermelon Rind, once boiling rapidly, lower heat and simmer boil for 30 mins till Watermelon rind becomes soft.

Flavour with Himalayan Pink Salt to taste. A Good-Benefits-For-Body-Soup is ready to serve. My kitchen is filled with nice aroma.
---
Azuki Bean Watermelon Rind Sweet Dessert Soup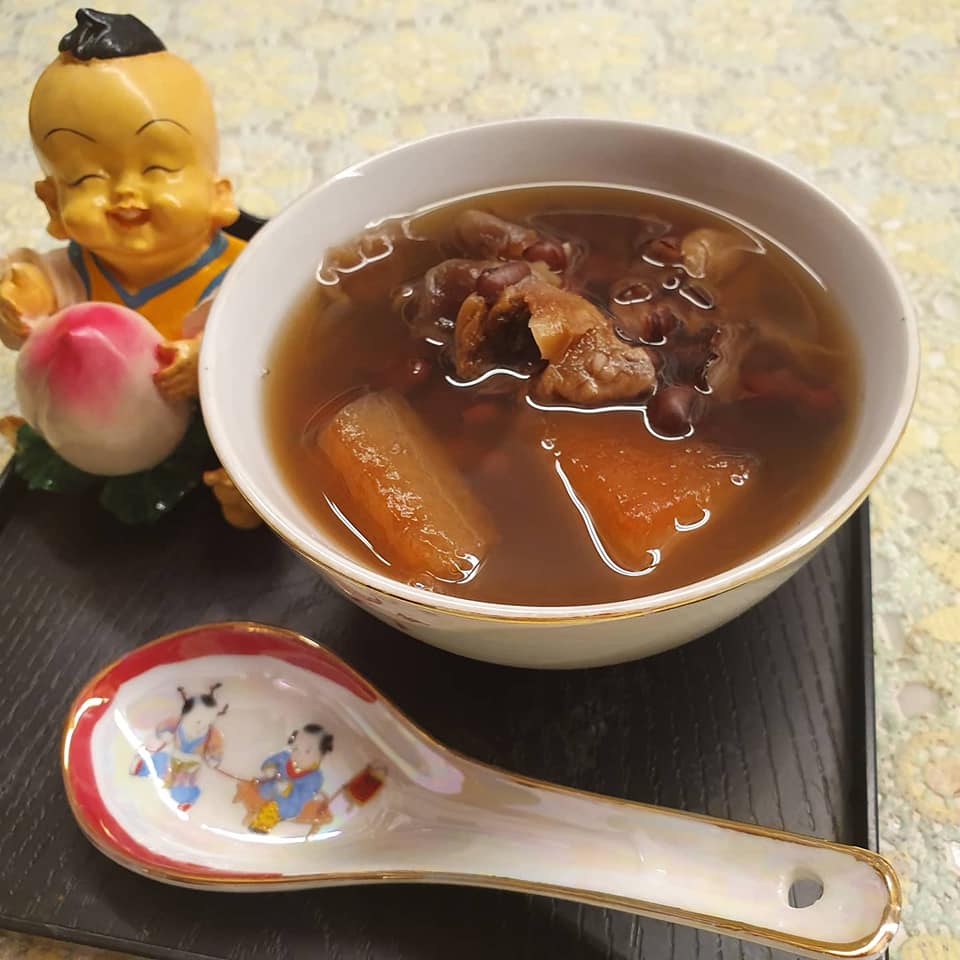 I have 1/2 cup Azuki Beans, 2 cups of cut Watermelon White part from the rind, 3 TBS Dried Longan龙眼干,2 Pandan Leaves I grew from my small garden and 1/2 cup Rock Sugar.

In a pot fill up 1.8 Litres water, add in Azuki Beans to boil for 35 mins, using high fire to rapid boil first then lower down heat till the beans are nearly soft.

Add Dried Longan and Pandan Leaves (split the leaves and tied to knots) in to boil for 10 mins to release the fragrance and flavour. Lastly add in Rock Sugar to melt.

The Azuki Beans are totally soft and tastes nice. Off heat and serving piping hot.
(Original post: Azuki Bean Watermelon Rind Sweet Dessert Soup)
---
Do explore this Blog@CatherinaHosoi.com for more ideas and interesting recipes.
Please subscribe to my BLOG@catherinahosoi.com and get inspired to follow my Healthy Lifestyle and read all the Eat Happy Live Healthy 健康愉食(EHLH) recipes that I created.
---
To follow CATherina Hosoi's activities in Singapore and overseas, including recipes which she created, please like her Facebook page: www.facebook.com/CATherinaHosoiFanPage
Know more about CATherina Hosoi's cooking studio in Singapore by liking: www.facebook.com/CulinaryHobbyClass or visit www.culinary.com.sg
Interested to know more about CATherina Hosoi's resort activities in Bali? Visit : www.ubudgreen.com