Do you throw away the Watermelon Rind when you eat the fruit? I dont. I cut away the green skin then serve only the red part to my family. Then use the white part to boil soup or make a pickle. Sharing with you from my Singapore kitchen how I cook a yummy soup with Watermelon Rind.
Watermelon, Celery & Cherry Tomatoes Soup
For this soup, I have 1 big cut of a Pork Big Bone which comes with some meat, 1/4 Watermelon which I save the white Part from the rind, 6 stalks Celery cut to slices and a handful of Cherry Tomatoes.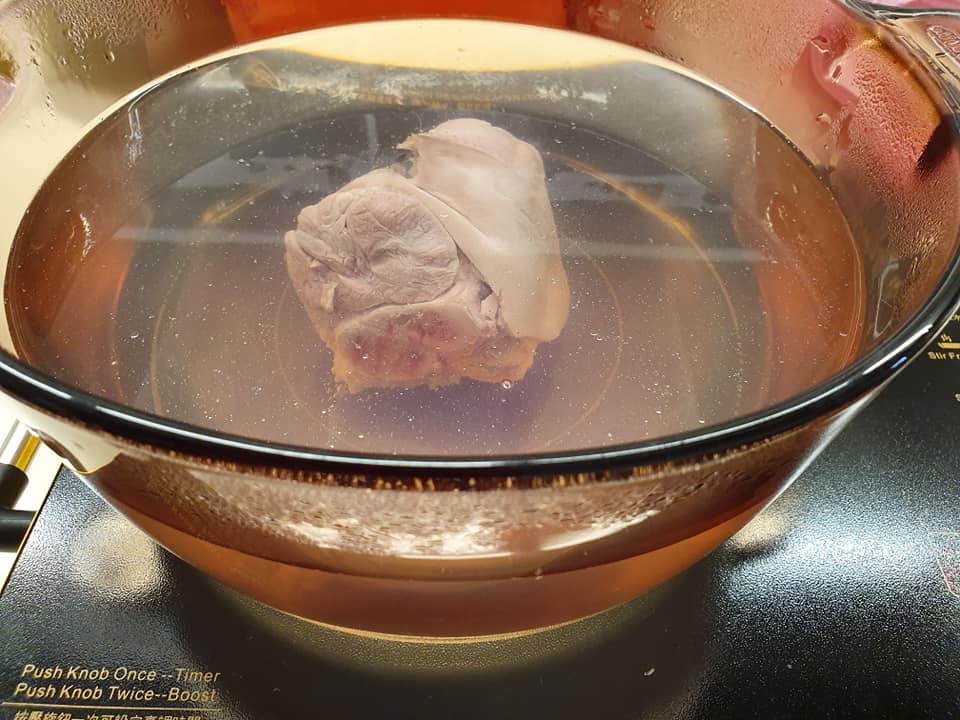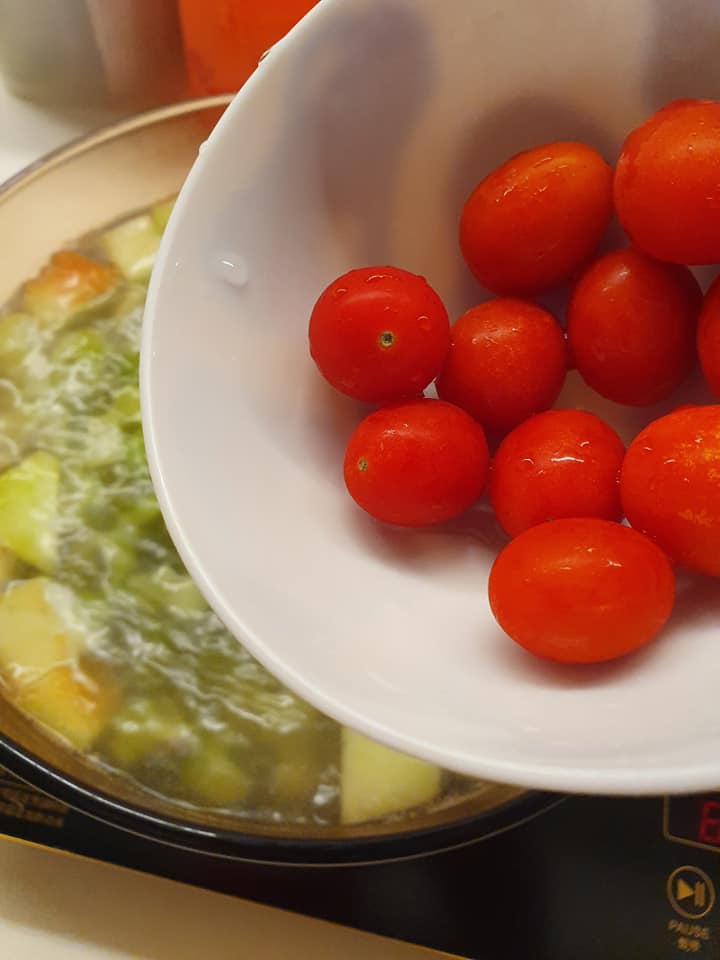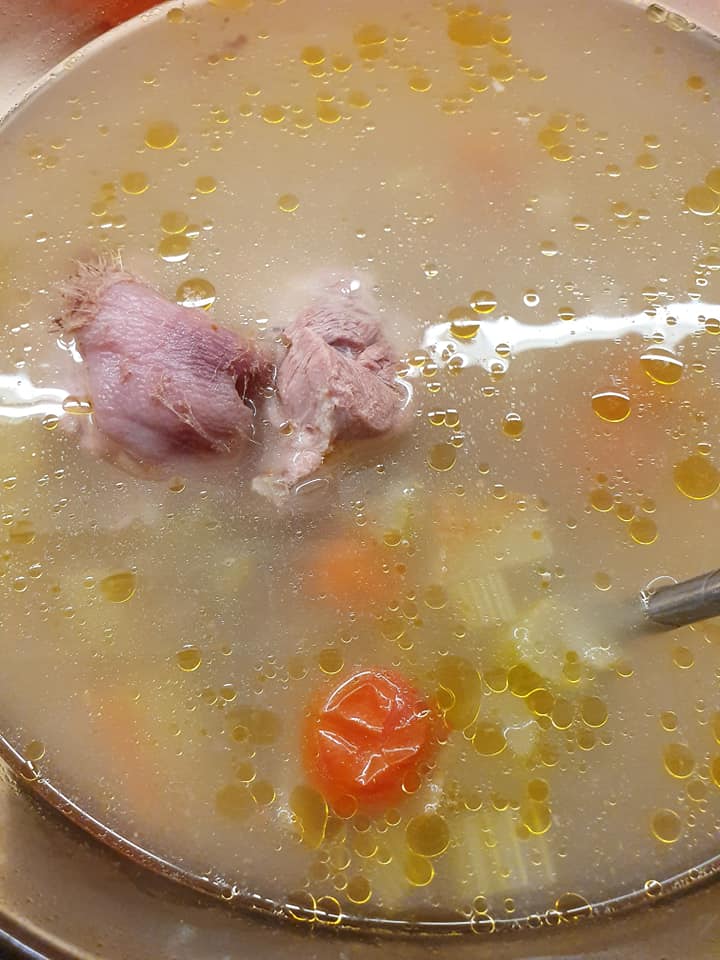 Boil all with 14 cups of water, turn heat to low once boiling rapidly and keep simmering for 1 1/2 hours.

Lastly add in Himalayan Pink Salt to taste.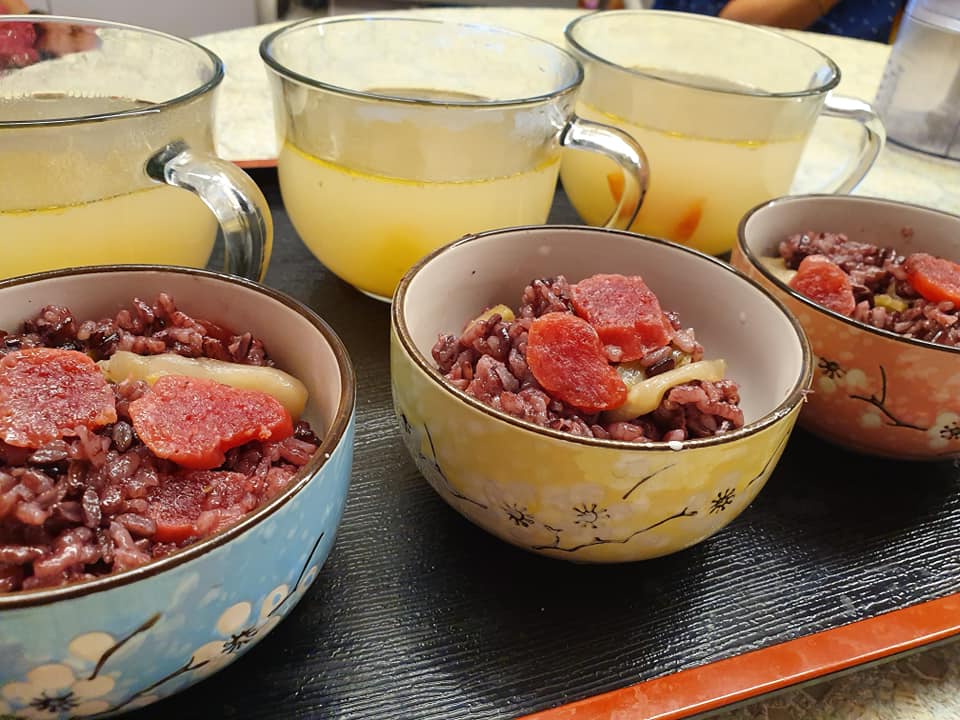 I served this yummy soup with my "One Pot Rice"
One Pot Rice with Chinese Sausages & Sichuan Preserved Veggie
Using my Electric Rice Cooker to cook "One Pot Rice with Chinese Sausages & Sichuan Preserved Veggie".

First I rinse 1/2 cup Thai RiceBerry Rice and 1 Cup Japanese Short Grain Rice, drain dry. Transfer both Rice to an electric Rice Cooker, fill with 2 1/2 cups Water, on the switch to cook rice till done. This is 1st process.

Next presoak 2 pairs (4 pieces Chinese Sausage) in hot water for 10 mins. Use a pair of scissors to remove the Sausage casing, then slant cut Sausages to slices. Remove Sichuan Preserved Veggie from the small sachet.

When the Rice Cooker button jumps to WARM Function, you continue with the 2nd process of cooking. Place Sichuan preserved Veggie and Chinese Sausages on top of rice and continue warming the rice for 20 mins. Ready to serve with a few drops of Sesame oil added.

This "One Pot Rice" is yummy and fragrant. My family loves this. I am packing a portion to my good friend too. Good yummy food must share. I treasure friendship
#EatHappyLiveHealthy健康愉食
#EHLH
#CatherinaHosoiLifestyle
#CreatorNRoleModeOfEHLH
#CulinaryHobbyClass
#RecipesDevelopmentConsultancy