For today's lunch I cook this side dish to go with my Rice Porridge cooked with Garlic and Tomato (Please click for here for the recipe). This side dish is Yellow Tau kwa 豆干,(a firmer type of Soy Bean Cake), Long Beans & Shiitake Mushroom Stir Fry.
Perparation: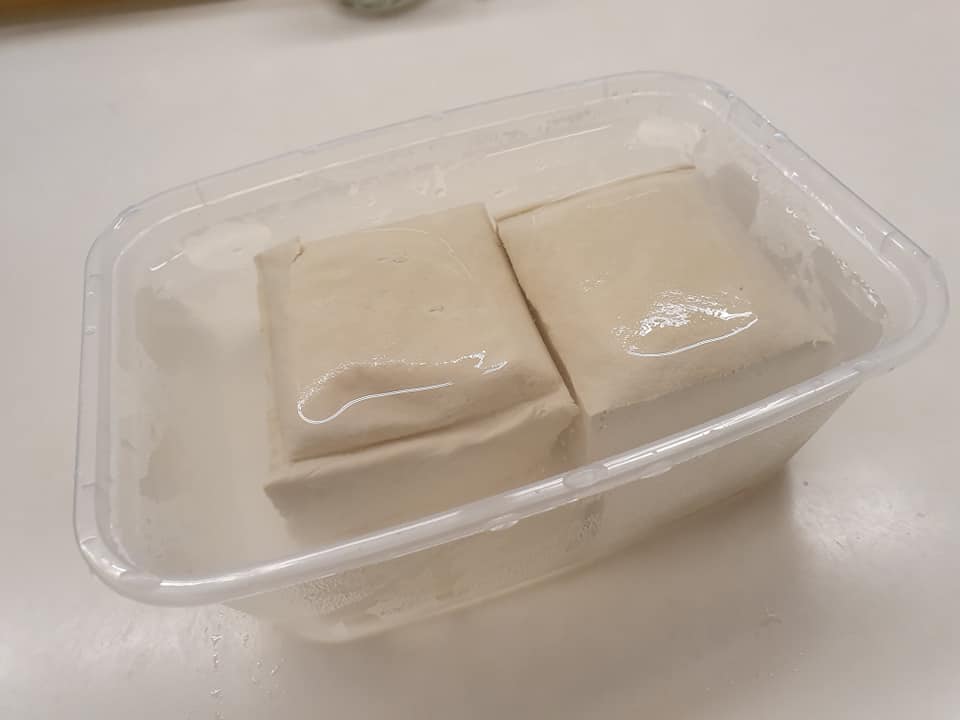 Whenever I buy Tau kwa 豆干 home, I will soak them in a tupperware of water added with 1 tsp Salt. In this way can we can prolong the shelf life of Taukwa.
First, I rinse the 2 Taukwa, drain dry and smear some Salt and yellow Turmeric Powder on all sides and leave for 10 mins before dicing. Tumeric will bring up your immunity especially good during the CoronaVirus period.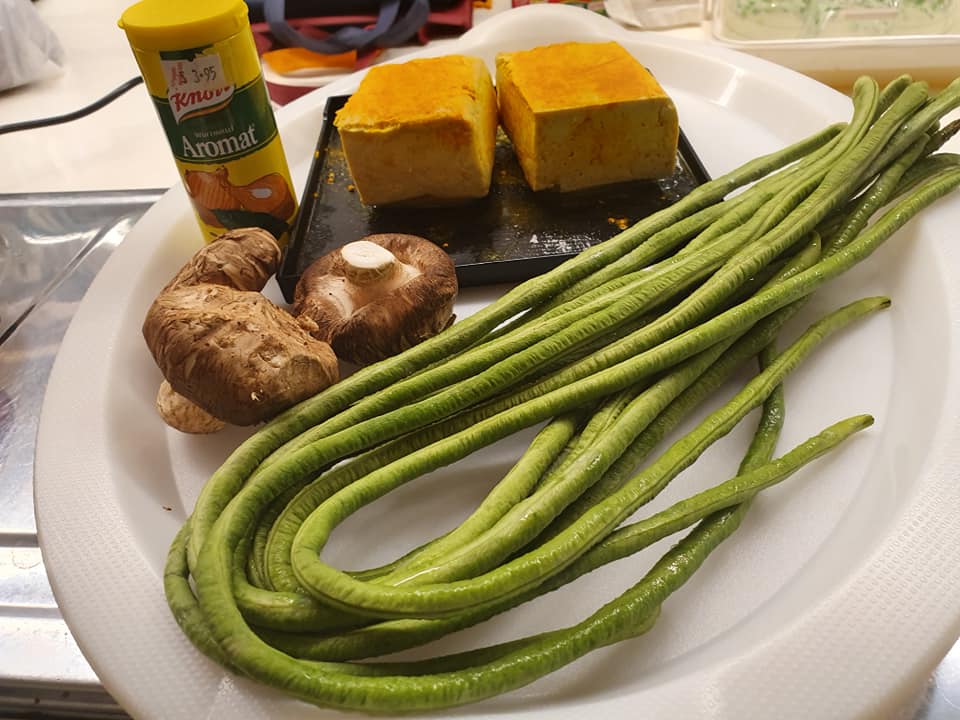 Next remove both ends from a bundle of Long Beans (also known as Yard Beans) and pluck to shorter length. Than cut 3 big Shiitake Mushrooms to thick slices.
Cooking: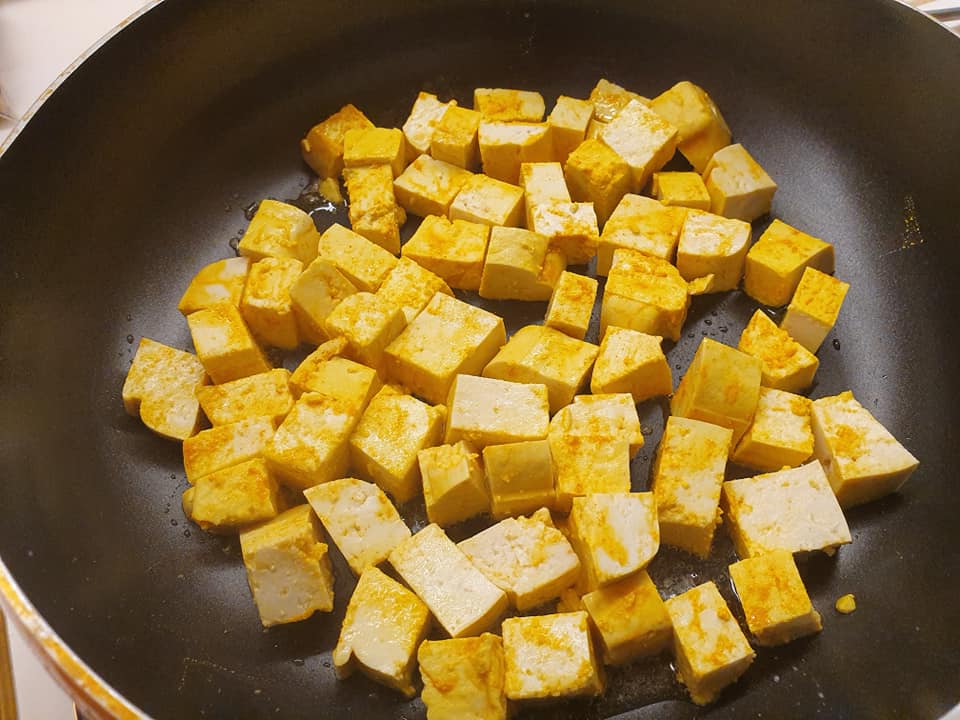 Heat up 2 TBS Sun Flower Oil in a non stick fry pan. First drop in Yellow Tau kwa to fry till all sides are cooked.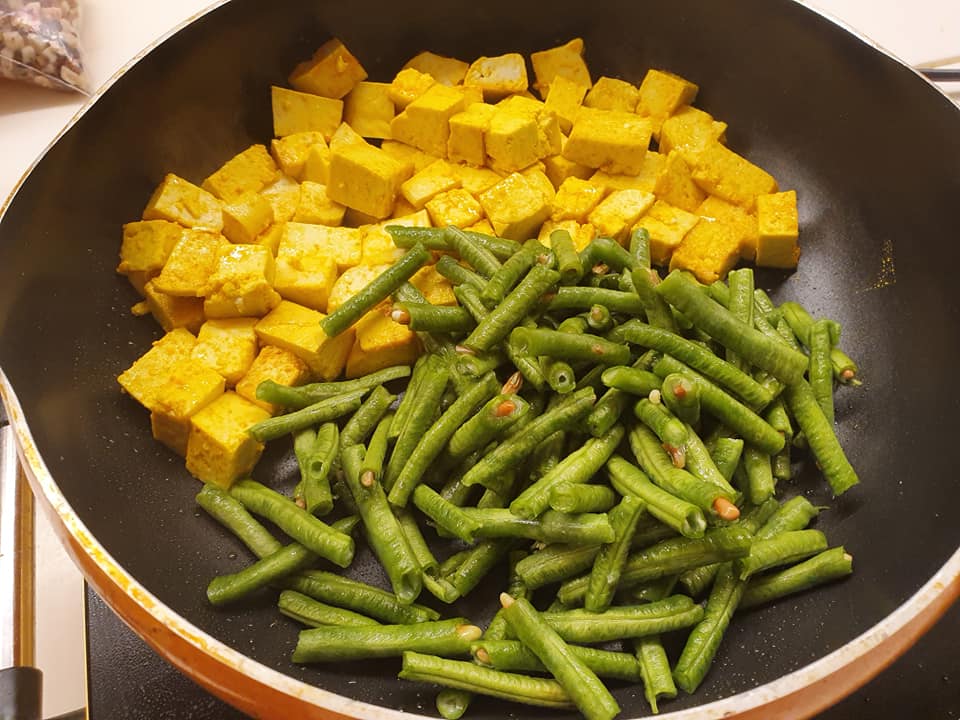 Add in Long Beans to toss well. Cover with lid and cook for 5 minutes till Long Beans are just turn soft.
Add in Shiitake Mushrooms and Aromat Seasoning Powder. Vegan can use this too. No need to add Salt as you have sufficient flavouring from seasoning the Taukwa.

Lastly stir in 1 TBS Light Soya Sauce, toss well and off heat. Ready to serve this Tau Kwa Long Beans & Mushroom Stir Fry with the Rice Porridge that I cooked. I am going to enjoy my lunch now.
If you like my recipe, Please help to share out on your Facebook. Do explore this Blog@CatherinaHosoi.com for more ideas and interesting recipes.
Please subscribe to my BLOG www.CatherinaHosoi.com and get inspired to follow my Healthy Lifestyle and read all the Eat Happy Live Healthy健康愉食(EHLH) recipes that I created. Please also share out to your friends.
#CookTurmericTaukuaLongBeansShiitake
#CatherinaHosoiLifestyle
#EatHappyLiveHealthy健康愉食
#EHLH
#CreatorNRoleModelOfEHLH
#CulinaryHobbyClass
#RecipesDevelopmentConsultancy