Blessed Saturday to all readers from my kitchen in Singapore. Today is Day 5 of Singapore's Circuit Breaker Mode. Supposed many of us are living in Stress & Fear. Researchers may have discovered that eating & drinking Sweets may decrease the production of the Stress related Hormone Glucocorticoid, which shows increase activity in the brain controlling Fear & Stress. With this in mind, I share with you my Sweet Fruitty Macaroni which I just created.
Preparation:
For the Elbow Macaroni, I boil 250g of it with a pot of water added with 1 TBS Salt and cook till Al Dente. Than, I drain the Macaroni and wait for it to cool.
Meanwhile, I open a big can of Peach, cut the Peaches to dices and remember to retain 1/2 cup of the Peach syrup.
Next, I cut 1 Cucumber to dices. From my fridge, I take out 1/2 cup Evaporated Milk and Japanese QP brand Mayonnaise.
After that, I get ready a handful of Dried Cranberries, and take out 10 Maraschino Cherries from a bottle which I have been keeping in my store room.
Method: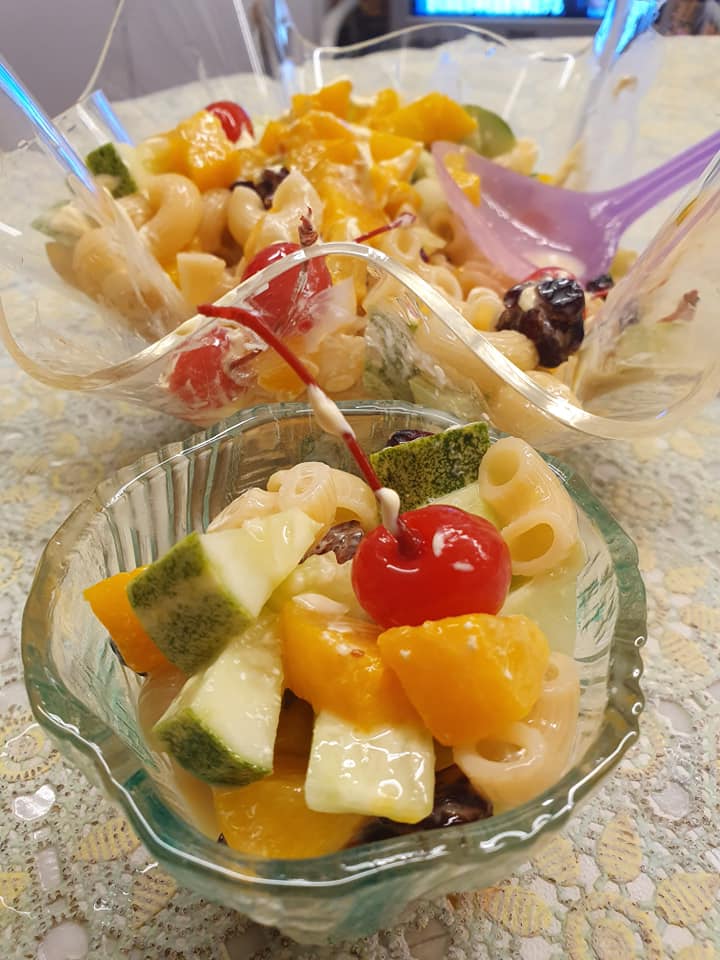 Mix the Elbow Macaroni, peaches & syrup, cucumber dices, dried cranberries & evaporated milk into a big Glass Bowl. Lastly squeeze in some Japanese Mayonnaise and top with Maraschino Cherries.
Tada, my Sweet Fruitty Macaroni is ready to serve immediately. This portion is enough to serve 3 persons as a meal. Stay Safe Stay Happy! Do try this sweet version of Macaroni at home!!
#EatHappyLiveHealthy健康愉食
#EHLH
#CatherinaHosoiLifestyle
#CreatorNRoleModelOfEHLH
#CulinaryHobbyClass
#RecipesDevelopmentConsultancy