Wishing all members a GOOD FRIDAY from my kitchen in Singapore. Today is our Day 4 on CIRCUIT BREAKER MODE in Singapore. Got to ration the stock I have for cooking till 4 May.
Today, I am cooking a simple dinner of Sweetcorn Bacon Roll for two person. I am using 1 Corn on the Cob, 2 big slices of Bacon and 6 Asparagus.
First cut Sweetcorn to two, wrap up with Bacon and microwave to cook. Next, shave the stems of Asparagus and cut Asparagus to short length. Than roughly chop the trimmings from Bacon.
Without any oil, pan fry Bacon trimmings on a non stick Fry Pan till oil seep out and fragrant, than add in Asparagus to toss for 2 mins. Lastly, add 1 TBS Mirin (Japanese sweetened Rice Wine), toss well and off fire.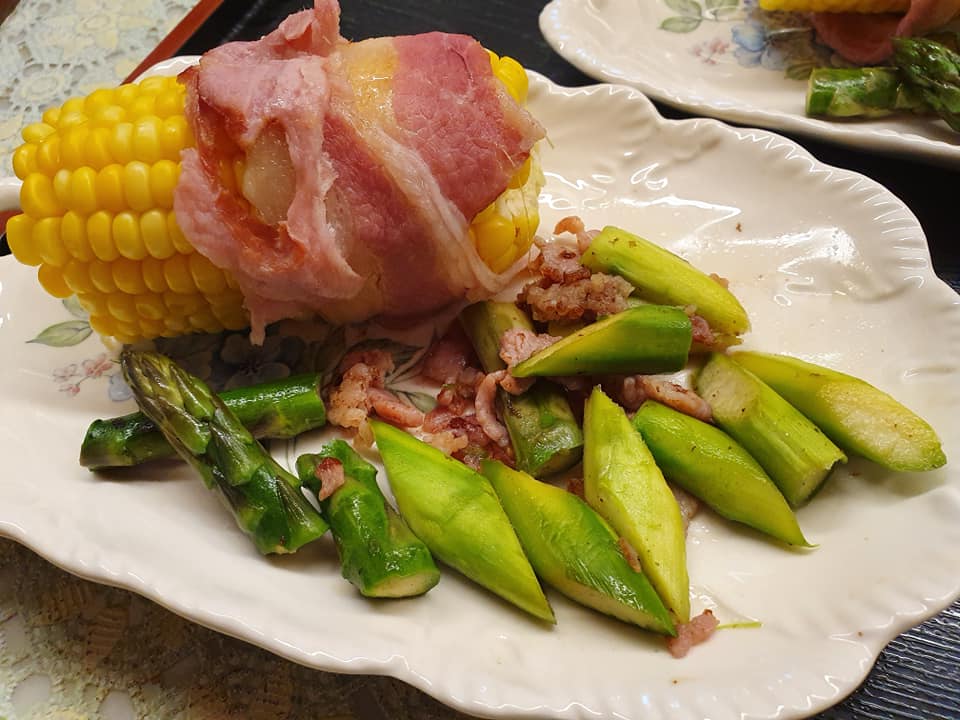 Serve with Sweetcorn Bacon Roll from microwave. Simple, quick, delicious and pretty to look at too. Thank God to fill up our plates. Amen.

#EatHappyLiveHealthy健康愉食
#EHLH
#CatherinaHosoiLifestyle
#CreatorNRoleModelOfEHLH
#CulinaryHobbyClass
#RecipesDevelopmentConsultancy