When I have time I love to spend in my "wonderland" my kitchen brewing a pot of good soup.
Soup: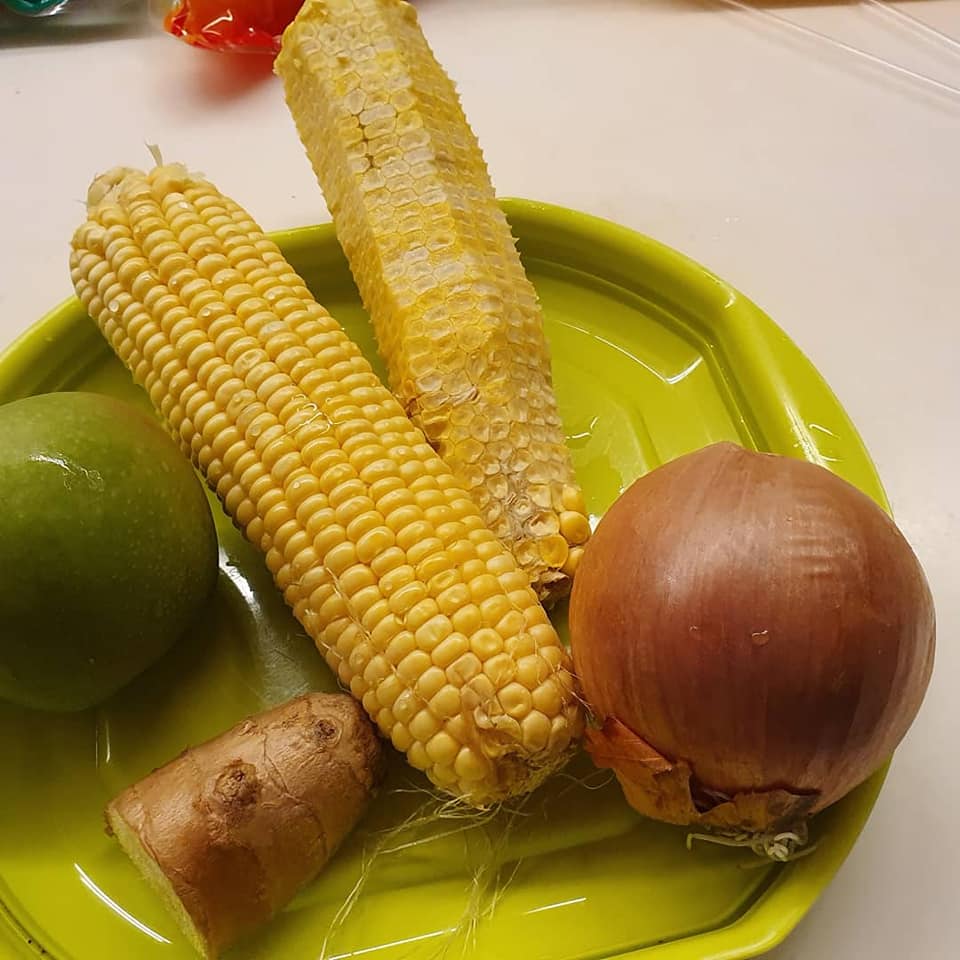 Look at the photo of the ingredients: I have 2 Corn on the Cobs (one piece the corns were removed for cooking another dish but I save the cob for brewing soup), 1 green Apple, 1 Onion and 1 knob of Ginger.

First chop corn and the empty cob to big chunks, than remove skin and seeds from Green apple and cut to big pieces. Next, cut Onion to quarters. After that, peel the skin off Ginger and cut to slices.

Put all these ingredients in a Pot with 10 cups water and bring to rapid boil covered with lid. Then turn fire to low and simmer for 45 mins.
Meatballs:
While the soup is simmering, I started work on making meatballs. I have a bowl with 250g minced Pork, combine with 1 tsp Himalayan Pink Salt, 1/2 tsp Sugar, a dash of Pepper, 1 TBS Shao Xing Wine and 1 TBS of Corn Starch. I also added 2 TBS of finely processed Oatmeal, (My Quaker brand of Oatmeal has Mountain Yam and Black Rice added by manufacturer. I processed them finely and kept in a bottle for ever ready use).
Mix well and use a teaspoon to scoop up to balls. Add the meat balls into the soup after 45 mins of simmering. Turn to strong heat and boil till all meat balls float on top (which means they are cooked thoroughly).
Add Salt to taste, off fire and serve piping hot. The soup is very fragrant and non oily. You see me in my kitchen waiting for the soup to be ready. Hope you try out this recipe in your kitchen. Eat Happy Live Healthy.
#EatHappyLiveHealthy健康愉食
#EHLH
#CatherinaHosoiLifestyle
#CreatorNRoleModelOfEHLH
#CulinaryHobbyClass
#RecipesDevelopmentConsultancy