My family and friends enjoyed this 7 Treasure Tong Sui (in Cantonese, OR 糖水 in Chinese) that I cooked. Can be eaten piping hot or chill in the fridge, to be eaten cold.
Preparation & Cooking: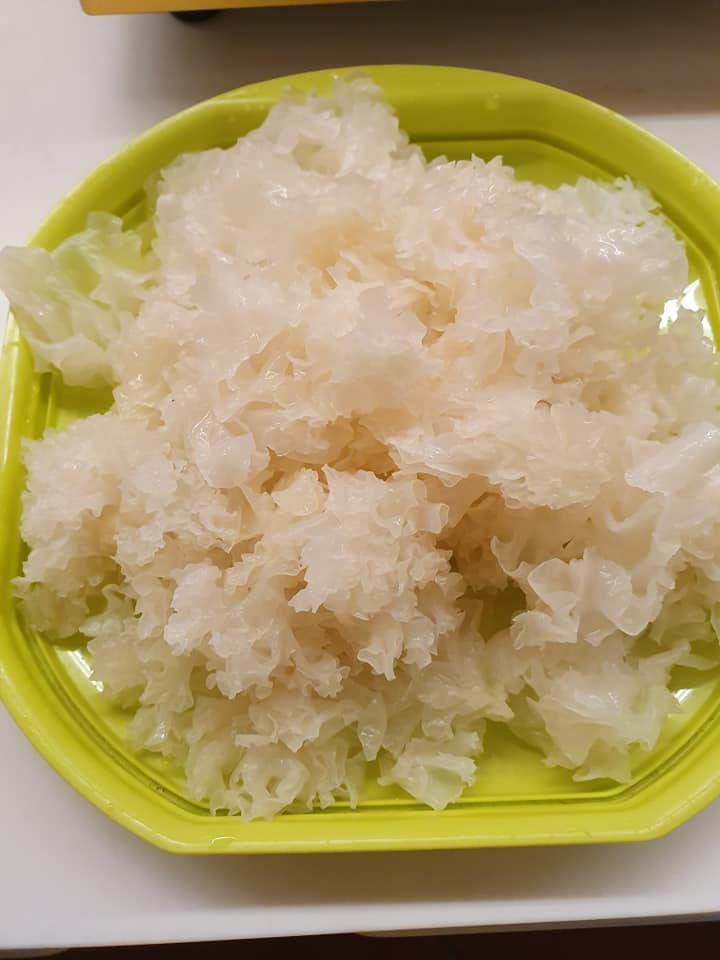 I soak 1 big palm size Snow Fungus in tap water till it expands, then divide into smaller florets and trim away the hard stem.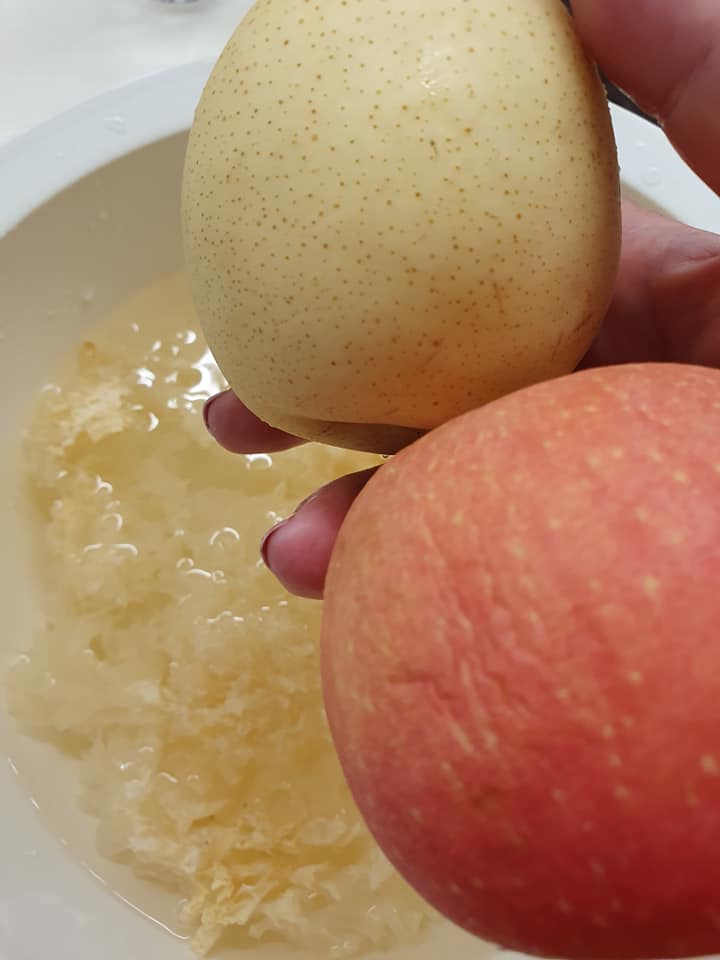 Remove skin from 1 Tiantsin Pear, remove core and cut to small cubes. Do the same for 1 Fuji Apple.

Fill a big pot with 10 cups water, put in Snow Fungus, Tiantsin Pear and Fuji Apple. Bring to a quick boil and turn heat to medium and continue boiling for 15 mins.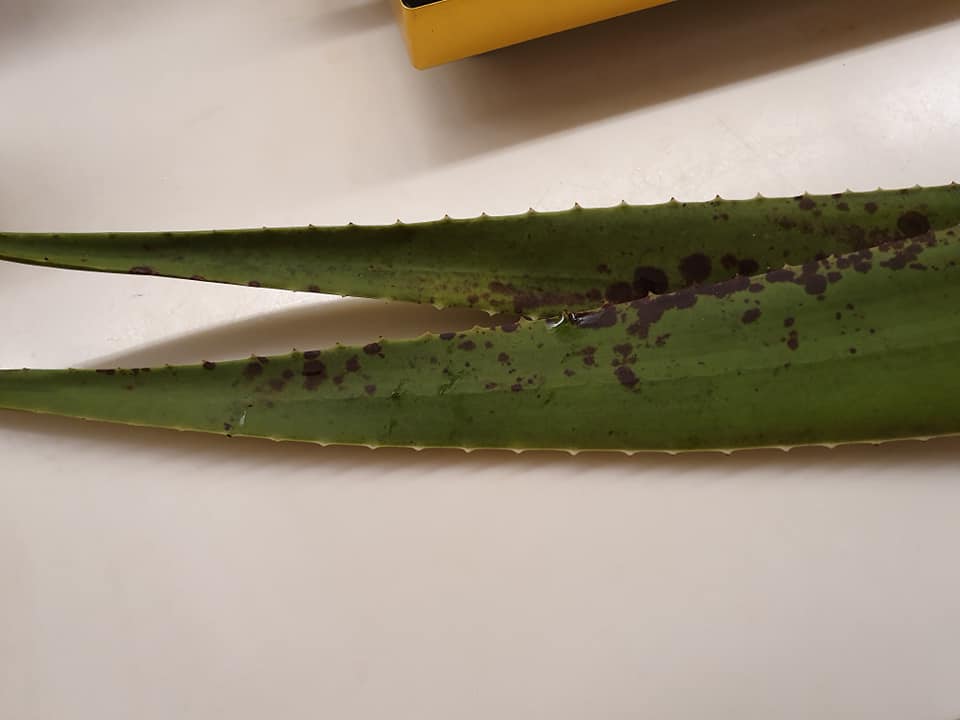 Meantime, cut away hard skin from 2 ribs of Aloe Vera, remove the translucent inner part and cut to dices.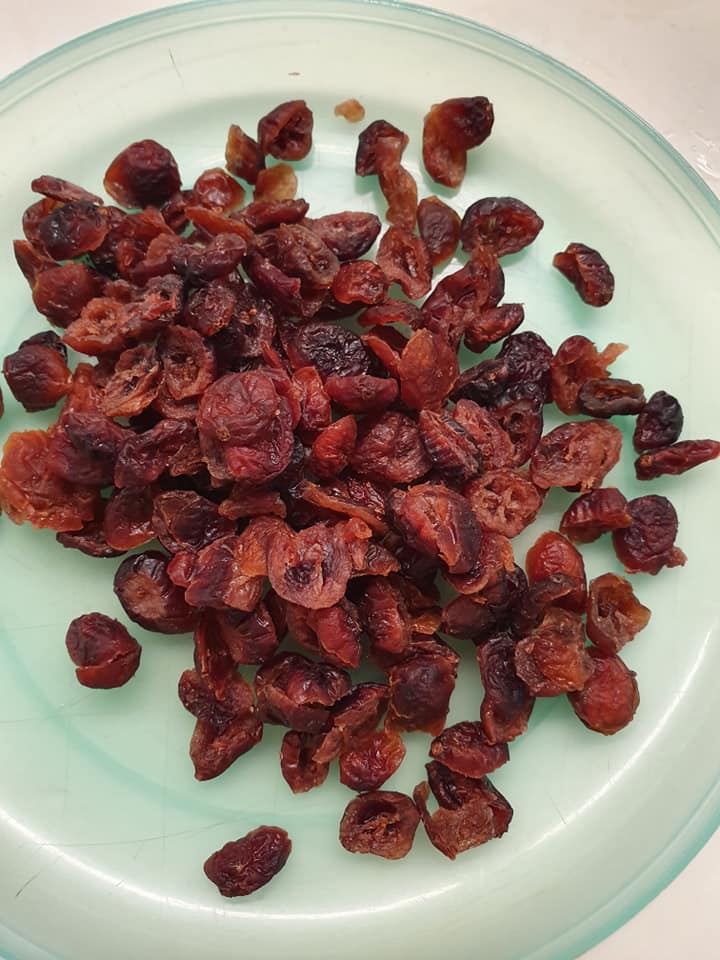 Next, rinse half cup Dried Longan, half cup Dried Cranberries and 1/3 cup Dried Goji Berries.
After using medium heat to boil Snow Fungus, Tiantsin Pear and Fuji Apple, drop in Aloe Vera, Dried Longan, Dried Cranberries and Dried Goji Berries, lower heat and continue simmering for another 15 mins.
Lastly stir in Rock Sugar to taste. Off heat, ready to serve. This is a yummy dessert.
Check my other recipes from my Blog@CatherinaHosoi.com
#MyCreated7TreasureTongSui
#EatHappyLiveHealthy健康愉食
#EHLH
#CatherinaHosoiLifestyle
#CreatorNRoleModelOfEHLH
#CulinaryHobbyClass
#RecipesDevelopmentConsultancy
If you like my recipe, Please help to share out on your Facebook. Do explore this Blog@CatherinaHosoi.com for more ideas and interesting recipes.
Please subscribe to my BLOG@catherinahosoi.com and get inspired to follow my Healthy Lifestyle and read all the Eat Happy Live Healthy 健康愉食(EHLH) recipes that I created.