Blessings from my kitchen in Singapore to all members reading my post. Day 16 on Circuit Breaker Mode, 22 April 2020. Today I made a Chinese All Time Favourite Old Cucumber Soup which Mothers love to cook and serve their family with. Then I serve it with Dried Mee Suah 面线 ("Mian Xian" in Mandarin, thin Longevity Wheat Flour Noodle) and Green Xiao Bai Cai (小白菜)。 This Old Cucumber Soup serve with Mee Sua in Abalone Sauce is a creative way of serving lunch.
Old Cucumber Soup
Preparation: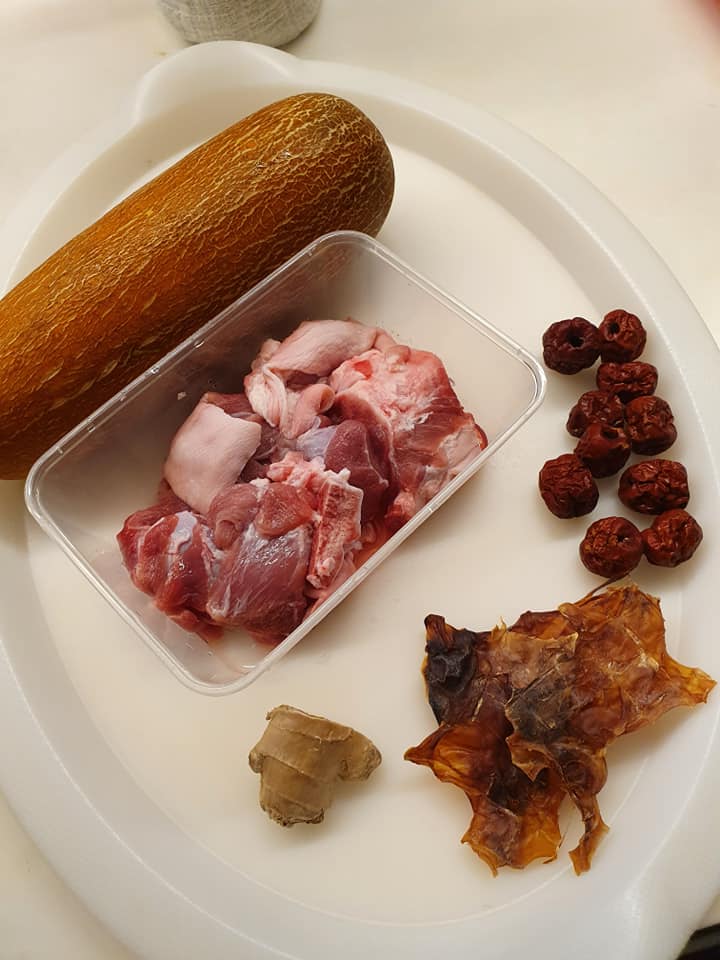 For 1st part: Cooking the Soup, I have 300g Pork (you can use Chicken if you prefer), 3 small cut pieces of Japan bought Dried Octopus, 1 Yellow Old Cucumber, 10 Red Dates without seeds and 1 thumb sized Ginger cut to slices.
First I boil some water and soak the Meat with Dried Octopus in a small pot. While soaking, I cut the Old Cucumber to thick slices and use a teaspoon to scoop out the seeds. Then I pour out the water from soaking Meat and Dried Octopus.
Cooking:
I then transfer all ingredients into my Electric Pressure Cooker, fill in 7 cups of water, close the lid tightly and set 20 minutes for cooking Soup. When 20 mins is up, release the pressure completely before you open the lid. Add in about 1 TBS Himalayan Pink Salt or to taste . Soup is ready.
Mee Suah in Abalone Sauce
Preparation:
For the 2nd part of Mee Suah in Abalone Sauce, I get ready a bundle of Xiao Bai Cai and two small bundle of Mee Suah. Wash and separate the Xiao Bai Cai.
Cooking:
I boil some water in a fry pan, blanch Xiao Bai Cai and remove from water as soon as they are just cooked. Using the same water, boil Mee Suah for 2 minutes and drain away water.
Toss Mee Suah with some Abalone Sauce and Sesame Oil. Ready for plating.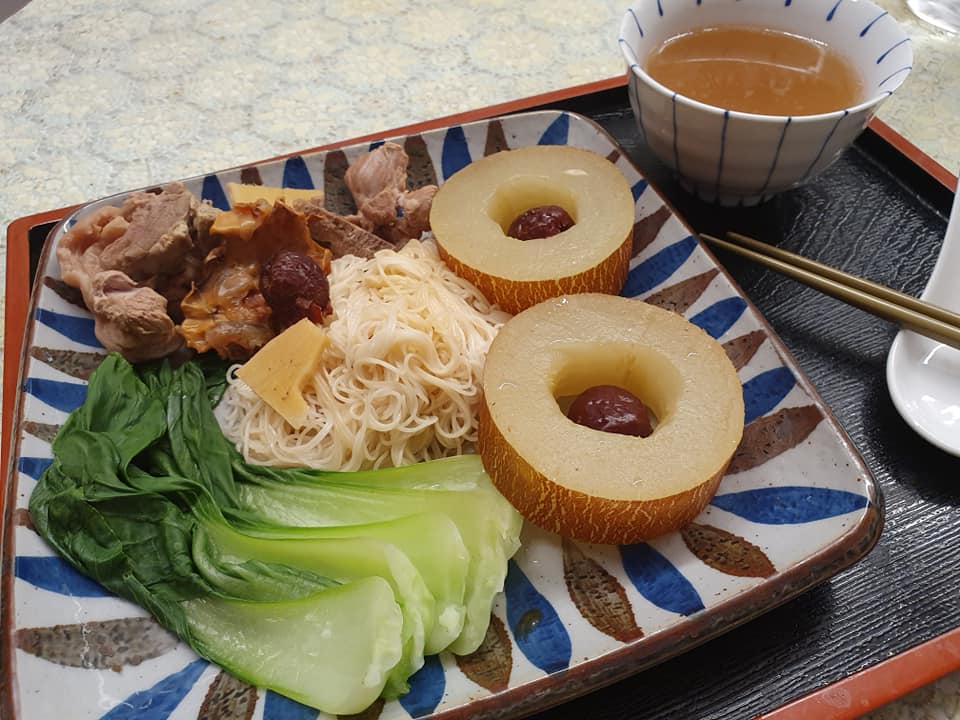 Arrange all ingredients from soup, Xiao Bai Cai and Mee Suah nicely on individual serving plate and serve immediately with a bowl of Soup at the side. Today's cooking of Old Cucumber Soup serve with Mee Suah in Abalone Sauce serves 2 persons.
#EatHappyLiveHealthy健康愉食
#EHLH
#CatherinaHosoiLifestyle
#CreatorNRoleModelOfEHLH
#CulinaryHobbyClass
#RecipesDevelopmentConsultancy