I am sharing with you how I cook a Japanese Nimono (simmered dish) using simple Japanese ingredients.
Preparation: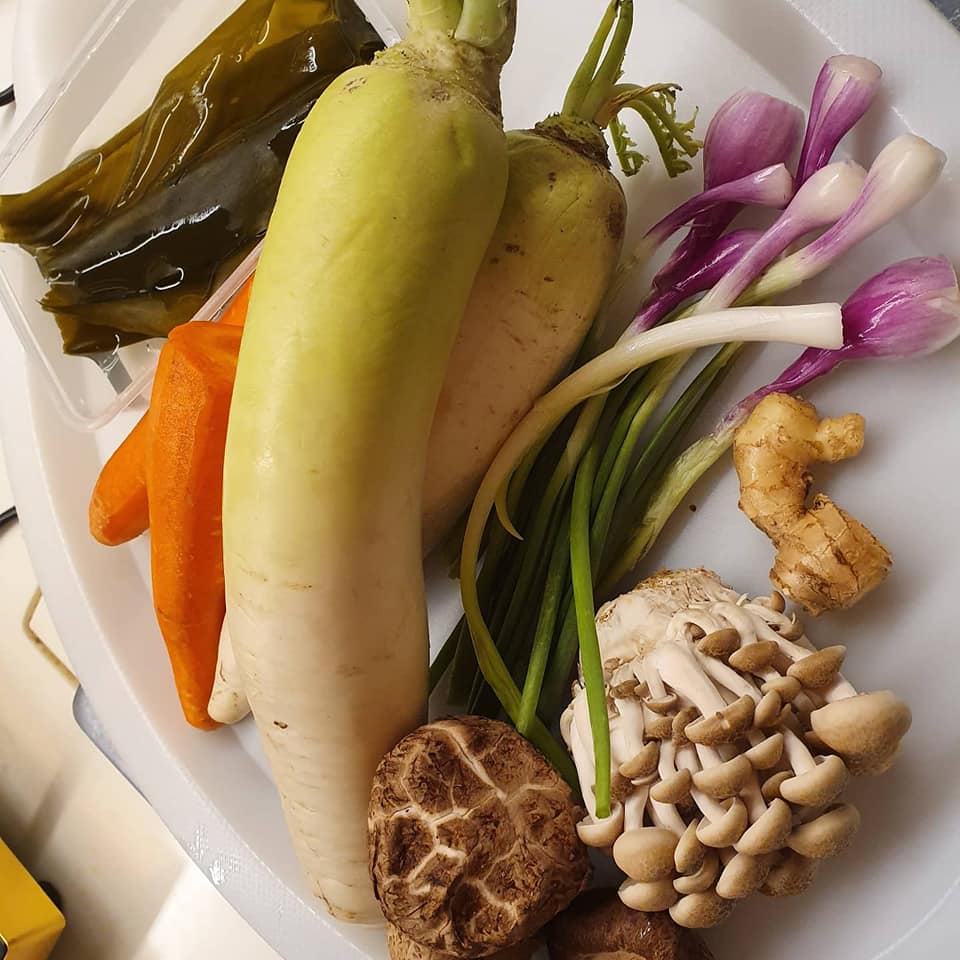 I am using 2 cuts of 4 inches long Konbu (Sea Kelp), 1 small knob of Ginger, 2 medium Daikon (Radish), 2 medium Carrots, 7 sprigs of Spring Onions, 3 big Shiitake Mushrooms and half a packet of Shimeji Mushrooms.

For seasoning, I have 1/4 cup Yamasa brand Konbu Tsuyu and 1/4 cup Mirin.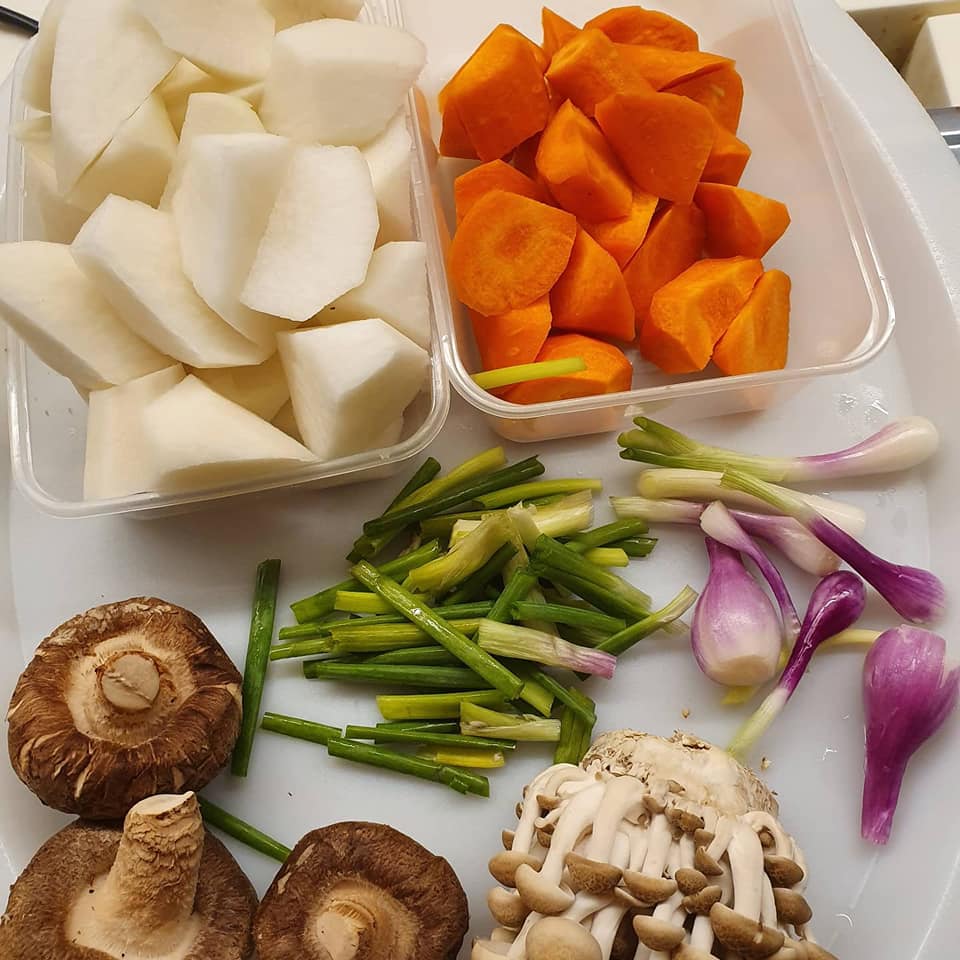 First soak Konbu in 1 cup tap water for 10 mins. Meanwhile prepare the vegetable. Roll cut Daikon and Carrots, remove skin from Ginger and cut to slice, separate white and green parts of Spring onion and cut to 1 inch length. After that, cut Shiitake Mushrooms to thick slices and separate Shimeji Mushrooms to small bunches.
Do not discard the soaking water from Konbu. Cut Konbu to narrow strips and tie up to form ribbons as shown in the photo above.
Cooking: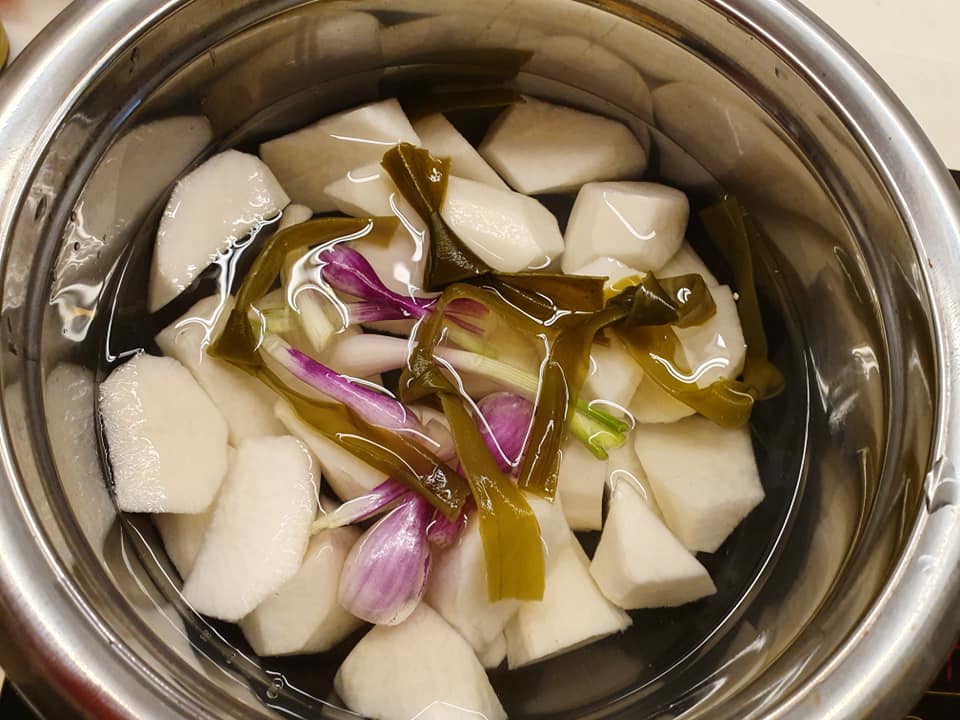 In a pot throw in the Konbu with the soaking liquid, add in 1,000ml water and bring to boil with Ginger, White part of Spring Onion and Radish for 10 mins.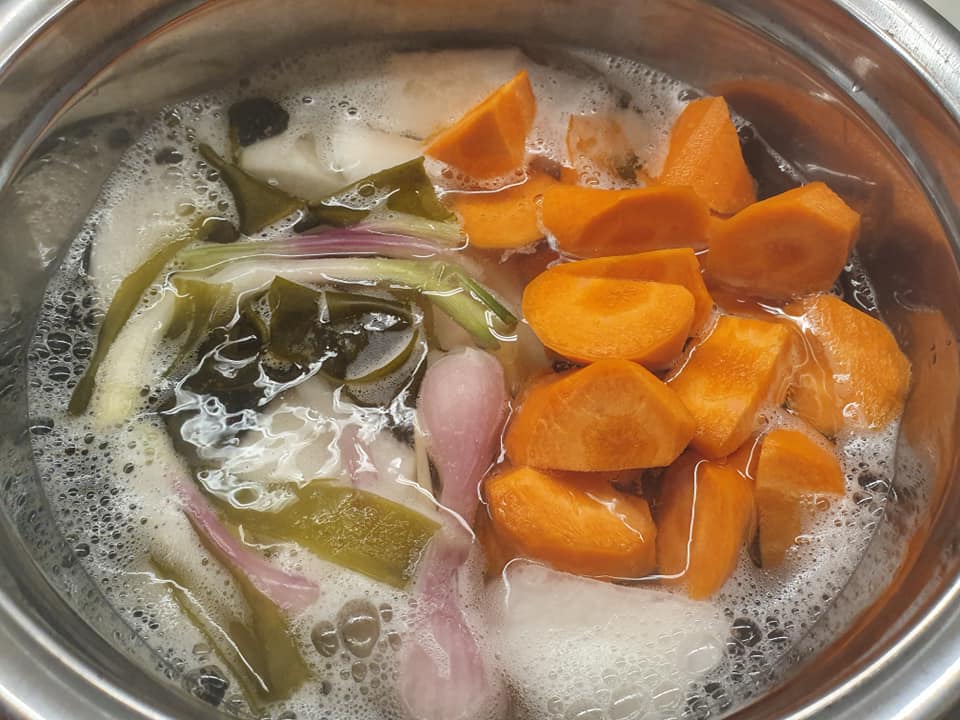 Then add in Carrot, 1/4 cup Yamasa brand Konbu Tsuyu (Cooking Sauce with Konbu and Japanese Soya Sauce added), 1/4 cup Mirin (Sweeten Sake) and simmer for 20 mins till Daikon (Radish) and Carrots are soft.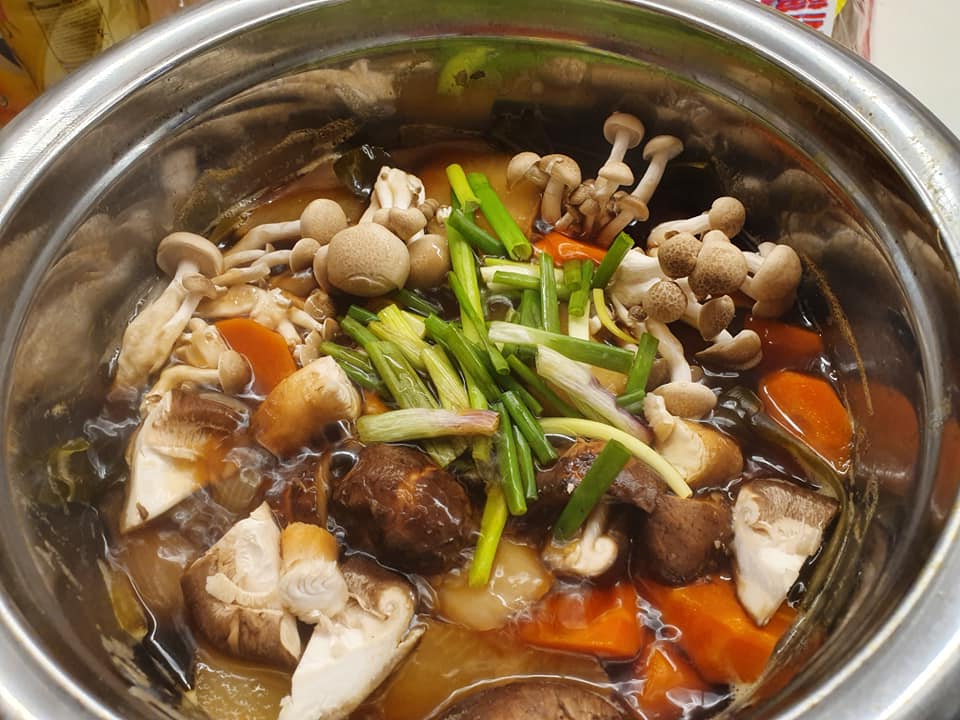 Add in both kinds of Mushrooms and green part of Spring Onion just to heat through. Off fire. I didn't have to add any Salt because Konbu Tsuyu is salty and tastes Umami (savory taste).
I am serving this with the Rice Porridge (Okayu in Japanese, the Cantonese called it as Chook) which I cooked with Garlic and Tomatoes (Click here for the recipe). Do follow my recipe and step by step photos and give it a try in your kitchen. Suitable for Vegans.
Do Check out our interesting Daikon Recipes on my blog@CATherinaHosoi.com
Please subscribe to my BLOG@catherinahosoi.com and get inspired to follow my Healthy Lifestyle and read all the Eat Happy Live Healthy 健康愉食(EHLH) recipes that I created.
#EatHappyLiveHealthy健康愉食
#EHLH
#CatherinaHosoiLifestyle
#CreatorNRoleModelOfEHLH
#CulinaryHobbyClass
#RecipesDevelopmentConsultancy