This is how I cooked my Donburi (Rice with Toppings) of Golden Oyster Fritters with Braised Black Moss, Red Dates using my secret formula of GEISHA CAT'S SPECIAL GINGER SAUCE.
Preparation & Cooking:
Braised Black Moss Red Dates Gravy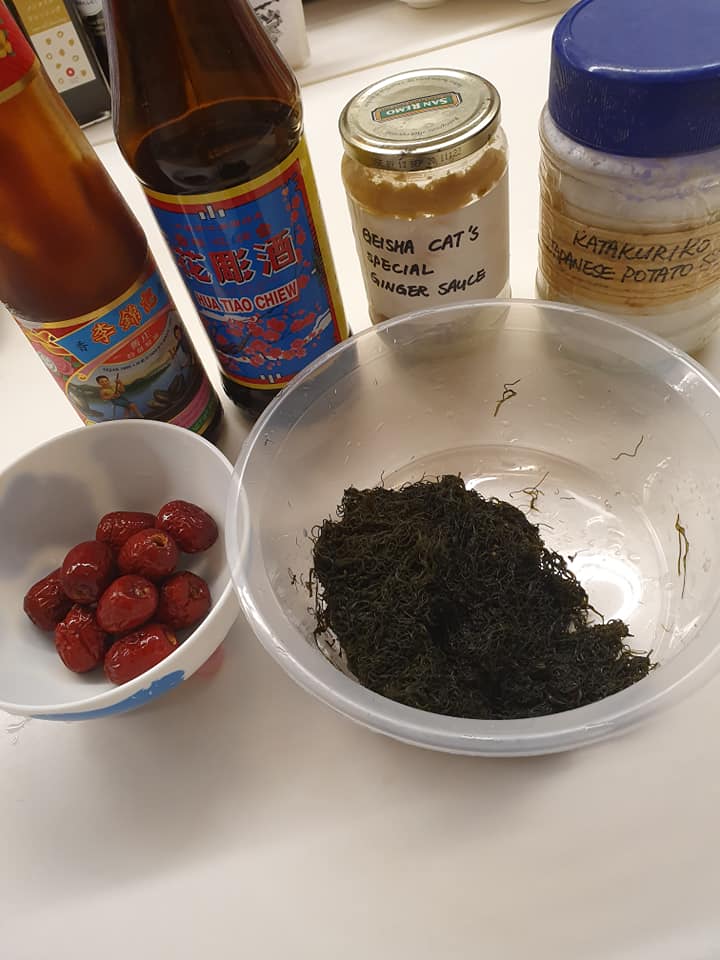 First, I prepare the Braised Black Moss Red Dates Gravy. For the ingredients, I have 15g Dried Black Moss and 10 presoaked seeded Red Dates. For seasonings, I have 1 TBS GEISHA CAT'S SPECIAL GINGER SAUCE, 1/2 tsp Salt, 1/2 tsp Sugar, 1 TBS Oyster Sauce and some Potato Starch.
To start, I rub 15g of Dried Black Moss with some Oil, rinse a few times to remove fine sands, drain.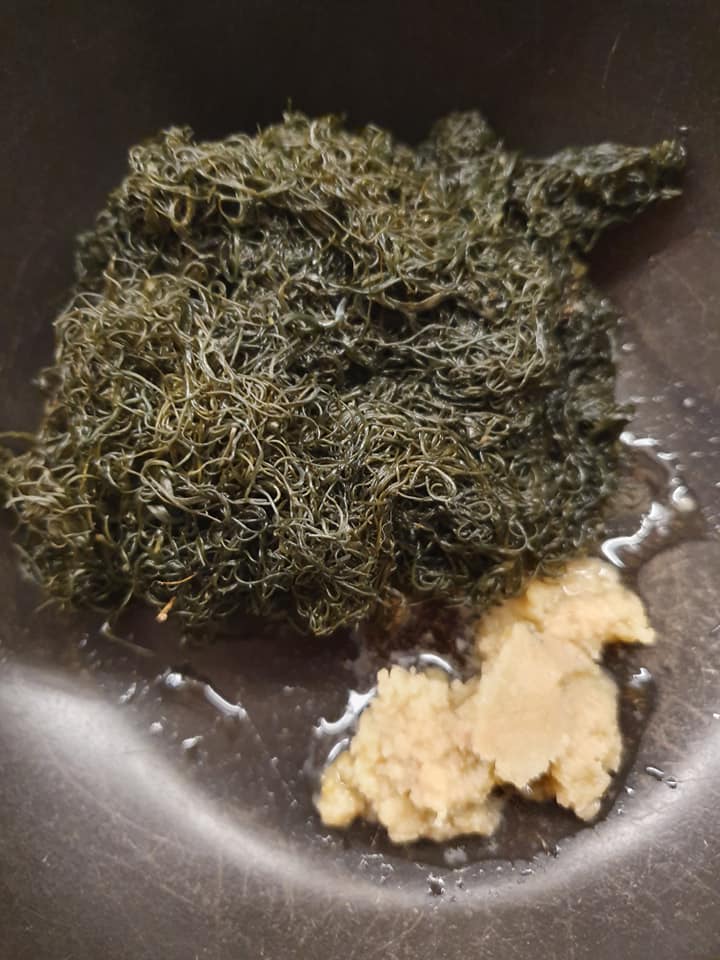 Than, I heat up 1 TBS Oil with 1 TBS GEISHA CAT'S SPECIAL GINGER SAUCE in a non stick fry pan to fragrant with Black Moss.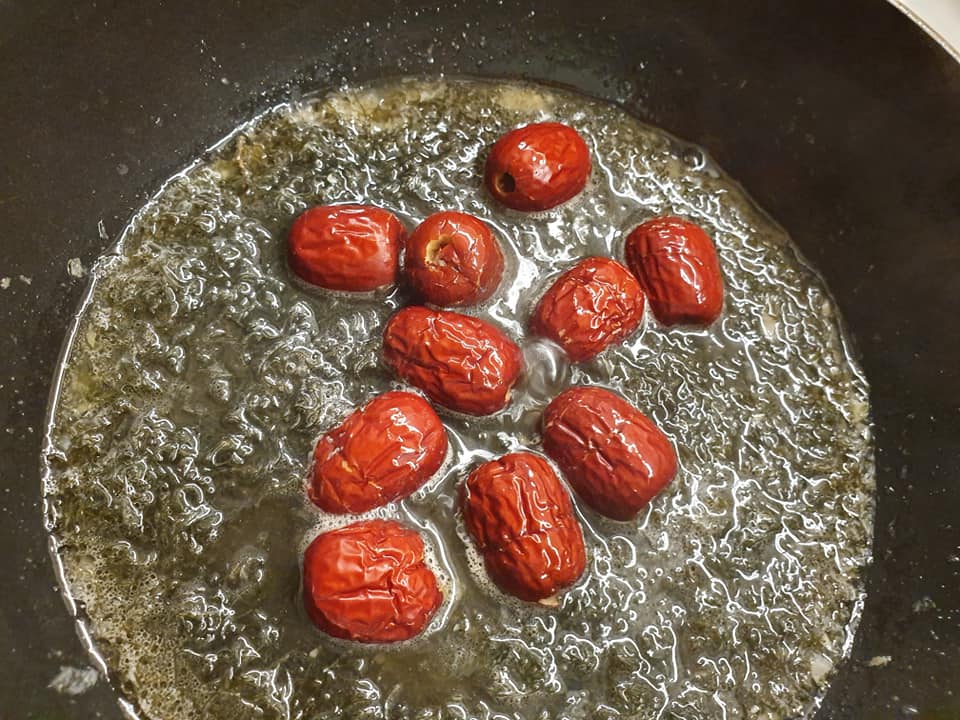 Next, add in 1 1/4 cups water, 1/2 tsp Salt, 1/2 tsp Sugar and 1 TBS Oyster Sauce, stir well. After that, add in presoaked seeded Red Dates.
Bring to a simmer boil till gravy reduce to 1/4 cup, stir in some Potato Starch thickening mixture to thicken, pour out gravy and set aside for later use.
Golden Oyster Fritters
For the Golden Oyster Fritters, I have 10 Frozen Oyster, some Plain Flour, Beaten Eggs and Fluffy Breadcrumbs for the batter.
First, after defrosting 10 frozen Big Oysters, I season them with a little Salt, Pepper and 2 TBS Cooking Sake.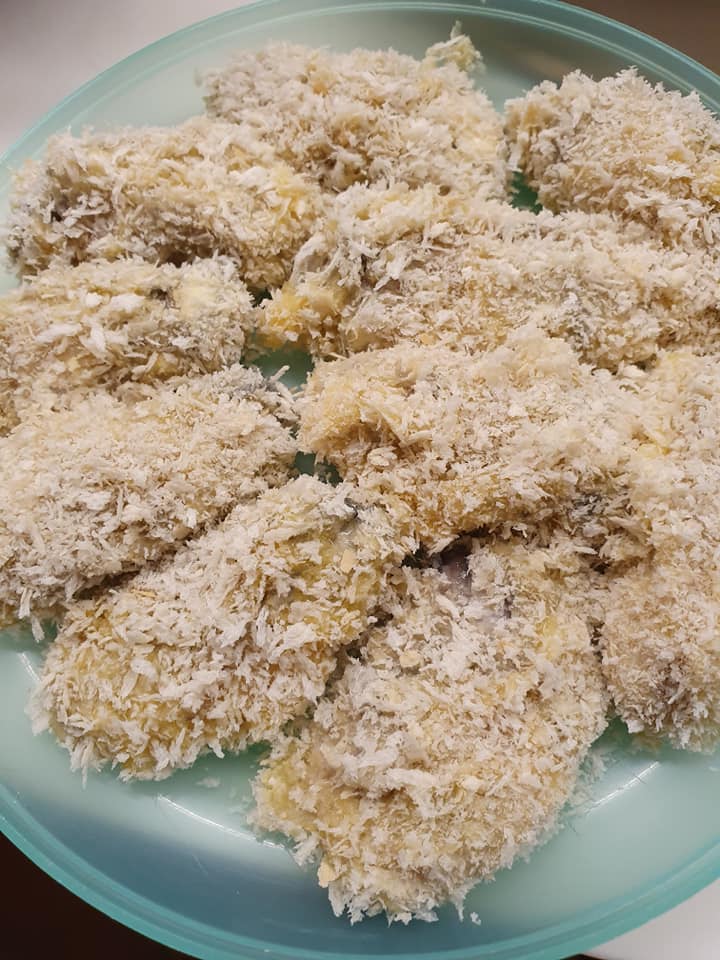 Heat up Oil for deep frying. First dust oysters individually with some Plain Flour, then dip in beaten Eggs and lastly coat with some Fluffy Breadcrumbs.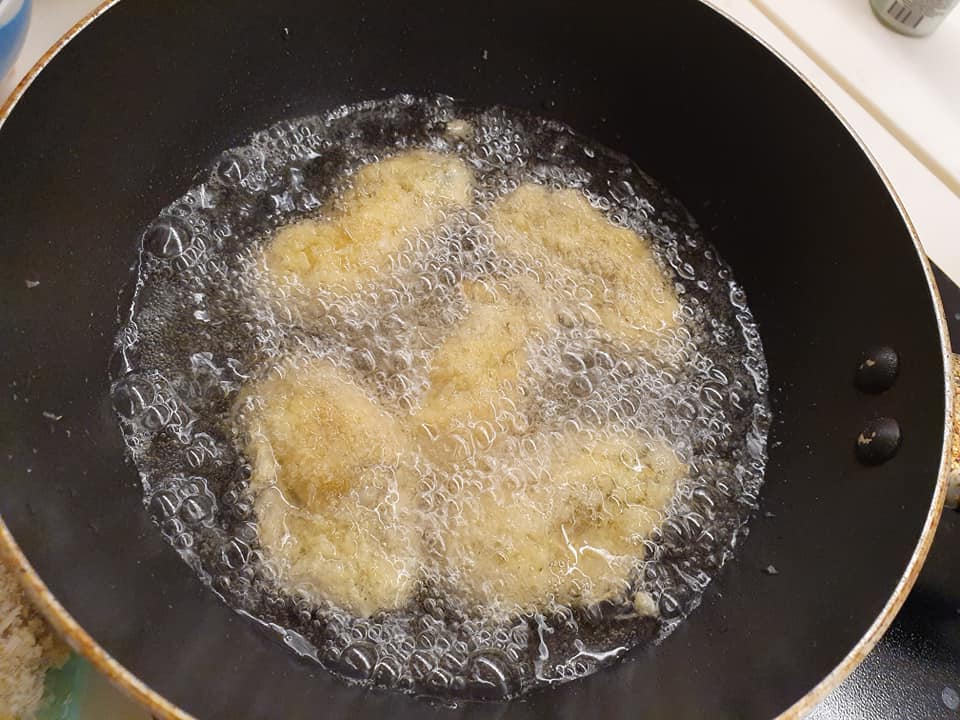 Drop into hot oil to deep fry till golden brown. Drain and absorb excess oil with kitchen paper.
Final Assembly: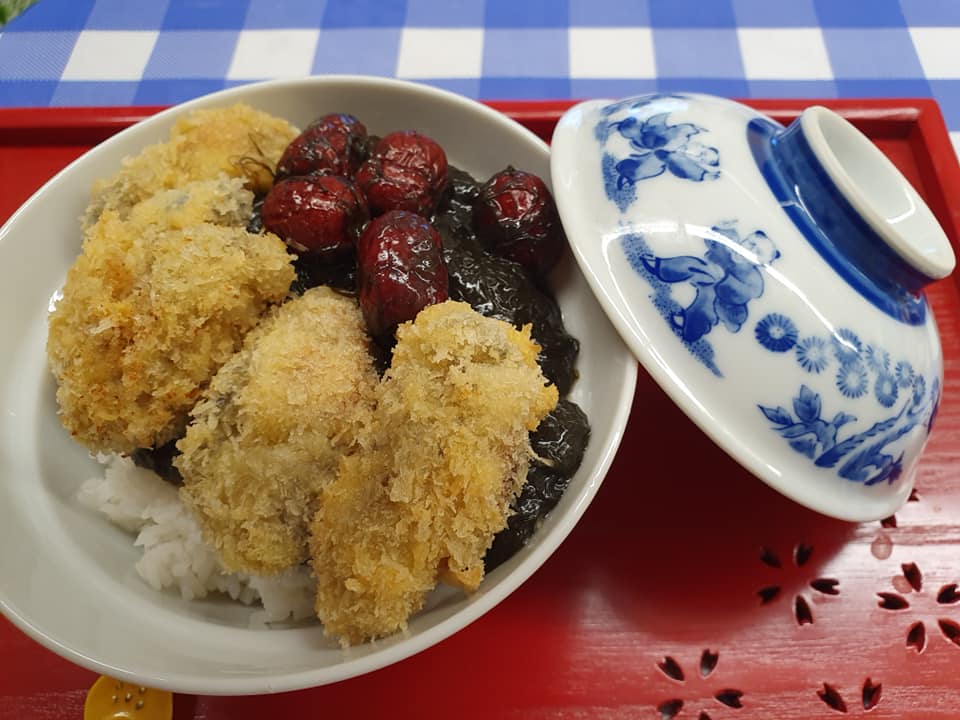 First, fill some cooked rice in a Donburi bowl, scoop some Black Moss over, arrange Golden Oyster Fritters and Red Dates on top, ready to serve. This recipe serves 2 pax.
I specially created this Auspicious dish to serve on the 9th day of Chinese New Year. Wishing everyone 长长久久 Chang Chang Jiu Jiu, (久 Jiu which sound as 9 in Chinese) meaning everlasting goodness which all of us are blessed.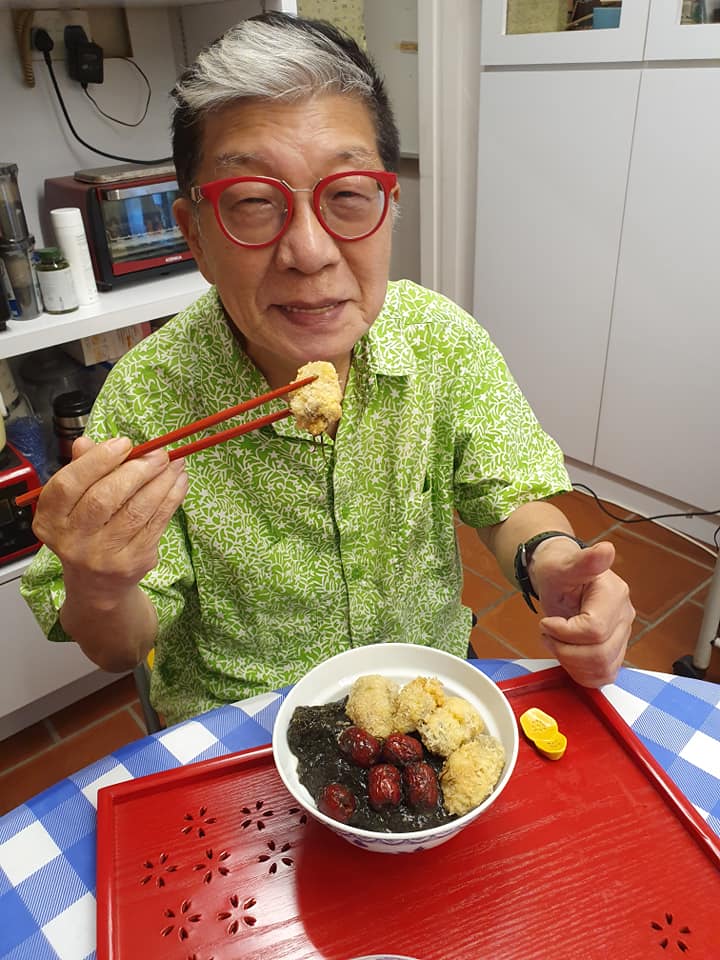 For this Golden Oyster Fritters Donburi, Auspicious ingredients are used for good luck that this dish will bring:

Black Moss 发菜: Sound in Chinese "Fa Cai" and in Cantonese "FATT CHOY" both sounds as the same as 发财 Fa Cai, meaning to brings Prosperity and get Rich.
Red Dates 红枣: In Chinese we say 吃红枣,通年没烦恼。"Chi Hong Zao, tong nian mei fan Nao" means Eat Red Dates, whole year no worries! (Direct translation)
Oyster 壕士: symbolises good events "好事" or 'good market performance "好市" in Cantonese.
If you like my recipe, Please help to share out on your Facebook. Do explore this Blog@CatherinaHosoi.com for more ideas and interesting recipes.
Please subscribe to my BLOG@catherinahosoi.com and get inspired to follow my Healthy Lifestyle and read all the Eat Happy Live Healthy 健康愉食(EHLH) recipes that I created.
#EatHappyLiveHealthy健康愉食
#EHLH
#CatherinaHosoiLifestyle
#CreatorNRoleModelOfEHLH
#CulinaryHobbyClass
#RecipesDevelopmentLifestyle