My Lots of Ingredients Fried Mah-Mee is so-o-o-o delicious n I want to share with all of you how I cooked in my Singapore kitchen.
Preparation: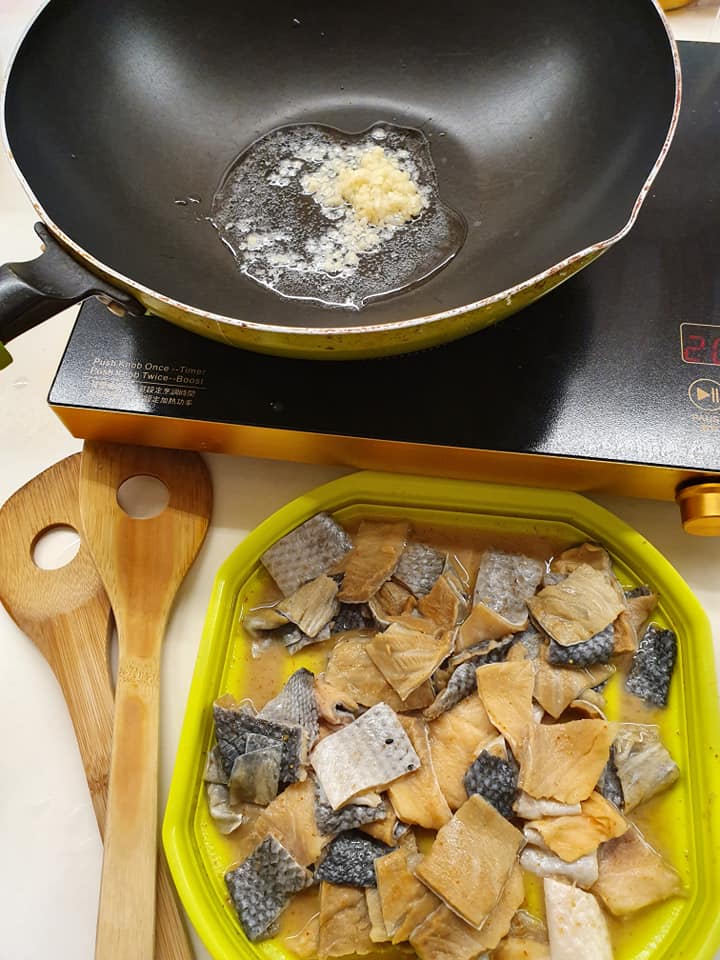 I have one complete skin from a whole big Salmon, cleaned away the scales, use scissors to cut to slightly broader than a finger's width and in short length. Marinate with 1 TBS Salt, 1 tsp Sugar, a few dashes of Pepper, 3 TBS of Rice Wine and marinate in the chiller for 30 mins.

Also, I prepared chopped 1 TBS Garlic, Shelled 100g Shrimps, cut two Imitation Crab sticks into two. I also have 250g cooked slice pork ready. (I keep in my chiller for ready use)

For veggies, I have a bundle of Chives (cut to shorter length) and 150g Beansprouts

Not forgeting one packet (5oog) of Yellow noodle.
Cooking: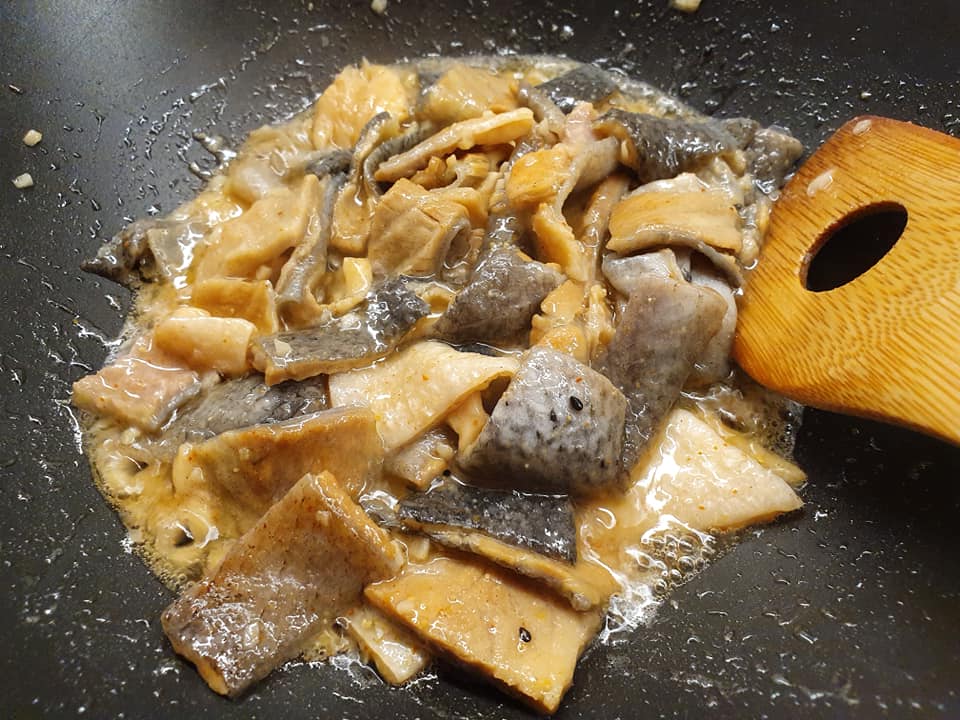 First, heat up 2 TBS Organic Coconut Oil or Sunflower Oil with 1 TBS chopped Garlic in a non stick wok, drop in Salmon Skin and marinades to cook completely.

Then add in 100g shelled Shrimps and 250g cooked sliced Pork to fry together.
Next, add in Imitation Crab sticks to toss together.
Loosen 1 packet (500g) Yellow Noodle and toss well with all ingredients.
Sprinkle in 1 TBS Sugar and add in 2 TBS Oyster Sauce. Than, put in the cut 1 bundle of Chives and 150g Beansprouts and half cup water.
Toss well till water almost dries up. Off heat and ready to serve. Each bite of it gives you full satisfaction. You must cook this, believe me. This portion of Fried Mah Mee serves 3 to 4 persons.

#EatHappyLiveHealthy健康愉食
#EHLH
#CatherinaHosoiLifestyle
#CreatorNRoleModeOfEHLH
#CulinaryHobbyClass
#RecipesDevelopmentConsultancy