Want to know how I did YAKI SOBA (Japanese Hawker style Fried Yellow Noodle)? Cooked this for lunch for my loved ones and everyone enjoyed very much.
Preparation:
First I mince 1 full head of Garlic finely. Then I marinate 500g of sliced Pork (or Chicken) with 1 TBS Salt, 1 tsp Sugar, a few dashes of Pepper, 3 TBS Cooking Sake and 2 tsp Cornstarch.

Cut 2 pieces Fish Cakes to shreds.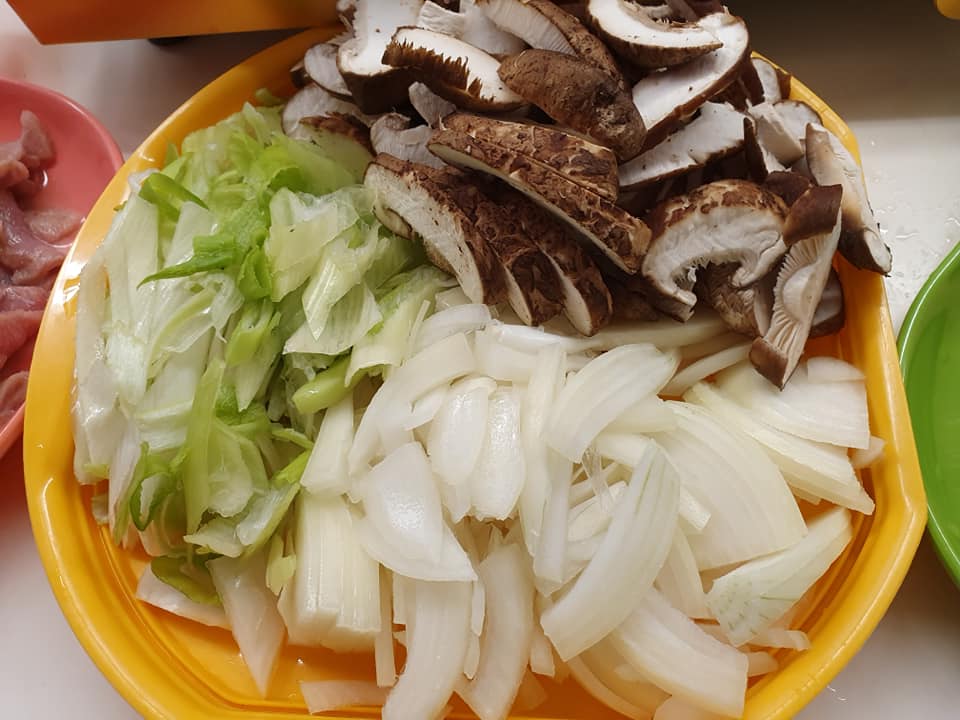 Cut 1 big Onion to shreds, 2 Leeks to diagonal slices, 8 big fresh Shiitake Mushrooms to shreds.
Rinse and drain 200g Beansprout. (Read my post on Growing Beansprouts Step by Step)
Pour hot boiling water on Yellow Noodle and drain dry.
Cooking:
First, heat up fry pan with 2 TBS Oil, drop in Garlic to fragrant.
Add in meat slices, fry till cooked. I am keeping half portion in the chiller for other day's cooking, will just use half for frying noodle today.

In the fry pan with remaining Meat slices, add in 2 TBS Oil, add in Onion and Leek to saute, add in Fish Cakes and Shiitake.
Put the Yellow Noodle in the centre and cover with Beans Sprouts. Add in half cup water and bring to a boil.

On top spread 1/2 cup Tomato Ketchup and 1/2 cup Kikkoman Soya Sauce. Toss well and cook till gravy gets dry.
To serve, transfer the cooked YAKI SOBA on a big serving plate, sprinkle some Katsuo Kezuri (dried Bonito Fish Flakes) on top and sprinkle a few dashes of Aonori Powder (Seaweed Powder) before eating. My Samurai enjoyed so much he had 3 servings.
If you like my recipe, Please help to share out on your Facebook. Do explore this Blog@CatherinaHosoi.com for more ideas and interesting recipes.
Please subscribe to my BLOG www.CatherinaHosoi.com and get inspired to follow my Healthy Lifestyle and read all the Eat Happy Live Healthy健康愉食(EHLH) recipes that I created. Please also share out to your friends.

#EatHappyLiveHealthy健康愉食
#EHLH
#CatherinaHosoiLifestyle
#CreatorNRoleModelOfEHLH
#CulinaryHobbyClass
#RecipesDevelopmentConsultancy