Created two new Auspicious dishes for the Chinese New Year. Wishing everyone a Happy and Prosperous Chinese New Year.

1. Sweet Nian Gao with Jumbo Red Dates
2. Fish Otak Otak on Golden Ingots
Sweet Nian Gao with Jumbo Red Dates
Wishing Everyone in the Cow Year 2021 countless Good Blessings. Made this Sweet Nian Gao 年糕 (Tee Kueh) stuffed in Jumbo Red Dates sprinkled with White Sesame Seeds as our first bite of Lucky Food into our mouths.

For this dish, just rinsed Jumbo Red Dates, use scissors to slit opened the dates and removed seeds.

Cut a small piece of Nian Gao 年糕 and stuffed inside dates.

Sprinkle some White Sesame Seeds on top, microwaved at 40% power for 30 seconds.
Ready to serve. Great way to start our Chinese New Year. 吃红枣,通年没烦恼。"Chi Hong Zao, tong nian mei fan Nao" means Eat Red Dates, whole year no worries! (Direct translation)
#FirstBiteOfLuckyFoodOnChineseNewYear
#CatherinaHosoiLifestyle
Fish Otak Otak on Golden Ingots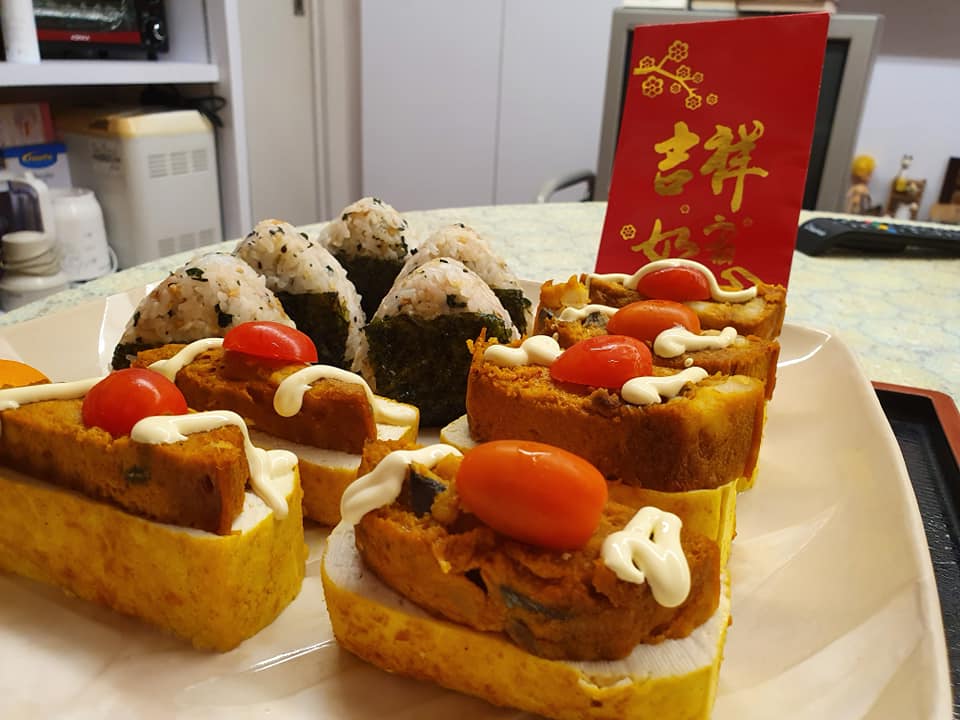 For this Chinese New Year, we wish everyone a year with surplus. 祝大家年年有余。
For our meal today I focus on Fish 鱼 as the sound Yu (鱼) in Fish sounds like Yu (余) in surplus.

Using "Yellow Taukwa" as golden Ingots. Couldn't find Yellow Taukwa 豆干 in Singapore nowadays so I marinated Taukwa in Salt and Turmeric Powder to stain it yellow. Then I pan fried to perfection then cut each Taukwa to 3 long wedges.

Next, I microwave stored bought Otak Otak with Fish chunks till cooked and cut to 6 thick slices and placed on top of each piece of Yellow Taukwa.

I topped each "Ingots" with half Cherry Tomato and squeeze some Japanese Mayonnaise on top. My created dish: FISH OTAK OTAK ON GOLDEN INGOTS are ready.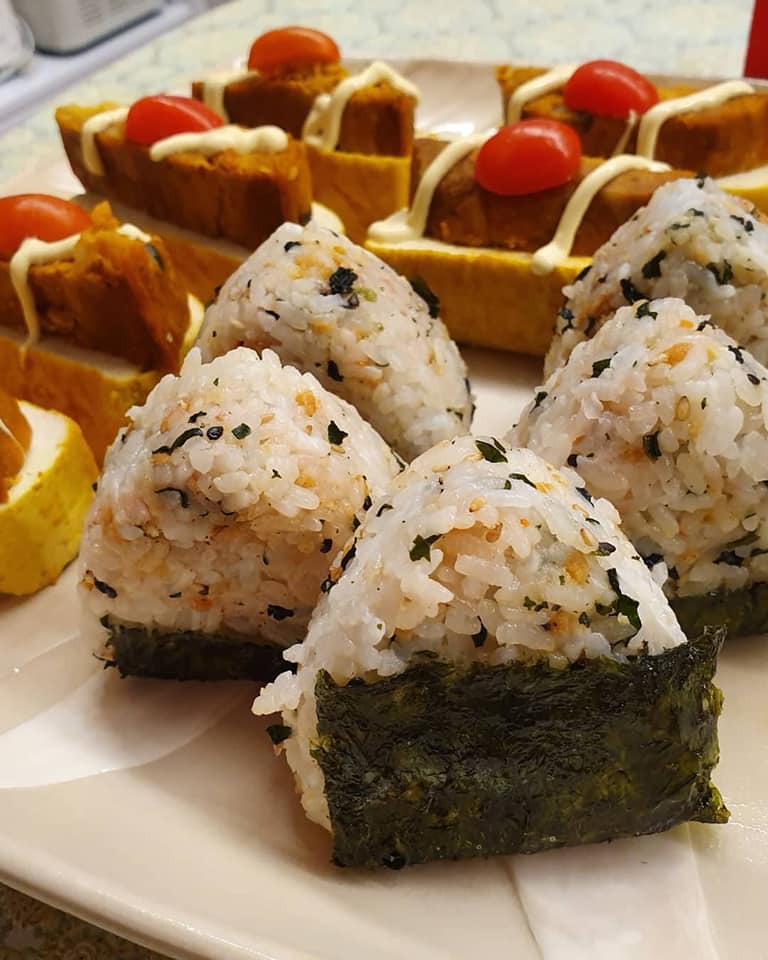 Next I heated up some ready cooked Short Grain Rice. While hot added in Tuna Mayonnaise Sprinkles and Veggies Sprinkles, tossed well and pressed rice in Onigiri Pressor to make Triangular shaped Onigiri wrapped with Nori.
These Tuna Onigiris symbol MOUNTAIN OF RICE FULL OF FISH.
These are our blessings for all of you. Stay safe and Healthy.

If you like my recipe, Please help to share out on your Facebook. Do explore this Blog@CatherinaHosoi.com for more ideas and interesting recipes.
Please subscribe to my BLOG@catherinahosoi.com and get inspired to follow my Healthy Lifestyle and read all the Eat Happy Live Healthy 健康愉食(EHLH) recipes that I created.
---

#WishingEveryoneAYearWithSurplus祝大家年年有余    #CreatedAuspiciousDishesForChineseNewYear
#FishOtakOtakOnGoldenIngots  
#MountainofRiceFullOfFish
#EatHappyLiveHealthy健康愉食
#EHLH
#CatherinaHosoiLifestyle
#CreatorNRoleModelOfEHLH
#CulinaryHobbyClass
#RecipesDevelopmentConsultancy