Sometimes, you just do not feel like cooking over the stove, or simply like to have an easy meal. Sharing with everyone two Sweat Free Cooking meal.

1. Baked Spanish Mackerels with veggies
2. Baked Bittergourd, Chicken Mid Wings & Potatoes in Curry Sauce
Baked Spanish Mackerels with veggies
When I don't feel to cook over the stove this is how I prepare my meal. I call this Sweat Free Meal. I have 2 slices of Spanish Mackerel, 1/4 Round Cabbage cut to big slices and 2 Sweet corns cut to thick rounds. Just sprinkle some Salt, Pepper and Japanese 7 Spice Chillie Powder over all.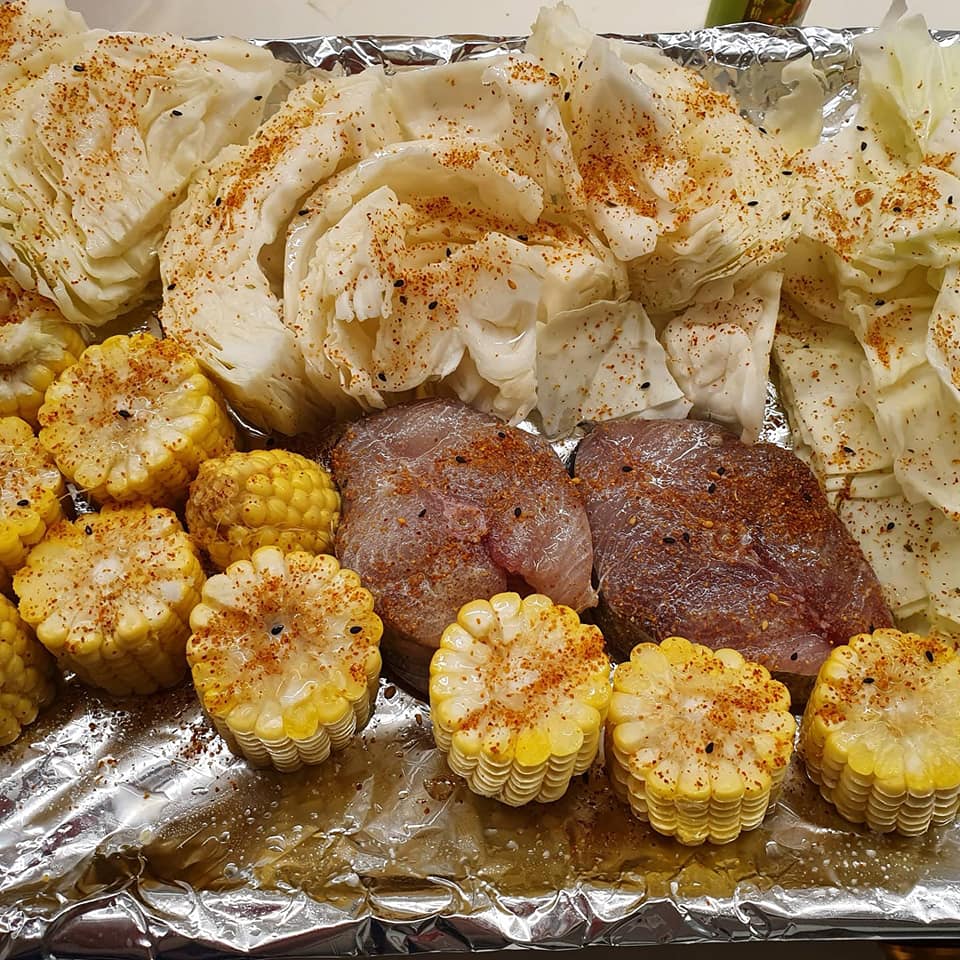 Line foil over Baking Tray, grease with 1 TBS JAVARA Brand Coconut Oil from Indonesia. Arrange all ingredients neatly on Baking Tray, drizzle 2 TBS Coconut Oil on top.
Push tray into preheated oven of 200 degree Celsius to bake for 25 to 30 mins, halfway through, lower temperature to 180 degree Celsius.

When done, arrange nicely on a serving plate and garnish with homemade Japanese Cucumber and Papaya Pickles (Click here for Pickled Crunchy Papaya recipe).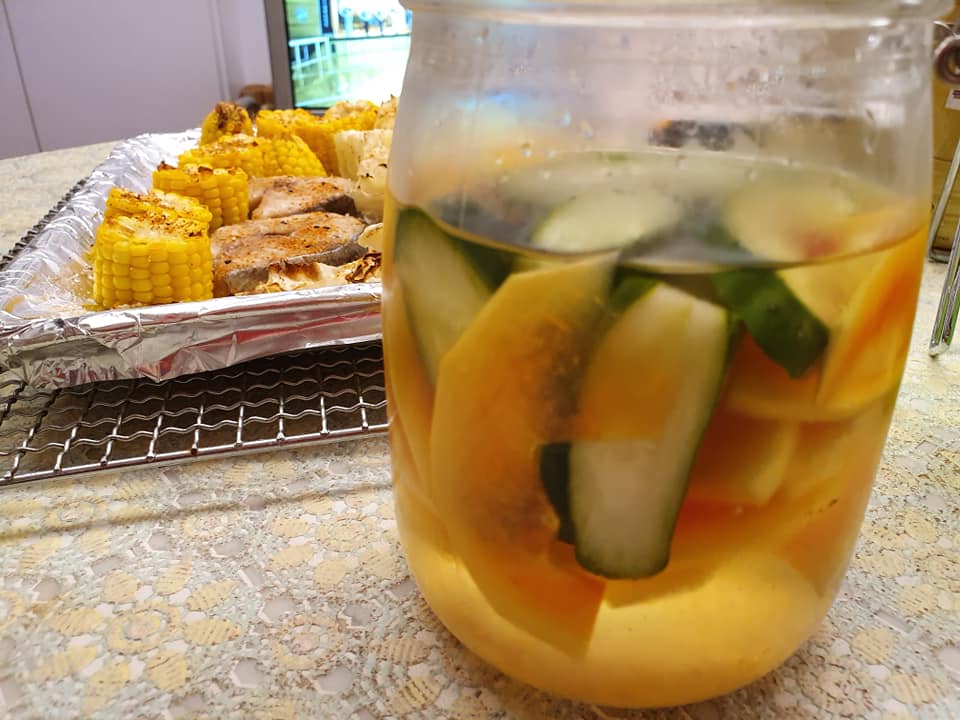 The Cucumber n firm unripe Papaya were pickled overnight in a mixture of half cup Sugar Syrup and 1 1/2 cup Vinegar added with 1 tsp Salt. Perfect combination!
#EatHappyLiveHealthy健康愉食
#EHLH
#CatherinaHosoiLifestyle
#CreatorNRoleModelOfEHLH
#CulinaryHobbyClass
#RecipesDevelopmentConsultancy
---
Baked Bittergourd, Chicken Mid Wings & Potatoes in Curry Sauce
My Weekend No-Sweat-Cooking again. Today I served a Baked Bittergourd, Chicken Mid Wings, Potatoes in Curry Sauce and paired the dish with Baguette.
First I marinated 8 Chicken Mid Wings with 1 tsp Salt, 1 tsp Sugar, a few dashes of Pepper, 1 tsp Turmeric Powder and 1 TBS Light Soya Sauce. Than I leave them in the chiller for 1 hour.

Next, I cut 1 Bittergourd and scooped out the seeds and cut to finger width. Than I pared the skin from 5 medium Potatoes and cut to slices. Blanch Bittergourd and Potatoes in hot boiling water for 5 mins, than drained.

Mix 4 TBS Meat Curry Powder with 1 1/2 cup water, 200ml Coconut Cream and 1 TBS Salt. Preheat oven to 200 degree Celsius.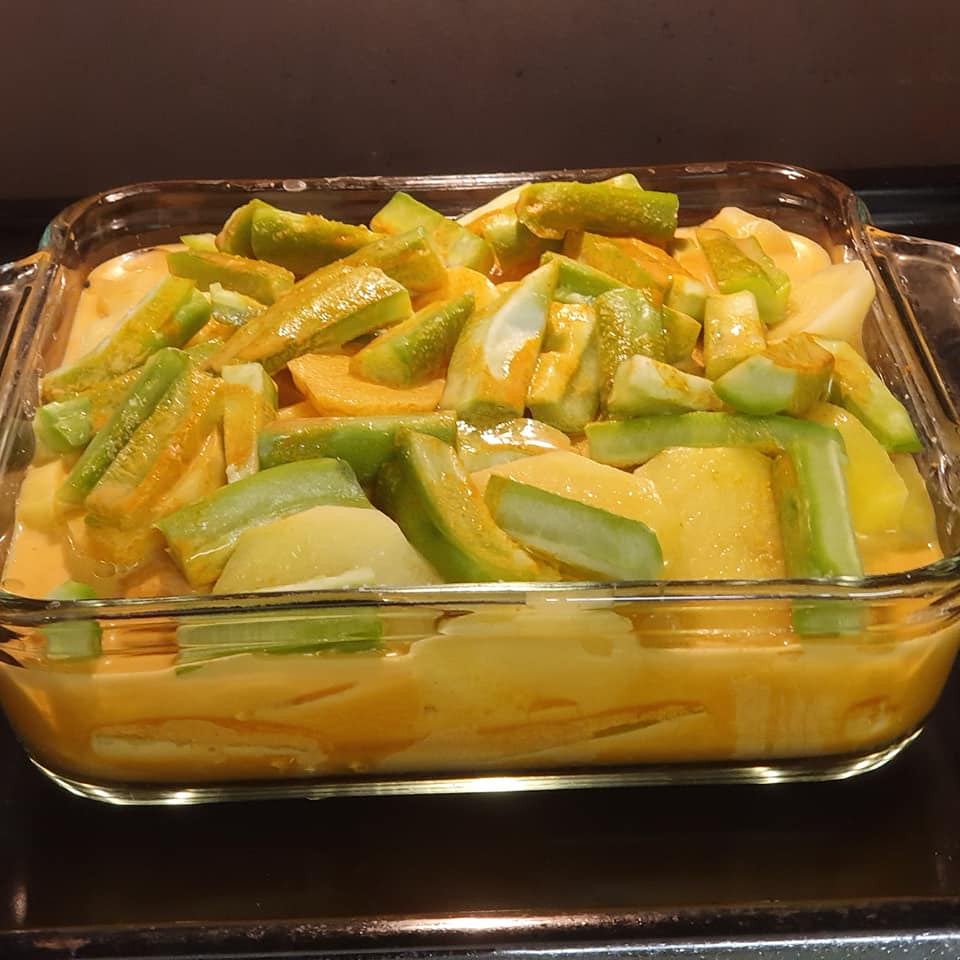 Dribble 1 TBS Organic Coconut Oil at the base of a Pyrex Baking Dish. Spread 1 layer of the hae lf of thblanched Potato slices, 1 layer of half of the blanched Bittergourd. Add the marinated Chicken Mid Wings together with the marinade. Pour half of the prepared Curry Coconut Sauce over.

Top up with the rest of the Blanched Potatoes and remaining Blanched Bittergourd on top. Pour remaining Curry Coconut Sauce on top and sprinkle a little extra salt on top.
Push into the oven n bake for 40 mins.
Ready to serve with Baguette dipping into the sauce. Super yummy.
#EatHappyLiveHealthy健康愉食
#EHLH
#CatherinaHosoiLifestyle
#CreatorNRoleModelOfEHLH
#CulinaryHobbyClass
#RecipesDevelopmentConsultancy