Blessed Wednesday from my kitchen in Singapore to all reader here. It has been a busy day for me because at 11am I went to Kinokuniya Book Store at Takashimaya to collect my books that I ordered. Then zoomed across to Paragon to order the packed Japanese Lunch Box for my Samurai as lunch and went to have my favourite Nasi Lemak Tower for my lunch.
Then I went to supermarket to get my ingredients for cooking the next 10 days and also grabbed some canned food to keep stock. After that the whole afternoon was spent with my assistant doing some desk works.
Preparation:
Tonight I am going to Stir Fry Yellow & White Rice Noodle. I am using 100g of the Bacon Bits that I bought in the afternoon together with 4 TBS Dried Silver Baits (which I kept in my chiller), a bunch of Chives (separate the stem and stalk), 250g Beansprouts, 2 Red Chillies (cut to shreds), 200g Yellow Noodle and 200g White Rice Noodle to fry noodle for our dinner.
Cooking:
Heat up 2 tsp Sunflower Oil and drop in 100g Bacon Bits to saute till fragrant (keep remaining 300g in freezer for other days), drop in 2 kinds of noodles.
Than add in the hard stems from Chives to stir fry for 2 mins.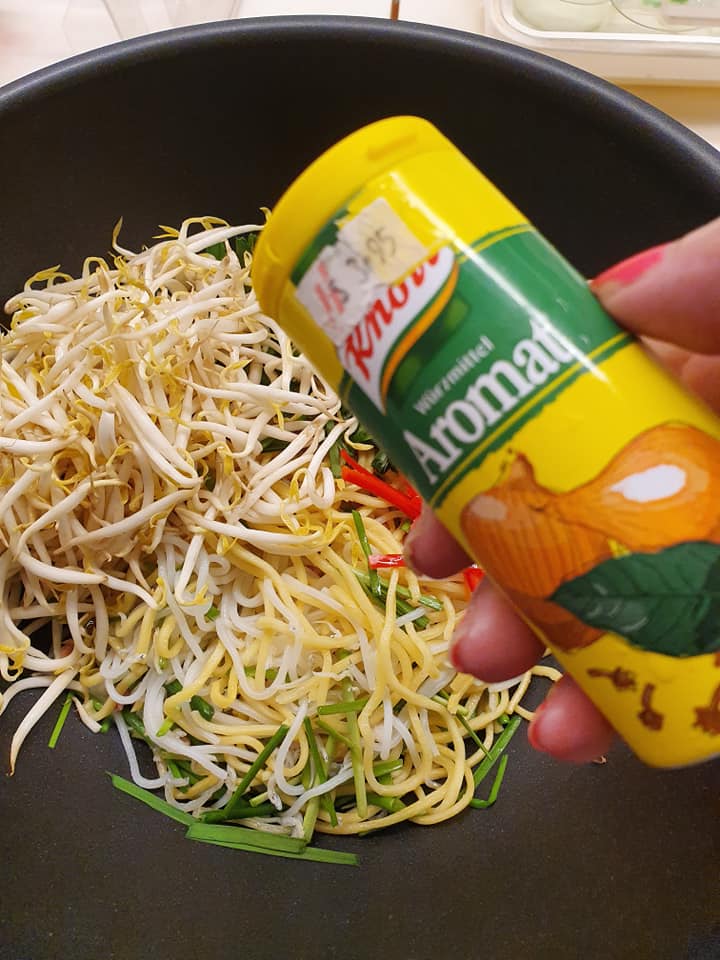 Add in Beansprouts, Remaining Chives and Silver Baits to toss with a few dashes of KNORR brand Aromat Enhancer added with 1/2 cup water.
Cover lid n cook till liquid dries up. Add in Red Chillie Shred, 1 TBS Light Soya Sauce, 1 tsp Sugar. Toss well and off heat. Stir Fry Yellow & White Rice Noodle is now done. We are enjoying our late dinner now. Yummy.
#EatHappyLiveHealthy健康愉食
#EHLH
#CatherinaHosoiLifestyle
#CreatorNRoleModelOfEHLH
#CulinaryHobbyClass
#RecipesDevelopmentConsultancy