Sunday Onigiri Day . Onigiri also known as Omusubi, is a Japanese style Pressed Rice Balls wrapped with Nori (Black Seaweed). Today I am making Salmon Onigiri.
We have been blessed by our friend Mr Quek who is a graduate from Japan. He has given us a packet of frozen Beni Sake (Seasoned Salted Red Salmon) from Russia.
Preparation:
I cut the Salmon into 10 thick wedges and used 2 wedges today, keeping the other 8 wedges in the freezer for other days. It is a luxury even on normal days, what else to say during this Lockdown period! For the other ingredients, I had 4 cups cooked Japanese Short Grain Rice, 7 Spice powder (Shichimi Togarashi-Japanese 7 Spice Blend) and some Black Nori.
Cooking:
First, I remove the scales from the Salmon and grease a small fry pan with Butter, then pan fried Salmon till both sides are thoroughly cooked using medium low heat with lid covered.
Then remove the bones from Salmon n flake the fish with a fork.
Add Salmon flakes to the cooked Japanese Short Grain Rice with a few dashes of Japanese 7 Spice Pepper. Mix well.
Next wet the Onigiri Mould and fill in the mixed Rice, press hard and remove rice from mould, making triangular rice balls.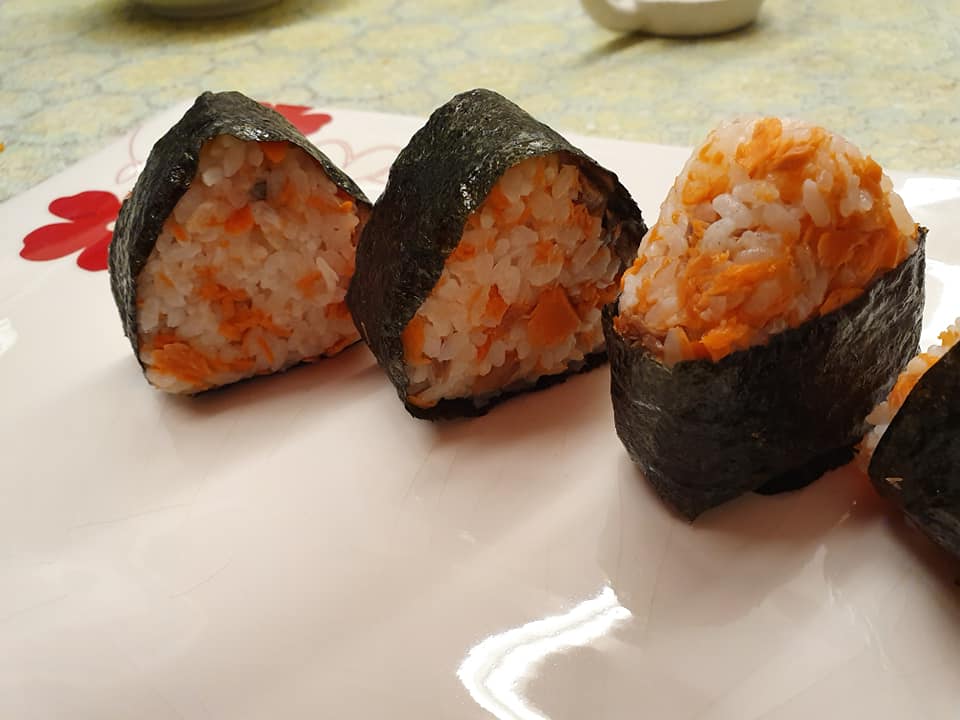 Then wrap with a sheet of Black Nori to make Onigiri.
Salmon Onigiri is ready to serve. No need to go to Japanese Restaurants and we still can enjoy our Japanese Meal. Thank GOD for HIS Blessing. Amen.
On Day20 Singapore's Circuit Breaker Mode, 25 April 2020.
#MakingOnigiri
#EatHappyLiveHealthy健康愉食
#EHLH
#CatherinaHosoiLifestyle
#CreatorNRoleModelOfEHLH
#CulinaryHobbyClass
#RecipesDevelopmentConsultancy