From my kitchen in Singapore, on Day 18 Circuit Breaker Mode, 24 April 2020. Today I am doing a yummy and fragrant Simmer Cooked Claypot Japanese Salmon Fishhead with Daikon & Leek in Japanese Bonito flavour Cooking sauce (*Mizkan brand Oi Katsuo Tsuyu) & Japanese Yamasa brand Shoyu (Soy Sauce). This dish is Japanese Traditional Home- style Cooking.
Preparation: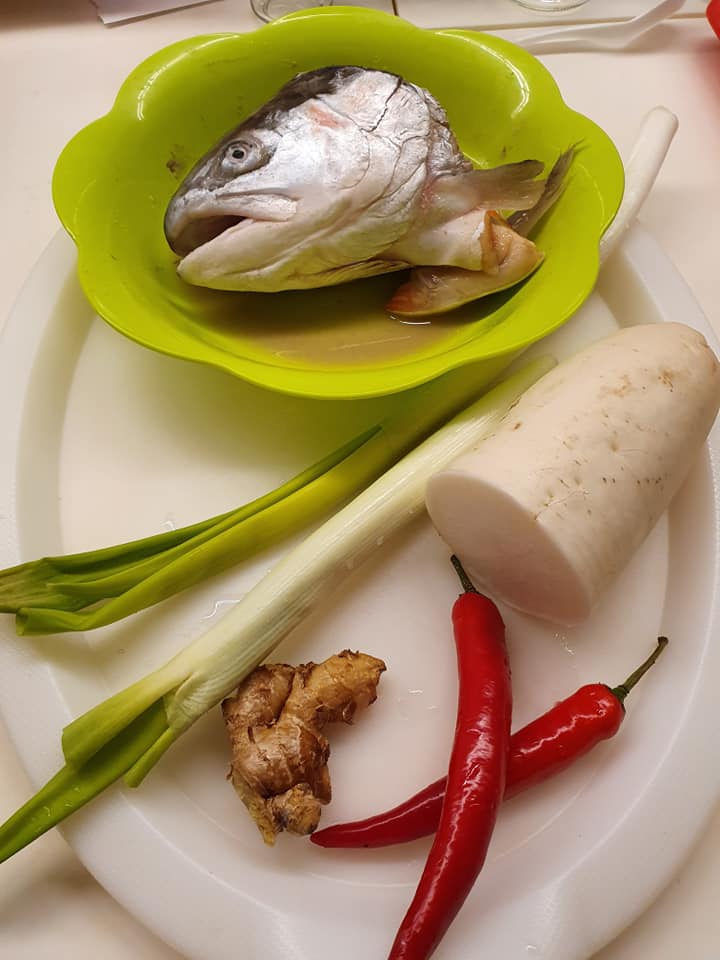 I am using 1 whole Salmon Fishhead, 2 Leeks, 1 big Japanese Daikon (Radish), 1 thumb sized Ginger and 2 fresh Red Chillies,

First, the night before, I clean and rinse the Salmon Fishhead, pat dry and season with a little Salt, Pepper and 2 TBS Cooking Sake, leave it in the chiller to chill overnight. (Discard marinade before cooking)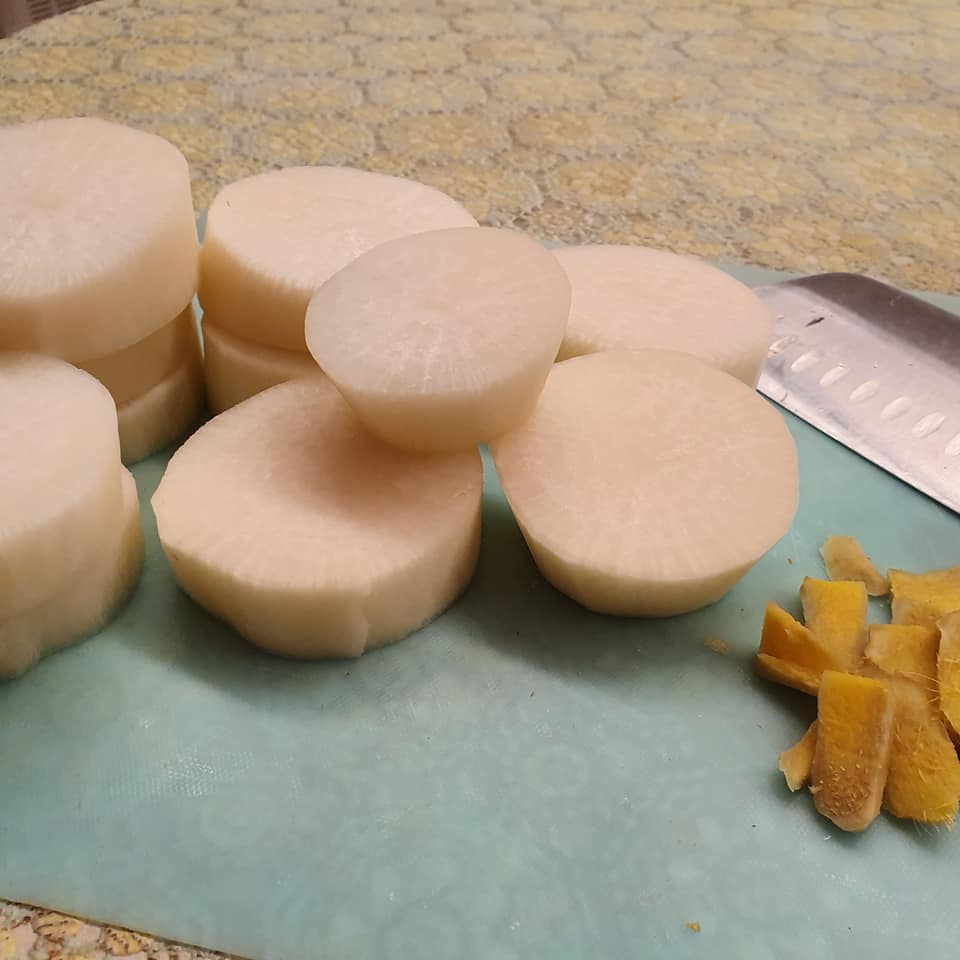 The next day I cut Leek to short length (the green part cut to slices for final garnishing), peel Daikon and cut to thick rounds, slice Ginger and use a knife to slit open the center of Red Chillies.
Cooking:
First, use a Pyrex dish to fill with Daikon and 2 cups water, microwave on high for 5 mins.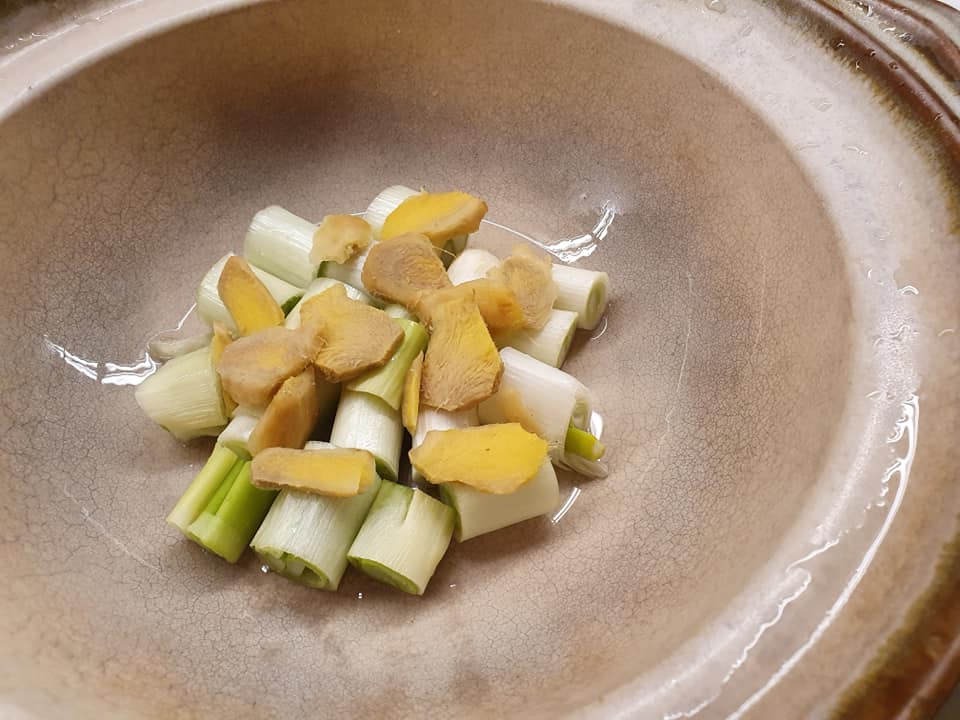 Now use Claypot to cook. First line the base with Leek the white part and Ginger slices.
Place the seasoned Salmon Fishhead on top (discard the marinade because it is fishy). Top up with the microwaved Daikon and liquid. Also add in the 2 Red Chillies.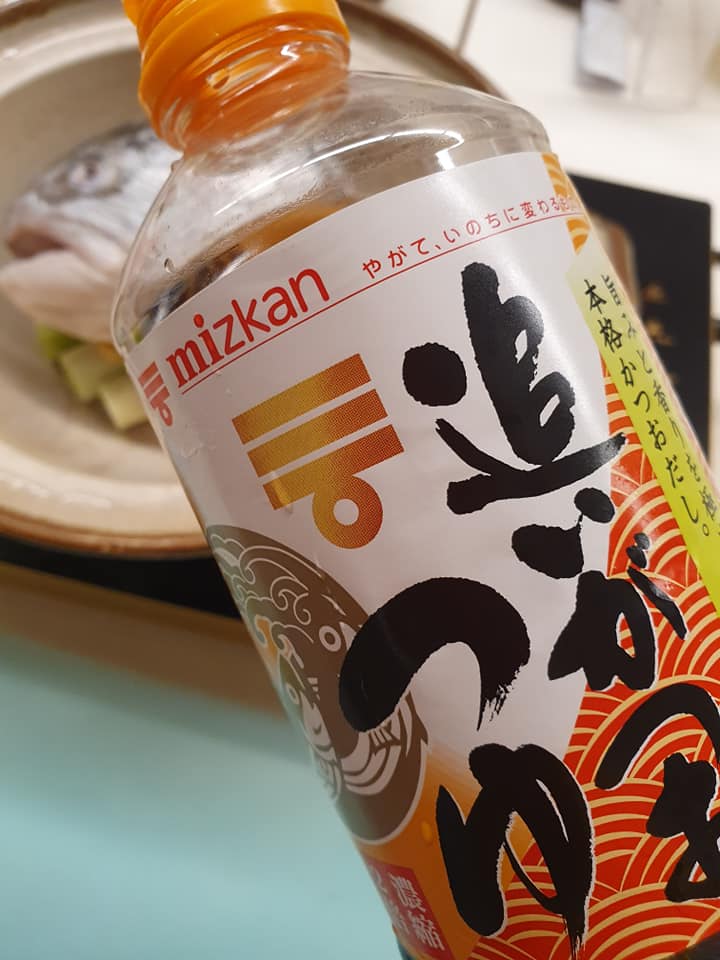 Pour in 1/2 cup Cooking Sake and 1/2 cup Bonito flavour Cooking Sauce, cover with lid and boil over strong heat for 20 mins, removing scums now and then.
When 20 mins is up, turn the Salmon Fishhead, add in 1/4 cup Japanese Soy Sauce and 2 TBS Sugar, cover with lid, turn heat to medium and simmer for a further 20 mins.
Off heat and add in Green Leek as final garnish. You can serve this Japanese Salmon Fishhead with Daikon & Leek with rice, but we didn't, we just finished eating the Fishhead and almost all the Daikon.
I keep the tasty Gravy, strain away the Leek and Ginger, save it to boil Tofu in it for the next day. Nothing goes wasted!
The next day: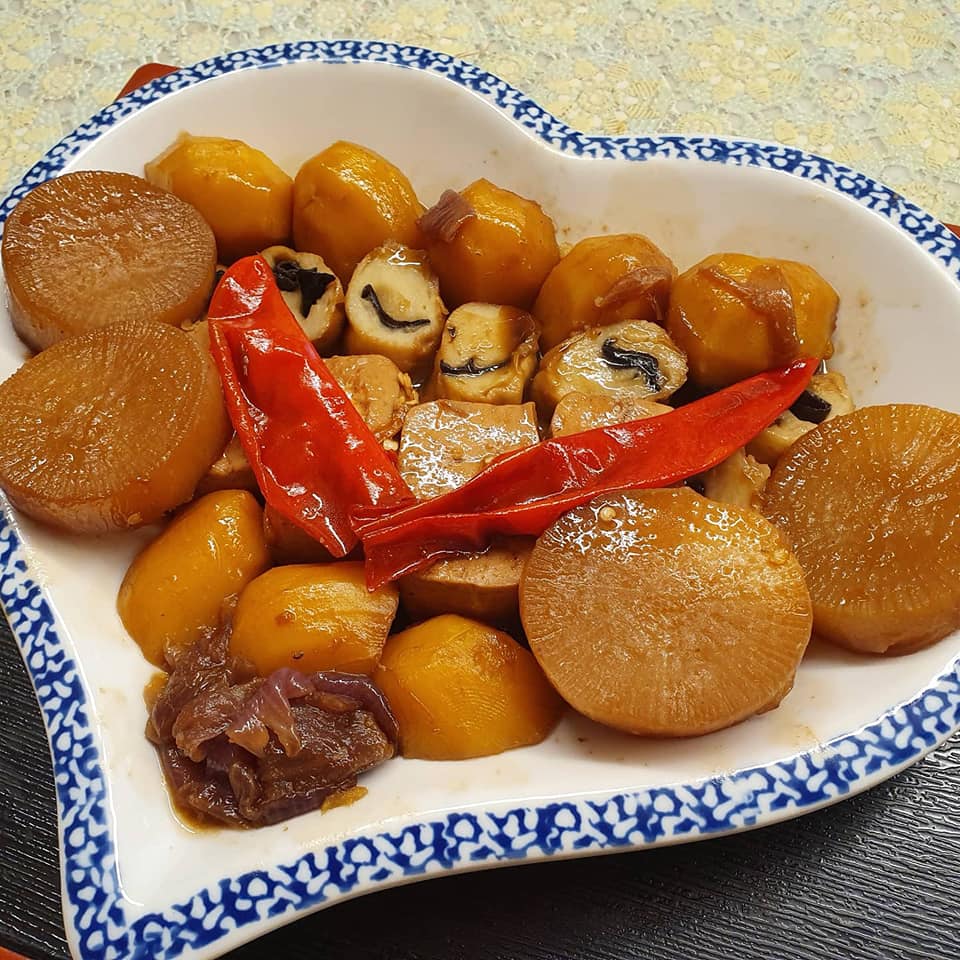 Using the Salmon Head stewing sauce and Daikon remained from last night I put in extra onion, 3 Taukwa (firm Tofu), 1 Gluten Roll, 4 Potatoes, 2 Red Chillies to recycle cooked this dish. Same like 1920s Depression era. Yummy. Thank God for filling our bowls. Amen.
Do Check out our interesting Daikon Recipes on my blog@CATherinaHosoi.com
Please subscribe to my BLOG@catherinahosoi.com and get inspired to follow my Healthy Lifestyle and read all the Eat Happy Live Healthy 健康愉食(EHLH) recipes that I created.
#EatHappyLiveHealthy健康愉食
#EHLH
#CatherinaHosoiLifestyle
#CreatorNRoleModelOfEHLH
#CulinaryHobbyClass
#RecipesDevelopmentConsultancy