STAY AT HOME on Day 12 Singapore's Circuit Breaker Mode, 18 April 2020. Using my Electric Rice Cooker to cook Rice Cooker Chicken Wing, Chinese Sausages & Salted Fish Rice.
Preparation:
Rice
First, I rinse 1 Cup Jasmine Rice in a colander, then transfer to an electric Rice Cooker, add with 1 1/2 cup water. Turn on the switch to cook rice.
Chicken Wings
Meantime season 10 Chicken Mid Joint Wings with Ginger Juice (pressed out from 1 TBS grated Ginger), 1 tsp Salt, 1/2 tsp Sugar, 1 TBS Light Soya Sauce (I used Japanese Shoyu), 1 tsp Thick Dark Soya Sauce and 1 TBS Hua Teow Wine.
Chinese Sausages
Then I cut away the strings on the 2 Chinese Sausages, then soak in hot water for 5 mins, remove the Sausage Stockings and cut to rounds.
Salted Fish
For the Salted Fish, I use scissors to snip 2 thin slices of Salted Fish to tiny pieces and pan fried with 1 tsp Sunflower Oil with 1 tsp Sesame Oil till crispy and fragrant. Dish out to be used later.
Garnishing
For garnishing, I have 1 Red Chillie, cut open, remove seeds and cut to rings. I also cut a few stalks Spring Onions to small pieces to be used for final garnishing. After all these are prepared which takes about 30 mins, the button of the electric Rice Cooker jumps from 'Cook' mode to 'Warm' mode.

Cooking:
Open the lid of the rice cooker and scatter in the cut Chinese Sausages, Chicken Wings in layers and the marinade on top of rice.
Press the button to 'Cook' mode again. As shown in photo, I use a clip to stop the button from jumping to 'Warm' mode. Time it for 15 mins and remove the clip. Off the electricity to the rice cooker. The Wings will be cooked by then.
Open lid and drop in the Crispy Fried Salted Fish with the Oil. Add in the Red Chillie and Spring Onions as Garnishing.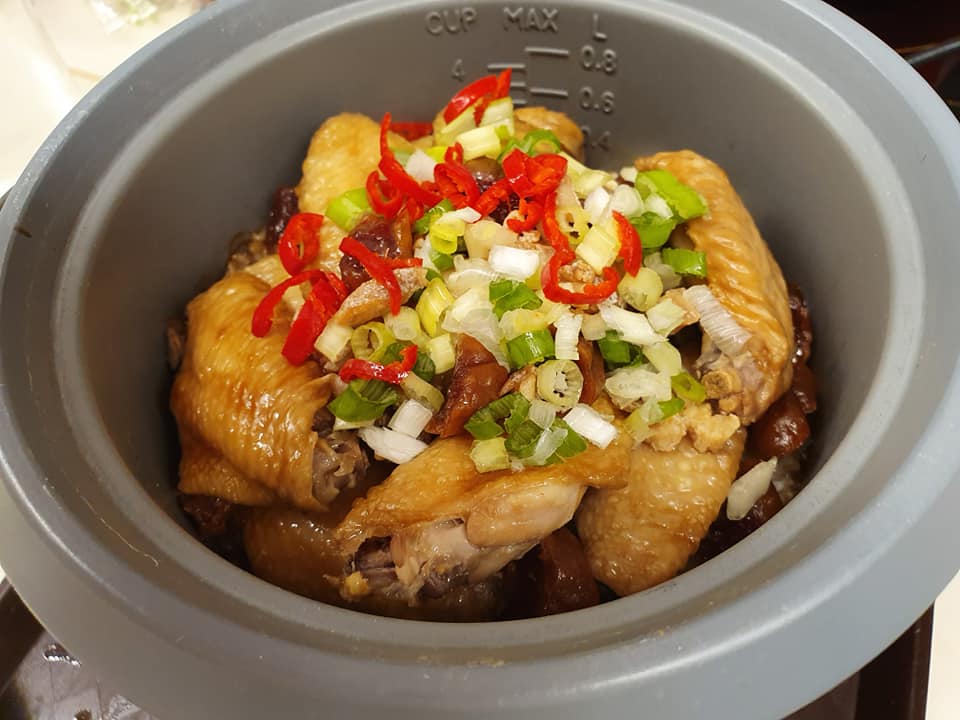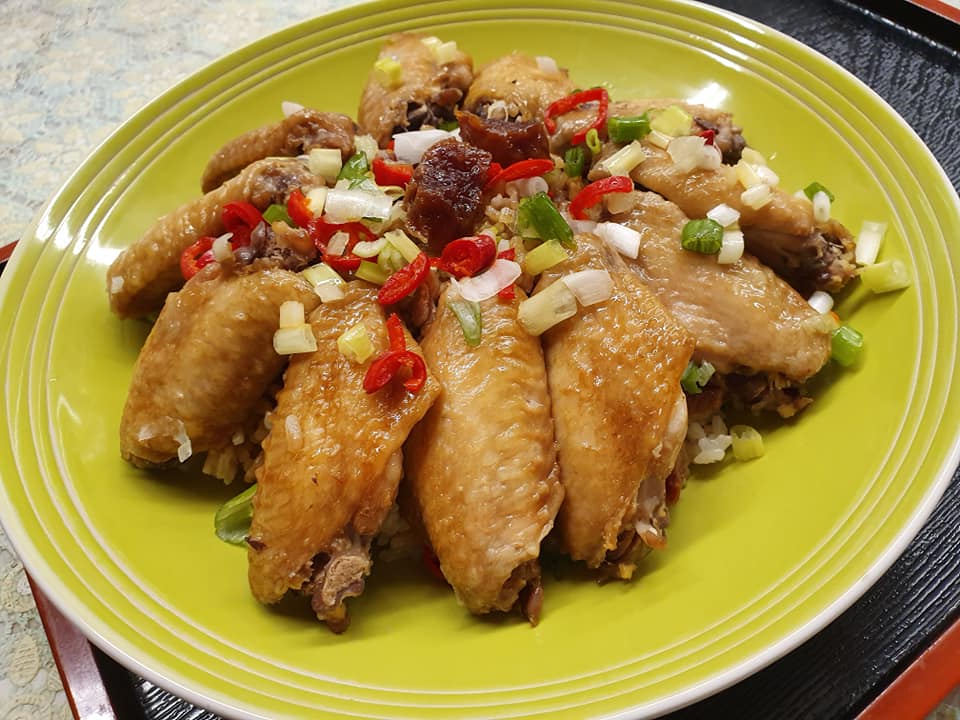 Toss well and serve this Rice Cooker Chicken Wing, Chinese Sausage & Salted Fish Rice nicely on a deep plate for nice presentation, as shown on the photo above. This portion serves 2 persons. My Samurai enjoys this meal very much. I am happy to see him enjoyed. Try cooking this easy to cook dish for your loved ones also.
#EatHappyLiveHealthy健康愉食
#EHLH
#CatherinaHosoiLifestyle
#CreatorNRoleModelOfEHLH
#CulinaryHobbyClass
#RecipesDevelopmentConsultancy