Day 13 on Singapore's Circuit Breaker Mode, 19 April 2020. From my kitchen in Singapore I am making a Braise Peanuts with Koya Tofu dish.

Preparation:
First, I prepare 250g Peanuts without shells which I had soaked overnight in the fridge.
I also have 6 pcs Koya Tofu (freeze-dried Tofu)
Other ingredients include 6 big Black Mushrooms softened, each cut to two, 2 big Onions cut to big pieces & 6 Dried Red Chillies

I also have 1 thumb sized Ginger (cut to slices), some sweet beans and 1/2 Cup *Mizkan brand Oi Katsuo Tsuyu (Bonito flavoured Cooking Sauce)
Cooking:
First I pour hot boiling water over Koya Tofu. When cooled and softened, cut each to 4 pieces.

In a pot fill with 1,500ml water, the soaked Peanut (with the soaking water drained away), Ginger slices, Dried Red Chillies, and the cut Onions. Cover the pot with lid and bring to rapid boil for 10 mins.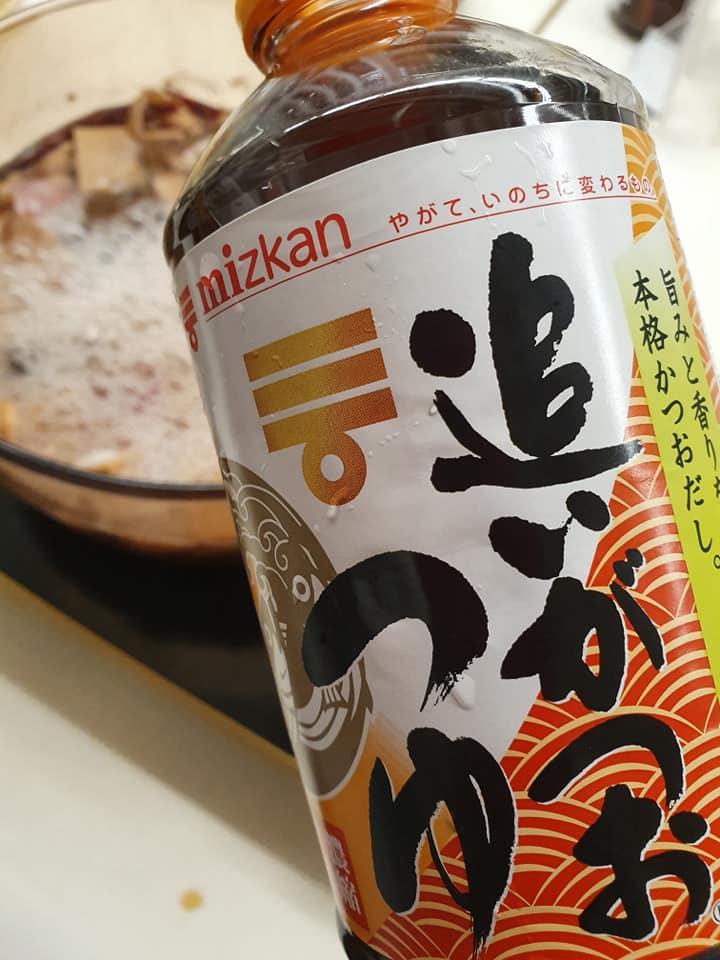 Open the lid, add in Koya Tofu, Black Mushrooms, 1/2 cup *Mizkan Oi Katsuo Tsuyu, 2 TBS Cooking Sake, 1 TBS Sugar and 1 tsp Himalayan Pink Salt.
Cover and continue boiling for 50 mins, now and then give it a stir to prevent sticking to the base of pot. Towards the last 5 mins, lower down the heat and add in a few Sweet Beans with strings removed just to heat through.
Off heat and arrange all nicely on deep plates to serve. This recipe serve 4 portion.
What are good friends for? I enjoy cooking and in times of crisis and now I think of my Samurai's 40+ years old friend who is a graduate from Japan who missing going out to dine in Japanese Restaurants.
Since I cooked Braised Peanut with Koya Tofu and Black Mushrooms in *Mizkan brand Oi-Katsuo Tsuyu, I decided to pack him 2 boxes and asked him to drive to my house for collection. So he drove by, opened his car window and I just passed him the two boxes. Hope he enjoys.
If you like my recipe, Please help to share out on your Facebook. Do explore this Blog@CatherinaHosoi.com for more ideas and interesting recipes.
Please subscribe to my BLOG www.CatherinaHosoi.com and get inspired to follow my Healthy Lifestyle and read all the Eat Happy Live Healthy健康愉食(EHLH) recipes that I created. Please also share out to your friends.
#ITreasureFriendship
#EatHappyLiveHealthy健康愉食
#EHLH
#CatherinaHosoiLifestyle
#CreatorNRoleModelOfEHLH
#CulinaryHobbyClass
#RecipesDevelopmentConsultancy