Recipe Sharing Time. This is how I made Oriental Lasagna using You Tiao 油条。(Deep Fried Dough Stick)
Preparation:
I need 6 big Prawns, remove heads and shells (do not discard), cut Prawn Flesh to bite sized and season with a little Himalayan Pink Salt and Pepper.
Remove seeds from 2 Red Chillies and cut to short shreds. Cut 2 slices of Ham to short shreds. Cut 1 Brinjal to rounds.
I also have 1 pair of You Tiao, which I use scissors to snip to rounds. Have a handful of Mozzarella Cheese and I will also need 3/4 cup Milk.
Cooking:
First, use 1 TBS Butter to saute Prawn Heads and Shells with a little Red Chillie. When Prawn Heads and Shells turn colour, discard them. This is to "flavour" the pan.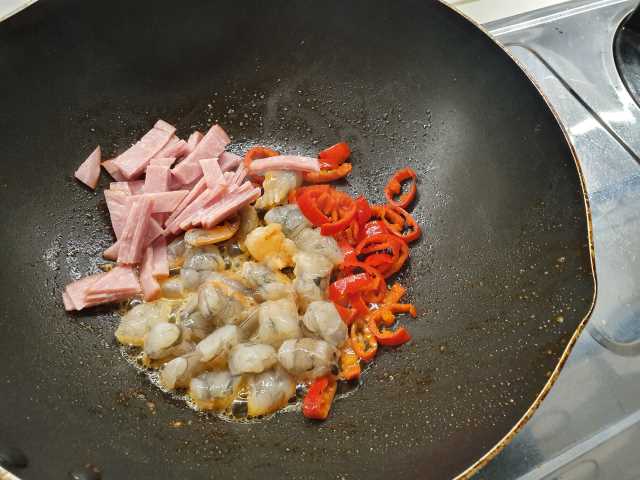 Now drop in 2 TBS Butter and saute Red Chillies with Prawn Flesh and Ham till fragrant.
Drop in Brinjal rounds to saute for 2 mins, add in 3/4 cups Milk, season with Himalayan Pink Salt to taste and 1 tsp Sugar. Simmer cook for 2 mins. Off Fire.
Next grease a baking dish with some Butter. Turn on oven to 200 degree Celsius.
First layer 1 layer of You Tiao on the dish.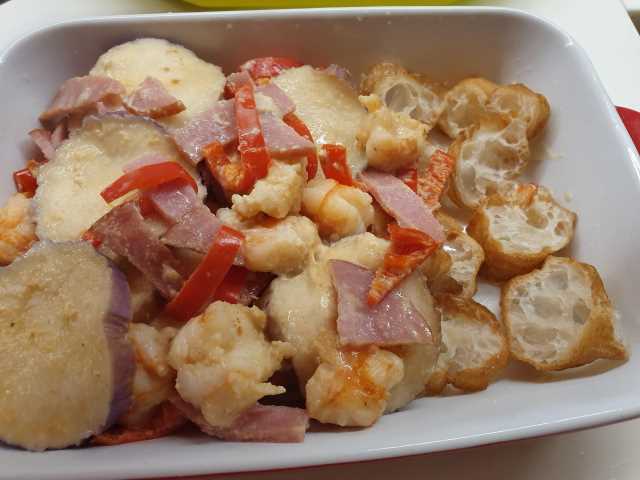 For the second layer, scoop all of the half cooked Brinjal, Prawns , Ham and Red Chillie mixture on top.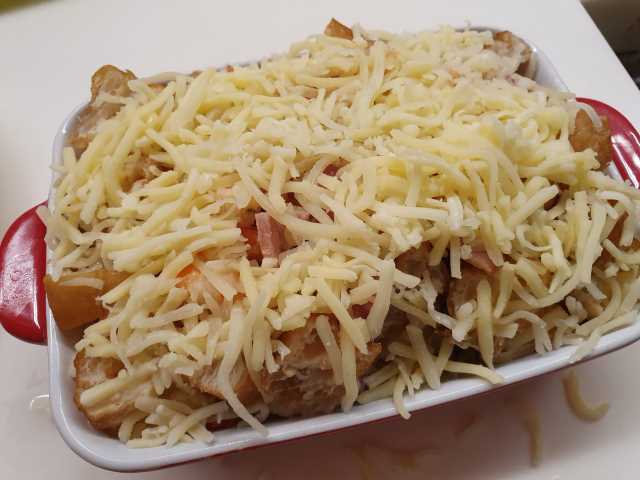 3rd layer to lay the rest of the You Tiao.
Lastly, for the Top layer, sprinkle a handful of Mozzarella Cheese on top.
Ready to bake in preheated oven for about 10 minutes till the surface of the "Lasagna" becomes golden brown.
Remove from oven and ready to serve with some Yuzu flavour 7 Spice Chillie Powder. You will love me for my created dish.
Check my other recipes from my Blog@ CatherinaHosoi.com
If you like my recipe, Please help to share out on your Facebook. Do explore this Blog@CatherinaHosoi.com for more ideas and interesting recipes.
Please subscribe to my BLOG@catherinahosoi.com and get inspired to follow my Healthy Lifestyle and read all the Eat Happy Live Healthy 健康愉食(EHLH) recipes that I created.
#CreatedOrientalLasagnaUsingYouTiao
#EatHappyLiveHealthy健康愉食
#EHLH
#CatherinaHosoiLifestyle
#CreatorNRoleModelOfEhlh
#CulinaryHobbyClass
#RecipesDevelopmentConsultancy