First time eating Mu-Er-Cai 木耳菜, literally translated as Wood Ear Veggie, which was harvested from Ah Bee's (my ex participant of my Cooking Workshops) Lim Chu Kang nursery. I googled to get the English name of this Veggie. It is known as Ceylon Spinach, OR Brazilian spinach (according to my Malaysian friend)
Preparation: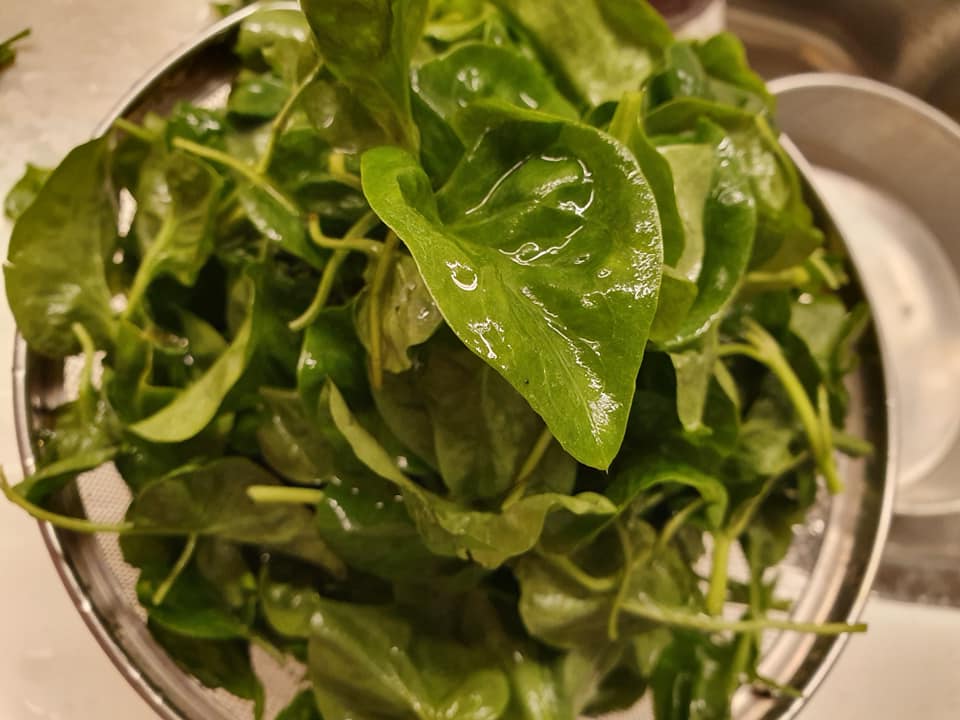 First I pluck off the leaves and young stems from 800g Mu-Er-Cai. Have a good rinse and drain.

Also, cut 4 slices Back Bacon to shreds. Than I thaw 15 shrimps without shell from my freezer, then season them with 1/2 tsp Sugar, 1/2tsp Okinawa Salt and some Pepper.
Cooking:
For cooking, heat up 2 TBS Sunflower Oil in a non stick wok, first saute Bacon for 3 mins then add in the shrimps to saute till cooked. Remove half portion out for final garnishing use.
In the same wok drop in Mu-Er-Cai to toss with Bacon Shrimp mixture. Cover with lid and cook for a further 3 mins. Open lid and add in 1/2 tsp Sugar and 1/4tsp Salt, toss and mix well.
Off heat and transfer to a serving plate, garnish with the half portion of Shrimps and Bacon mixture. This dish of Mu Er Cai with Shrimps and Bacon tastes very good and goes well with rice. The veggie is a bit chewy so enjoy the bites. It is high in fibres.
Check my other blog posts and recipes from my Blog@CatherinaHosoi.com
Please subscribe to my BLOG www.CatherinaHosoi.com and get inspired to follow my Healthy Lifestyle and read all the Eat Happy Live Healthy健康愉食(EHLH) recipes that I created. Please also share out to your friends.
#EatHappyLiveHealthy健康愉食
#EHLH
#CatherinaHosoiLifestyle
#CreatorNRoleModeOfEHLH
#CulinaryHobbyClass
#RecipesDevelopmentConsultancy