Showing you our Japanese Teishoku (set meal) which I cooked for the two of us.
Preparation & Cooking:
I rinse 1 cup Japanese Short Grain Rice, drip dry and fill up the electric rice cooker, add 1 1/8 cups water. Press the 'ON' button to cook rice. It takes 30 mins normally to cook rice.

Meantime I thaw 2 wedges of Salted Salmon, and rinse 300g Xiao Bai Cai 小白菜, divide stems from Leaves.

To prepare for the soup, I cut 200g Watermelon Rind without the green hard skin to thin shreds. I also thaw and rinse away salt from the 100g preserved raw Wakame seaweed and cut to short length.

When rice is cooked, I heat up 2 TBS Butter on a non stick fry pan and pan fry the Salmon wedges till cooked. Dish out and put on individual oblong serving plate. Using the same fry pan without adding more butter, saute the stem first then the leaves from the green veggie. When heated through dish out andn place besides the Salmon.

Using the same pan add in 5 cups water and Watermelon Rind and bring it to boil with lid covered for 5 mins. Open lid and add in Wakame to heat through, sprinkle in some Black Sesame Salt. Off heat and transfer soup to bowls. (read more about other Watermelon Rind recipes here)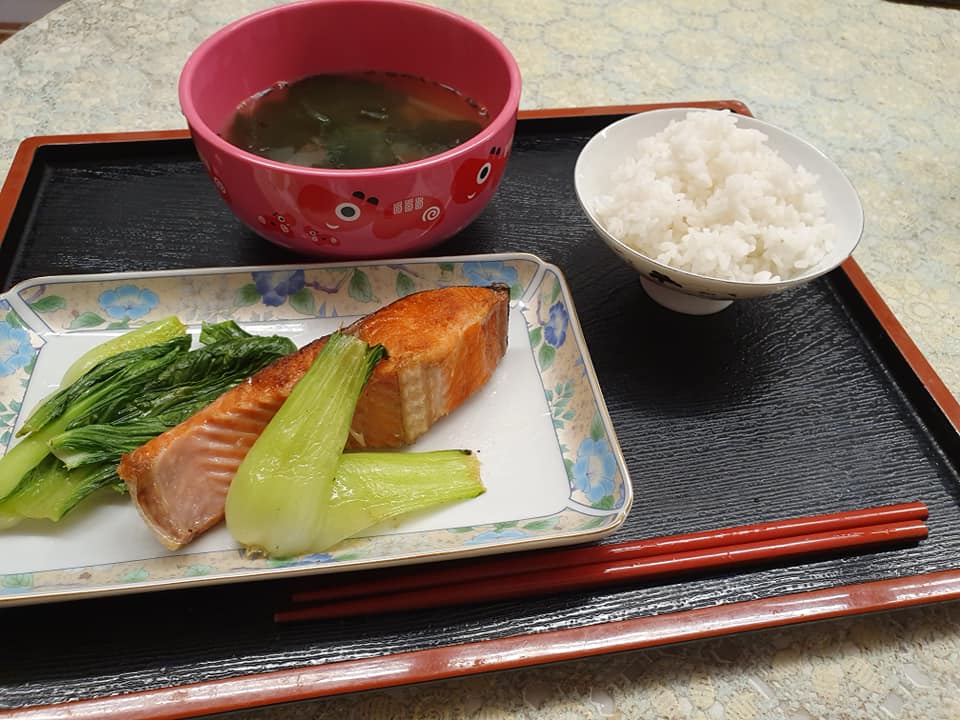 This Japanese Teishoku (set meal) consists of a bowl of rice, Salted Salmon with Green Veggie and a Watermelon Rind Wakame Black Sesame Soup. Yummy and nutritious.
#EatHappyLiveHealthy健康愉食
#EHLH
#CatherinaHosoiLifestyle
#CreatorNRoleModeOfEHLH
#CulinaryHobbyClass
#RecipesDevelopmentConsultancy