A collection of CATherina Hosoi's facebook posts from 28 Aug 2020, Friday to 31 Aug 2020, Monday
---
28 Aug 2020 Friday
Rooftop Garden Renovation Day 5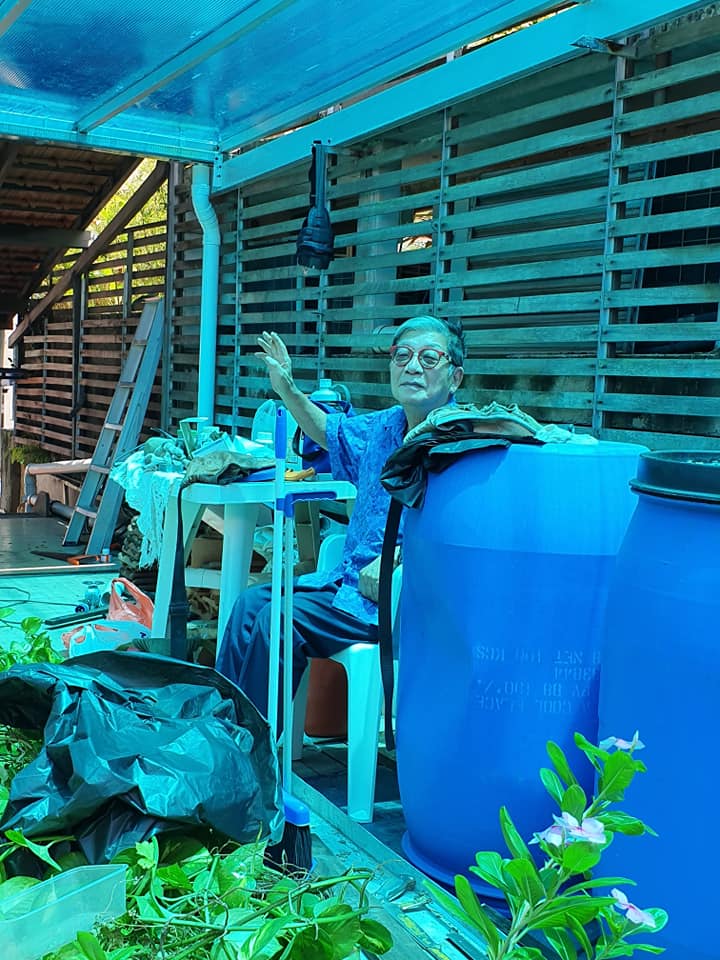 Day 5 of the Repair work at our Rooftop Garden. The Roof part is completed. Now starts to do the sides and the flooring. Still lots of work to be done. My poor plants are affected but definitely will look better in the near future. Thanks to our efficient contractors who follows my Samurai's instruction. For this morning's 10 30am recess time, I served them Kluang Coffee with Soda Biscuits that come coated with sugar, my favourite since my childhood.
#RepairWorkOnMyRoofGardenDay5
#CatherinaHosoiLifestyle
---
News
Just watched nhk news. Abe decided to resign as Prime Minister.
---
Ants & Cockroaches Bait
I put the Anti Ants & Cockroaches Bait on my kitchen counter for half a day. Successful, as I can see the ants are gathering near the baits. Thanks to Miri Choo for suggesting that I mix the baits with a little sugar. It works! I bought from Redmart online, 4 boxes cost S$10/-.
---
29 Aug 2020 Saturday
Thoughts
Started raining, big downpour. Today contractors are not coming. They will resume work from Monday. Need to do laundry and dry indoors. Later will take a bus to explore Thomson Road nurseries. Need to study on the size of flower pots for my replanting after renovation work completes. Need to think and plan what to plant on my rooftop garden again.
---
Rice Wine Lee Taukwa and Prawn dish
Sharing with you here how to use up the Rice Wine Lee after harvesting your own made Glutinous Rice Wine.

For this dish I use Rice Wine Lee to braise a delicious Rice Wine flavoured dish as a meal for 2 pax.

Heat up 1 TBS Oil in a non stick Wok. Drop in Rice Wine preserved Ginger slices 2 TBS and saute with 3 slices Bacon cut to finger width till fragrant.

Drop in 150 g minced Pork and 4 TBS Rice Wine Lee. Add in 600ml water, 1 rice bowl of chopped Roast Duck and 3 small pieces of Taukwa 豆干 (each cut to 4 pieces). Add in 2 cut Red Chillies and 1 tsp Sugar.

Cover and simmer cook till gravy nearly dries up, add in cooked Barley Grains 6 TBS which I saved from boiling Barley drink earlier and and 1 TBS Light Soya sauce to heat through.

Towards the end of cooking drop in white part of Spring Onion and few Prawns and pour in 1 cup own made White Glutinous Rice wine to heat through. When Prawns are cooked, off fire and sprinkle in the green part of chopped Spring Onion. Ready to serve. This is a very nutritious yummy dish and worth you keeping this recipe.
Please follow my Blog@CatherinaHosoi.com for more recipes ideas.
Do subscribe to my blog to receive notification of new post via email.
#CookingWithRiceWineLee
#CookingWithRiceWine
#NutritiousPotOfGoodness
#EatHappyLiveHealthy健康愉食
#EHLH
#CatherinaHosoiLifestyle
#CreatorNRoleModelOfEHLH
#CulinaryHobbyClass
#RecipesdevelopmentConsultancy
---
Dine out for Dinner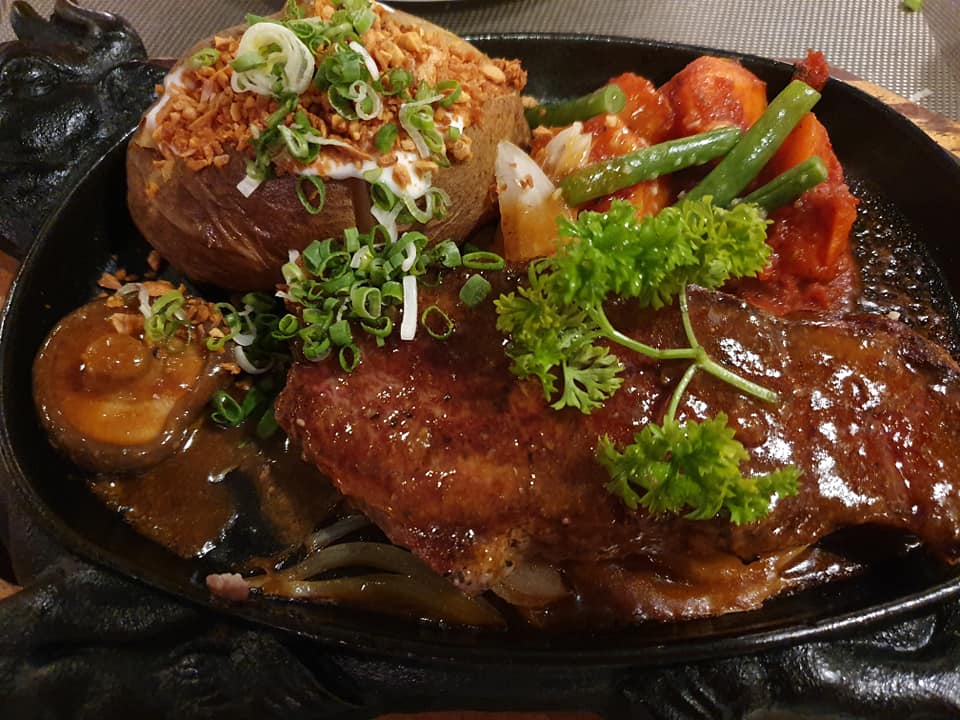 Our date outing tonight at our neighbourhood restaurant, Mariners' Corner Tavern. Had a great meal. Enjoyed and satisfied.
#FoodResearcherDinesOut
#CatherinaHosoiLifestyle
---
Pickles Bought From Aizu Wakamatsu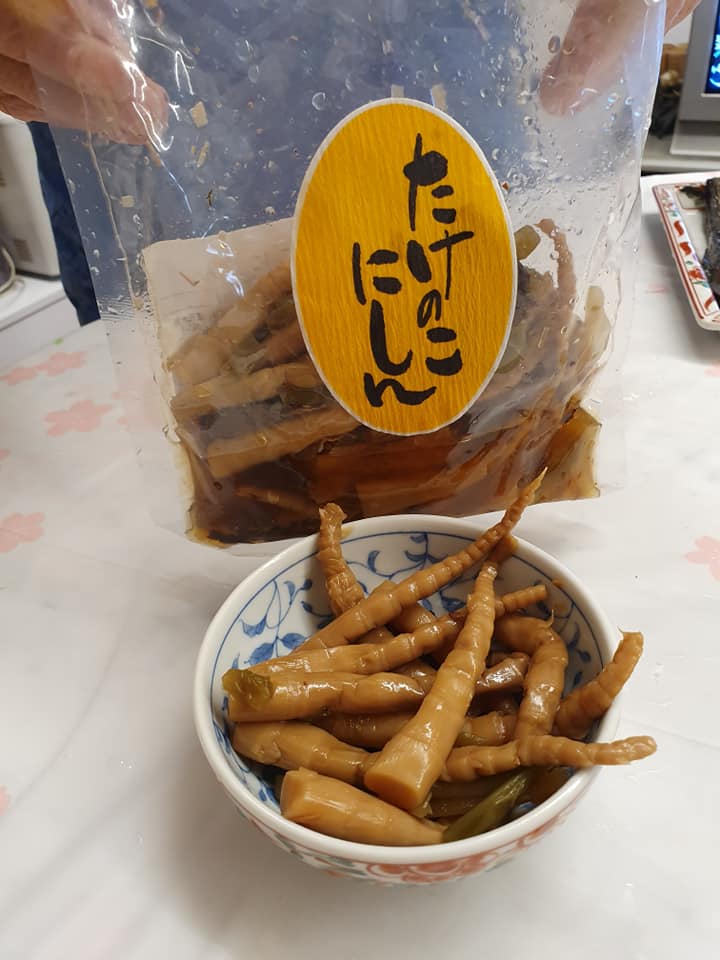 We opened our stock this afternoon which we bought during our last trip to Aizu Wakamatsu before Covid19 and served it with Japanese Short Grain Rice. Nishin Sansho Tsuke (Herring preserved with Sansho) & Takenoko Nishin (Herrings with Bamboo Shoots). We remember our nice holiday in Japan and wonder when can we fly again.
#PicklesBoughtFromAizuWakamatsu
#EatHappyLiveHealthy健康愉食
#EHLH
#CatherinaHosoiLifestyle
#CreatorNRoleModelOfEHLH
#CulinaryHobbyClass
#RecipesDevelopmentConsultancy
---
30 Aug 2020 Sunday
Dine out for Lunch
Our Sunday lunch with our good friends at Sakuraya@AnchorPoint, Singapore. Ordered assorted Sashimi, Soft Shell Crab Maki, Avocado Unagi Maki, Udon with Wakame Soup and Oden. We were all happy and satisfied.
#ITreasureFriendship
#FoodResearcherDinesOut
#CatherinaHosoiLifestyle
---
31 Aug 2020 Monday
Life is Beautiful
Happy to see the first Blue Pea Flower blooming at my back entrance gate! Just from 1 stalk of the plant I grew in a small pot. Life is beautiful.
#LifeIsBeautiful
#MyFirstBluePeaFlower
#CatherinaHosoiLifestyle
---
Rooftop Garden Renovation Day 6
Day 6 Repair Work at my Rooftop Garden. The Rooftop Ocean Blue Polycarbonate Roof Sheet has been completed, on part of the roof of the small store room on the Roof Garden the Terracota Roof Tiles were fixed up too. No more worries to heavy storm from now on.

The wooden slabs on one side of the walls are nicely nailed back, no more fallen wooden slabs that were eye sore for me anymore.

Raised up a platform with new wooden structure to provide some sitting area and to keep some planter boxes on top. Still lots of work to be continued. For 1030am recess today I served my contractors with Kluang Coffee and frozen Bananas on wooden chopsticks to cool them down. I appreciate their work greatly.
#RepairWorkOnMyRoofGardenDay6
#CatherinaHosoiLifestyle
---
Jack fruit Butter Cake
Sharing with you how I use Jackfruit to bake a fragrant JACKFRUIT BUTTER CAKE. This was how I did it.

First I cream 250g Butter with 150g Castor Sugar till white and fluffy.
Slowly add in 4 Eggs (lightly beaten up with a fork first) little by little and incorporated well into the butter sugar mixture till all the egg is well combined.
Add in 4 TBS Plain Yogurt till well combined.

You need to sift 250 g Plain Flour with 1 tsp Baking Powder.
You also need 200 g Jackfruit without seeds, use scissors to cut till small dices, then use part of the sifted flour to toss the fruit (this is to prevent the fruit from sinking during baking).

Add sifted flour into the mixture of Butter Sugar Egg Yogurt mixture with spatula, lastly add in the Jackfruit tossed in Flour.

Transfer batter into greased and lightly floured baking cases, (I used 3 aluminium Baking cases), bake in a preheated oven at 160 degree Celsius till done. (use a bamboo skewer to test).

Remove and cool on a rack. All Butter Cakes will taste better if left till the next day. Please SHARE out this recipe with my blessings.

Please follow my Blog@CatherinaHosoi.com for more recipes ideas.
Please subscribe to my BLOG@catherinahosoi.com and get inspired to follow my Healthy Lifestyle and read all the Eat Happy Live Healthy 健康愉食(EHLH) recipes that I created.
#BakedJackfruitButterCake
#EatHappyLiveHealthy健康愉食
#EHLH
#CatherinaHosoiLifestyle
#CreatorNRoleModelOfEHLH
#CulinaryHobbyClass
#RecipesDevelopmentConsultancy
---


Recipes sharing by CATherina Hosoi