Cooked Dried Egg Noodle with Tofu, Shrimps, Onion, Celery as Sauce for Toppings for lunch today.
Preparation:
First, I cut 1 big Onion to shreds and mince 1 big head of Garlic. Cut 1 Fish Cake to thick shreds. Cut 3 ribs of Celery to slices.

Than, I defrosted 1 packet of 500g Shrimps, seasoned with 1 tsp Sugar, 1 tsp Salt, a few dashes of Pepper and 2 TBS of Shao Xing Wine.

Heat up 1 TBS Oil in a pan and saute Shrimps till cooked. Portion out 15 Shrimps to be used as topping for this Noodle dish, the rest is kept in the chiller to be used on other days.

Also, I cut 3 squares of Cotton Tofu to 1/2 cm thick slices. Pan fry them in 3 TBS oil till golden.
Im using 3 balls (bundle) of Dried Egg Noodle.
Cooking: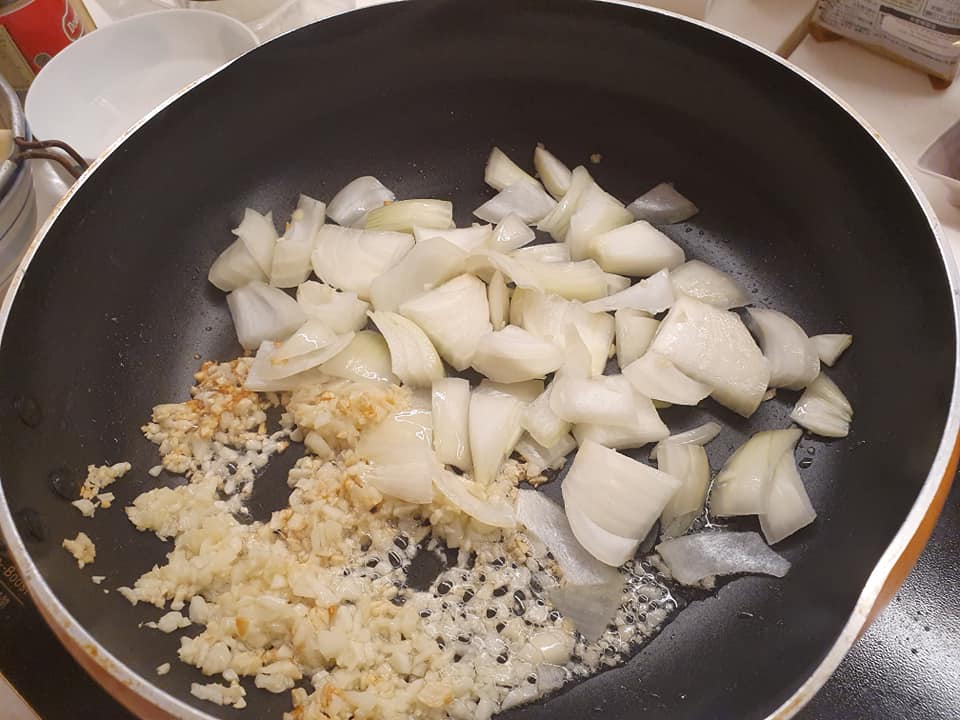 Using the same pan used for pan frying Cotton Tofu, drain away the oil but to keep 1 TBS Oil to saute minced Garlic till golden then add Onion to fragrant.
Next, add in Fish cakes.
Next add in 15 Shrimps and the fried Cotton Tofu. Add in 1 cup water, 2 TBS Oyster Sauce, 1 tsp Sugar and simmer with Celery.

Meantime in another pan boil 6 cups water and add in 3 balls of Dried Egg Noodle to cook till done. Drain and toss Noodle with 2 TBS Sesame oil. Place noodle on dish bowl.

Get ready 2 TBS Potato Starch added with 6 TBS water as thickening. Pour this thickening over the cooked topping mixture with a little salt to taste. Then pour the thickened topping over Noodle and ready to serve immediately. This noodle tastes very yummy.
If you like my recipe, Please help to share out on your Facebook. Do explore this Blog@CatherinaHosoi.com for more ideas and interesting recipes.
Please subscribe to my BLOG www.CatherinaHosoi.com and get inspired to follow my Healthy Lifestyle and read all the Eat Happy Live Healthy健康愉食(EHLH) recipes that I created. Please also share out to your friends.

#EatHappyLiveHealthy健康愉食
#EHLH
#CatherinaHosoiLifestyle
#CreatorNRoleModelOfEHLH
#CulinaryHobbyClass
#RecipesDevelopmentConsultancy