Happy blessed Sunday. Today, I cook this Corned Beef Genmai Men for lunch.
Preparation:
For this dish, I have some Genmai Men (Buckwheat Noodle) which I bought from my last trip in Japan and half a can of Brazillian Highway brand Corned Beef.

For vegetables, I have 250g Beansprouts (Click for my post on: Growing Beansprouts Step by Step), 7 Okra (cut to diagonal slices), 3 stalks Spring Onion (divide green part for garnishing and white part cut to 1cm) and 2 Red Chillies (removed seeds and cut to thin shreds).
Cooking: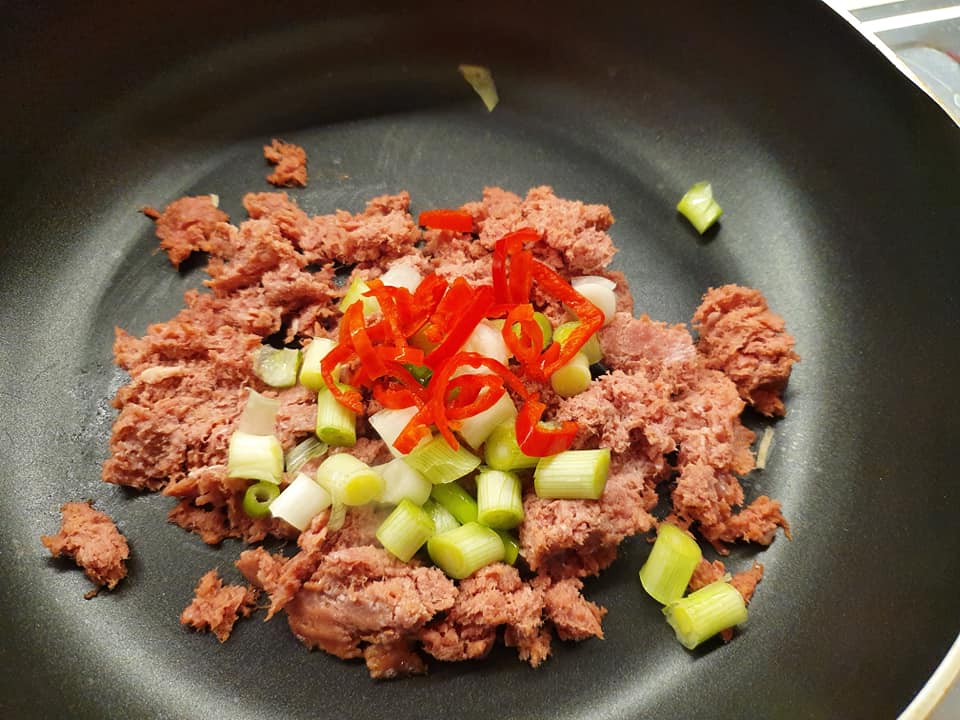 First boiled the Genmai Noodle to al dente stage, drained. Using the same pan without oil saute Corned Beef, Red Chillie Shreds (keep some for garnishing) and white part of Spring Onion till heated through.
Added in Okra to saute.
Finally, added in the drained Buckwheat Noodle, covered with Beansprouts and tossed together. Added in a little Light Soya Sauce to taste.

Off heat and sprinkle in green part of Spring Onion and Red Chillie to garnish. My Samurai is enjoying his share of Corned Beef Genmai Men. Eat Happy Live Healthy 健康愉食 to build up your immunity. Stay Safe everyone.
If you like my recipe, Please help to share out on your Facebook. Do explore this Blog@CatherinaHosoi.com for more ideas and interesting recipes.
Please subscribe to my BLOG www.CatherinaHosoi.com and get inspired to follow my Healthy Lifestyle and read all the Eat Happy Live Healthy健康愉食(EHLH) recipes that I created. Please also share out to your friends.
#CookedGenmaiMenBuckwheatNoodle
#EatHappyLiveHealthy健康愉食
#EHLH
#CatherinaHosoiLifestyle
#CreatorNRoleModelOfEHLH
#CulinaryHobbyClass
#RecipesDevelopmentConsultancy