I am sharing on how I cook two different type of Mung Bean Sweet Dessert recently.

1. Aloe Vera Mung Bean Dessert
2. Barley Mung Bean Dessert
Aloe Vera Mung Bean Dessert
Recipe Sharing Time. Bought a fresh Aloe Vera yesterday from Jalan Bukit Merah NTUC.
I use my electric pressure cooker to pressure cook 1/2 cup of Mung Beans without soaking for 40 mins. Release pressure and add Rock Sugar and Goji Berries 3 TBS to heat up.
Lastly remove skin from Aloe Vera and cut to cubes. I used 400g of Aloe Vera and added to the hot boiling Mung Bean Sweet Soup just to heat through. Serve piping hot.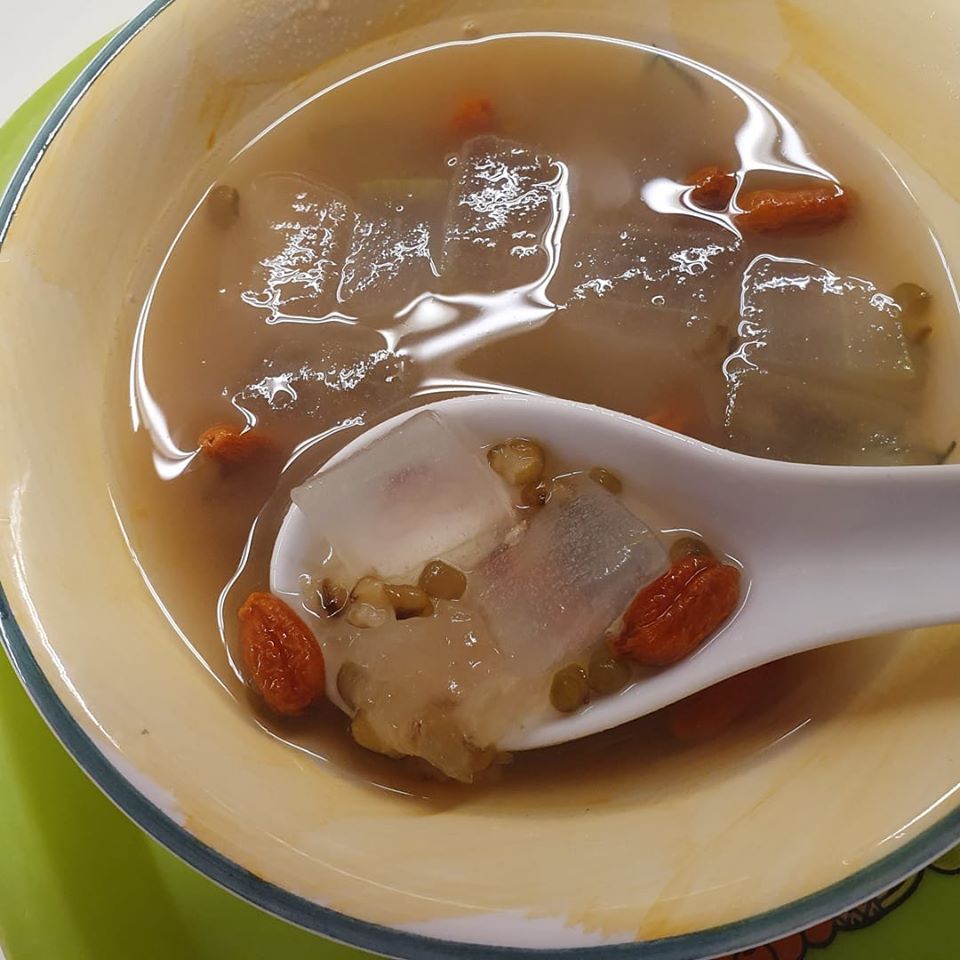 A very comfort Mung Bean Goji Berry Aloe Vera Sweet Soup is ready to serve to my loved ones. 好窝心的绿豆枸杞芦荟糖水做好了。献给我爱的家人。
If you like my recipe, Please help to share out on your Facebook. Do explore this Blog@CatherinaHosoi.com for more ideas and interesting recipes.
Please subscribe to my BLOG www.CatherinaHosoi.com and get inspired to follow my Healthy Lifestyle and read all the Eat Happy Live Healthy健康愉食(EHLH) recipes that I created. Please also share out to your friends.
#CookedMungBeanGojiBerryAloeVeraSweetSoup绿豆枸杞芦荟糖水 #EatHappyLiveHealthy
#EHLH
#CatherinaHosoiLifestyle
#CulinaryHobbyClass
---
Barley Mung Bean Dessert
My good friend just called to say she was coming to pay me a visit. So I decided to cook for her a Chinese dessert: Barley Mung Bean Dessert.
I cook this dessert by boiling half cup of Ayam brand White Pearl Barley, half cup of Mung Beans, 1 thumb sized of cut Ginger in 8 cups of water for 20 minutes till all grains split opened.

Then add in 1 packet of Dried Soya Sheet 50g (crush first before adding in) to boil for another 10 minutes over medium heat. Add in sufficient Rock Honey Sugar, boil till melted. Off fire and ready to serve.
We enjoyed eating this dessert together. A nice heart warming dessert for the cool weather.
#CookNiceHeartWarmingDessert
#CatherinaHosoiLifestyle
#CulinaryHobbyClass
#RecipesDevelopmentConsultancy