I cooked this Chicken Stew with Potato, Button Mushrooms & Cherry Tomatoes to keep in my freezer in boxes for busy days ahead. I always BE PREPARED!
Preparation: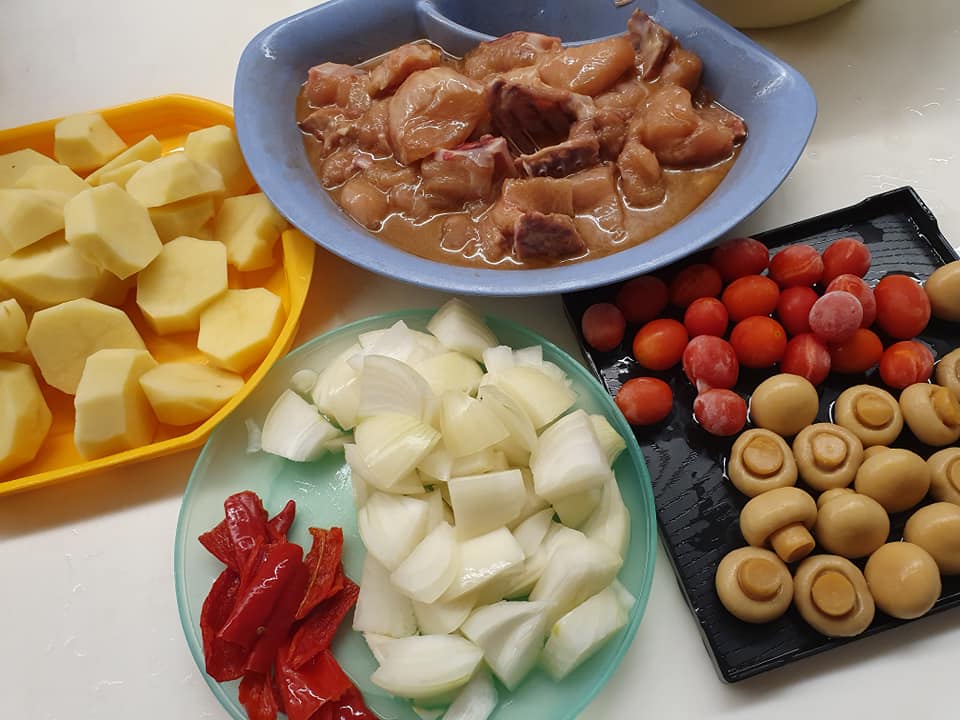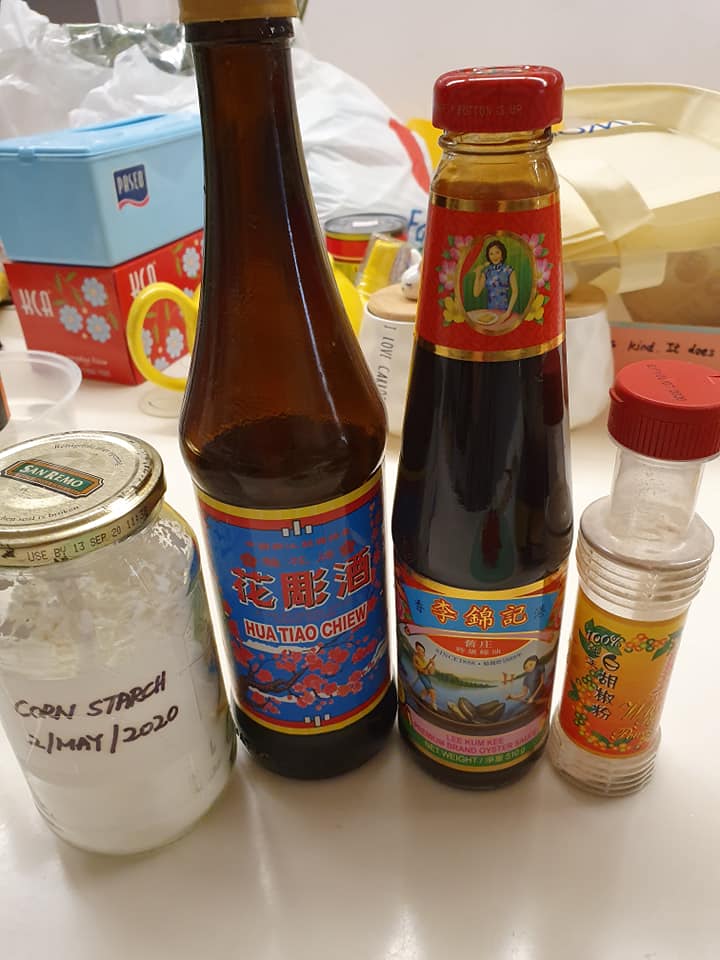 First, I chop half a Chicken to pieces with skin removed. Season with 1/2 tsp Salt, a few dashes of Pepper, 1/2 tsp Sugar, 2 TBS Oyster Sauce mixed with 2 TBS Water, 2 TBS Hua Teow Wine and 2 TBS Cornstarch. Mix well and put Chicken in the chiller to marinate while I do other preparation.
Than I peel 6 big Potatoes and cut to thick rounds. Cut 2 Big Onions to thick shreds, remove seeds from 3 Red Chillies and cut to big pieces. Open a can of Button Mushrooms and drain away the brine. Lastly, rinse 15 Cherry Tomatoes.
Cooking: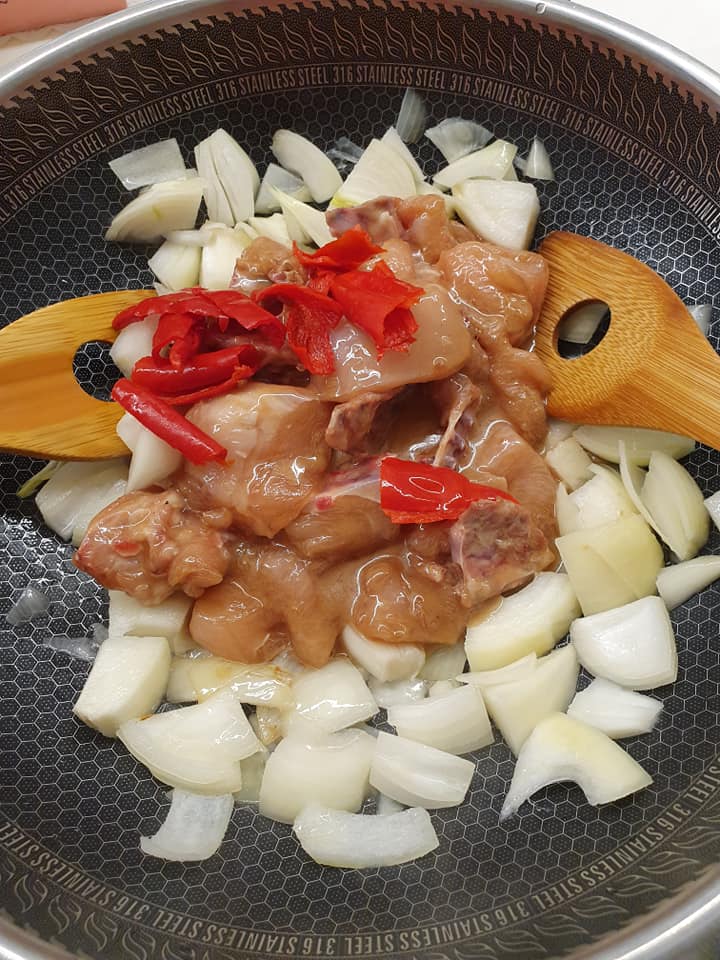 The cooking part is easy.

First, heat up 2 TBS Sunflower Oil in a non stick fry pan. Saute Onion till fragrant, then drop in the marinated Chicken and Red Chillies to sear in the oil for 2 minutes.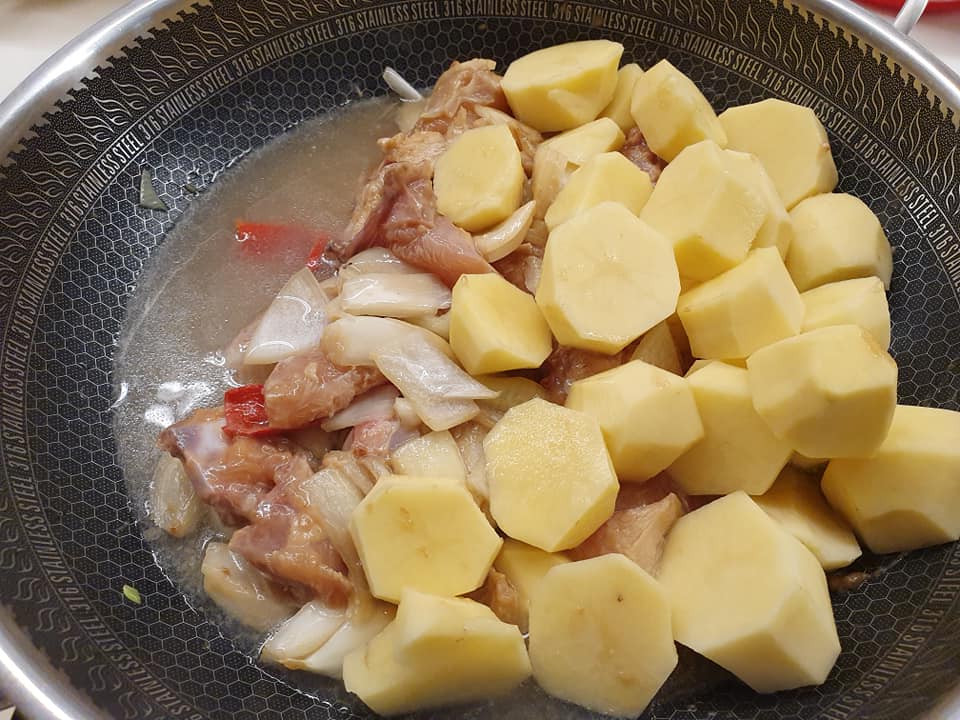 Next add in Potatoes to toss together. Add in 800ml water, cover with lid and boil over medium heat for 20 mins, stirring on and off to prevent sticking to the base.
When Potatoes are 80% cooked, add in Button Mushrooms and Cherry Tomatoes.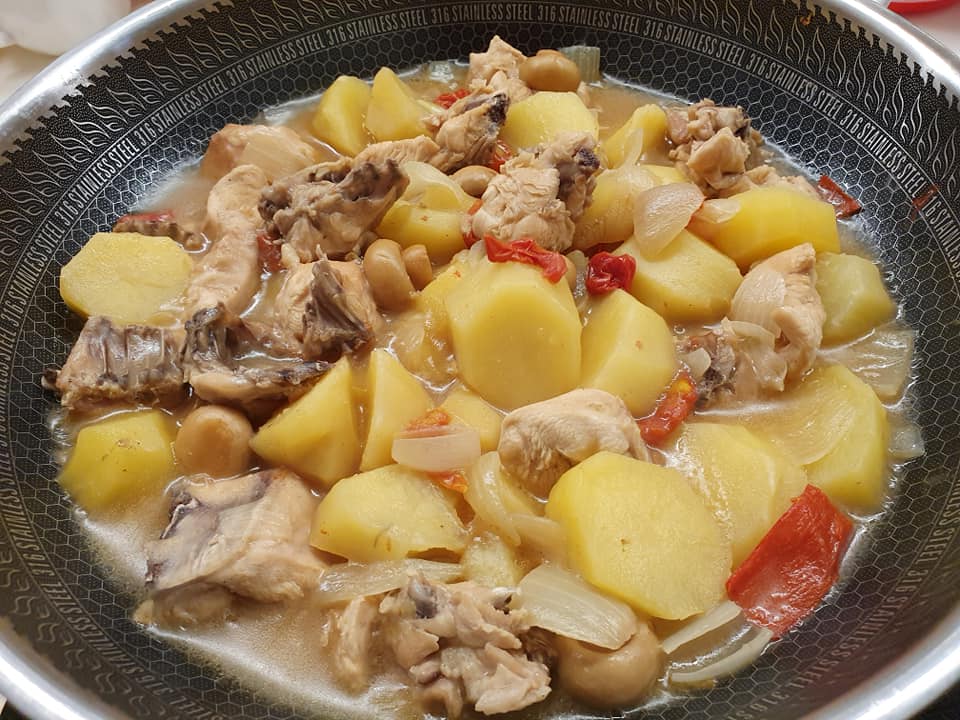 Continue cooking till gravy becomes thick and lesser. Taste it, the seasonings should be enough, if not you can adjust the flavours.
Off heat, this Chicken Stew with Potato, Button Mushrooms & Cherry Tomatoes can be served on top of boiled Noodles or Udon, or serve with cooked Rice or Rice Porridge.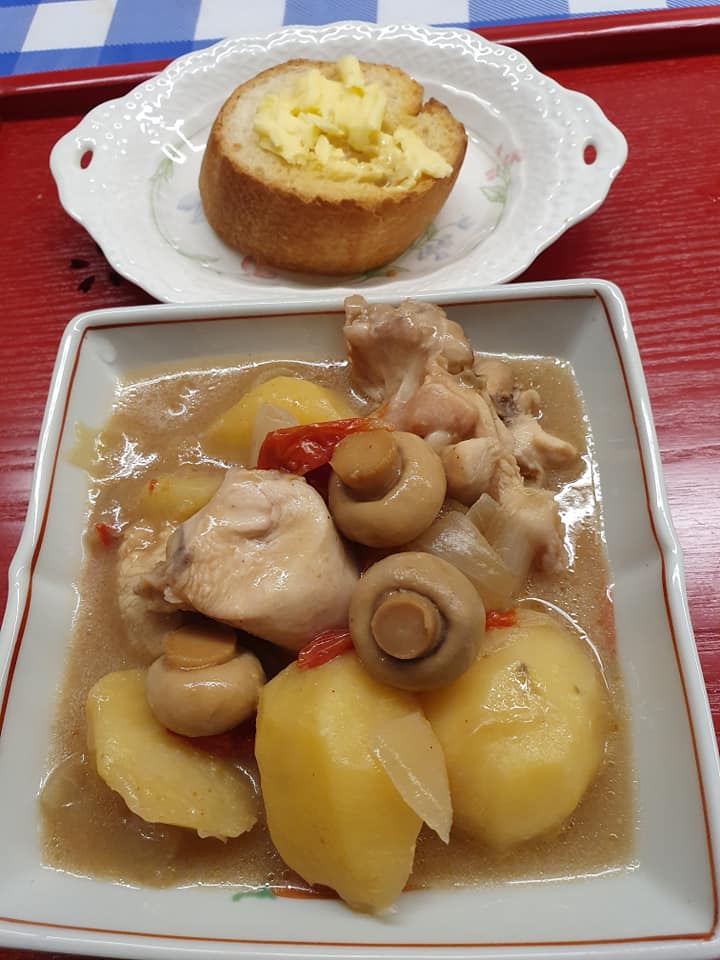 I pair with toasted Baguette to dip in the dish and it tastes good and mops up all the gravy!

I keep the remaining Chicken Stew in boxes in the freezer & it is very handy for me on my busy days.
If you like my recipe, Please help to share out on your Facebook. Do explore this Blog@CatherinaHosoi.com for more ideas and interesting recipes.
Please subscribe to my BLOG@catherinahosoi.com and get inspired to follow my Healthy Lifestyle and read all the Eat Happy Live Healthy 健康愉食(EHLH) recipes that I created.
#EatHappyLiveHealthy健康愉食
#EHLH
#CatherinaHosoiLifestyle
#CreatorNRoleModelOfEHLH
#CulinaryHobbyClass
#RecipesDevelopmentConsultancy