I love the gelatinous texture of Braised Chicken Feet. It is so tasty and full of Collagen. This is my formula worth keeping and trying out in your own kitchen.
Preparation:
I bought 40 Chicken Feet from the supermarket COLD STORAGE at S$1.90 per 10 pcs. First I need to chop off all the nails then rub with 2 to 3 TBS Salt, have a good rinse and drain dry.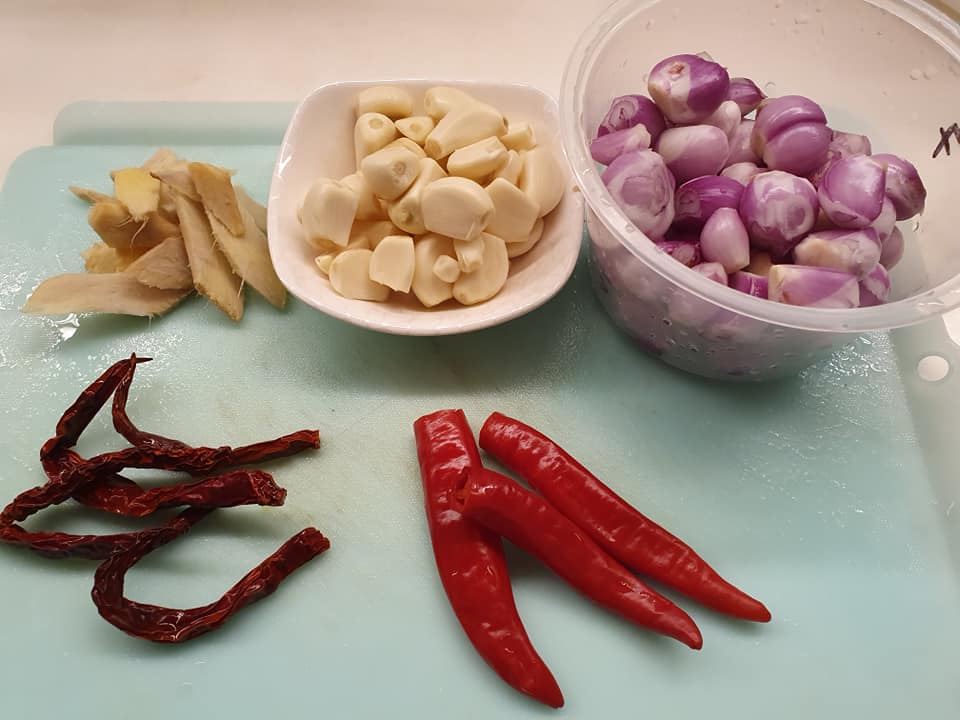 Meantime I cut 2 thumb sized of Ginger to slices, remove skin from 3 Big Bulbs of Garlic, remove skin from 30 pcs Shallots, soak 5 Dried Chillies in hot water to expand, remove seeds from 3 fresh Red Chillies.
Cooking:
First heat up 3 TBS oil in a non stick wok, drop in Ginger slices to fragrant, followed by Garlic in whole and Dried Chillies, saute till Garlic start to turn golden.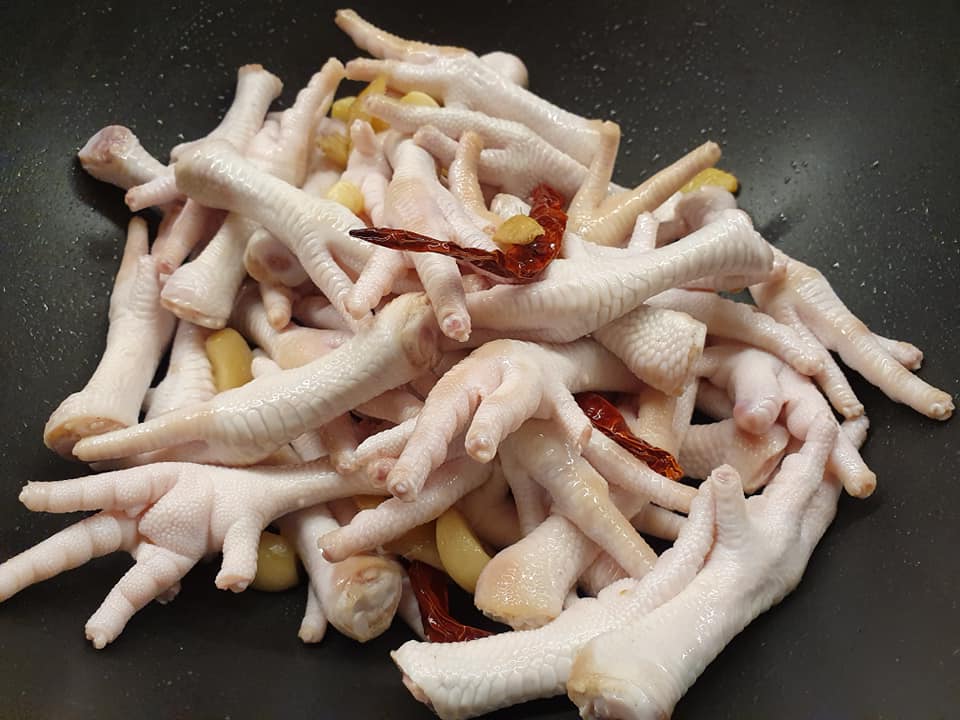 Then add in the drained Chicken Feet to toss well. Cover with lid to cook for for 5 mins.
Then open lid to add in 3 cups water, 3 TBS Thick Dark Soya Sauce, 2 TBS Sugar, all the peeled Shallots and 3 Fresh Red Chillies. Bring to a quick boil then adjust heat to medium and cover with lid to cook for 45 mins, stirring once every 15 mins.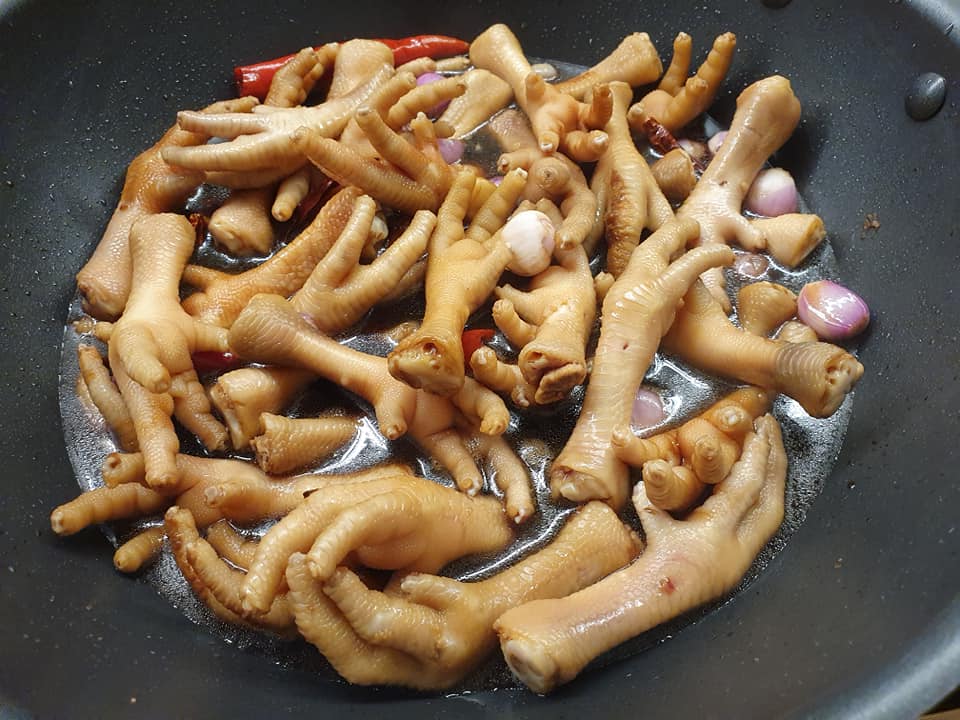 Towards the end of Cooking, stir in 3 TBS Hua Teow Wine花雕酒 and 2 TBS Light Soya Sauce, off fire. My signature Braised Chicken Feet Dish is ready with yummy sauce.

You can serve it as an appetiser or use the Sauce to toss with your boiled Egg Noodle and serve with Chicken Feet together with some blanched Green Veggies. It is so yummy and this is a delicacy from Chinese cuisine.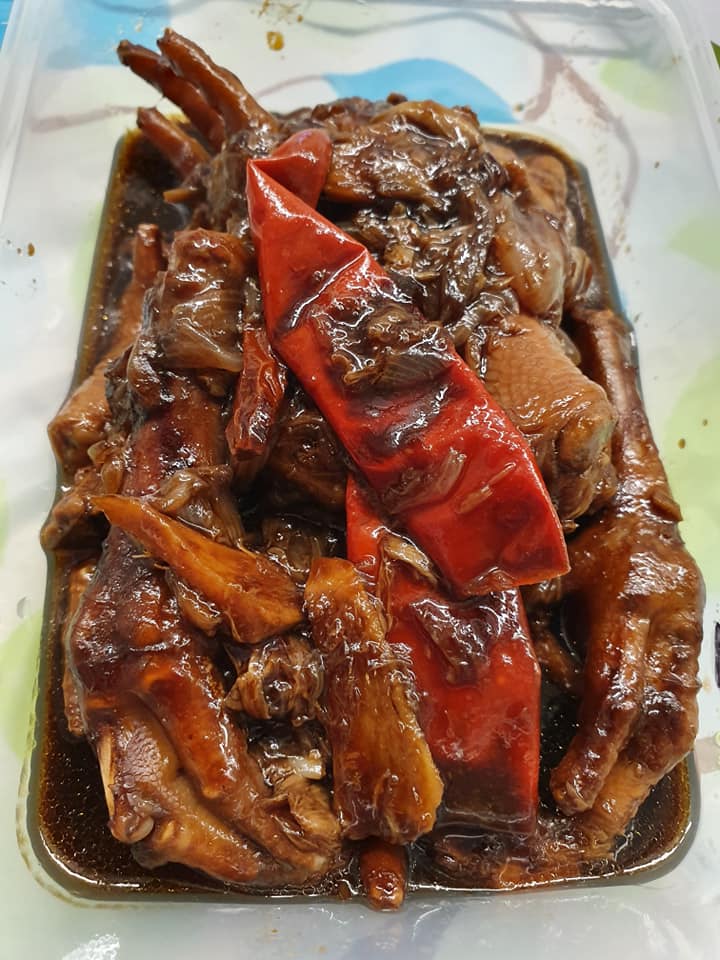 If you like my recipe, Please help to share out on your Facebook. Do explore this Blog@CatherinaHosoi.com for more ideas and interesting recipes.
Please subscribe to my BLOG www.CatherinaHosoi.com and get inspired to follow my Healthy Lifestyle and read all the Eat Happy Live Healthy健康愉食(EHLH) recipes that I created. Please also share out to your friends.
#MySignatureBraisedChickenFeet
#EatHappyLiveHealthy健康愉食
#EHLH
#CatherinaHosoiLifestyle
#CreatorNRoleModelOfEHLH
#CulinaryHobbyClass
#RecipesDevelopmentConsultancy