A collection of Chicken Feet recipes which I had cooked for my loved ones in my wonderland kitchen.

1. Onion & Tomato infused Curry Flavour Chicken
2. Braised Chicken Chinese Style
3. Braised Chicken Feet with Mushrooms
4. Spicy Chillie Hot Chicken Back
5. Braised Chicken Feet with Shallots & Garlic
6. Braised Chicken Feet with Gluten Rolls
---
Onion & Tomato infused Curry Flavour Chicken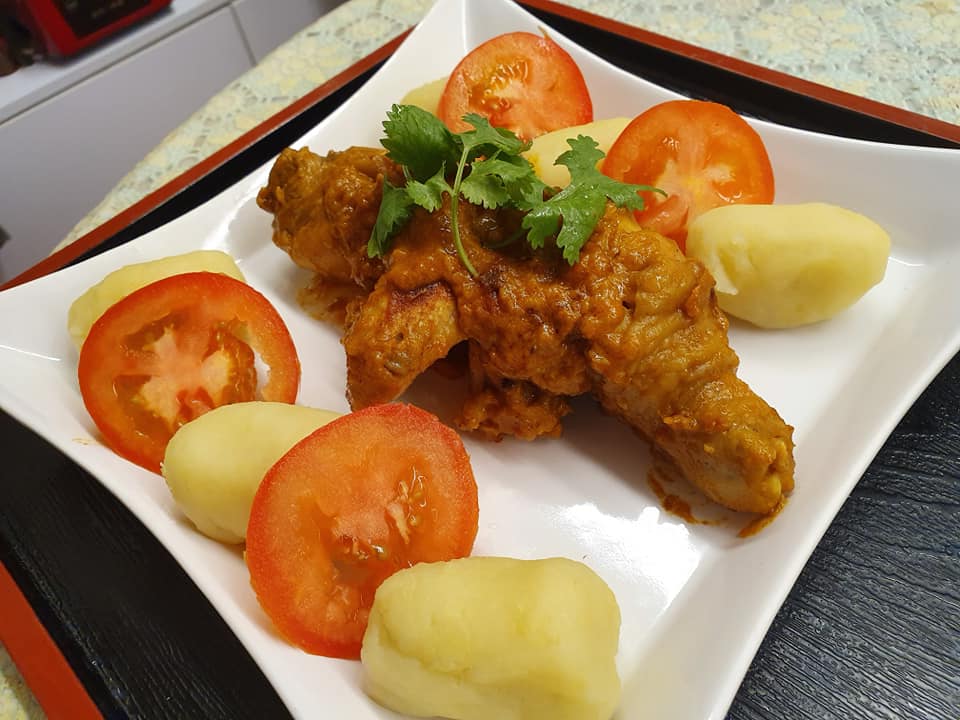 Created a new dish for our dinner tonight. Using Meat Curry Powder, Chicken, Onion. Tomatoes and Coconut Cream to make a rich in Onion & Tomato infused Curry flavour Chicken which I serve with Creamy Potato Balls.
For the meat, I am using 2 Chicken Drumsticks, 2 Wings and 2 Chicken Feet (nailed chopped off). I marinate the meat with 3 TBS Meat Curry Powder added with 2 TBS Water, 1 tsp Salt, 1 tsp Sugar.

I blend 2 Medium Tomatoes to paste, 2 Big Bombay Onions to paste.
(click here for the full recipe)
#EatHappyCookHealthy健康愉食
#EHLH
#CatherinaHosoiLifestyle
#CreatorNRoleModelOfEHLH
#CulinaryHobbyClass
#RecipesDevelopmentConsultancy
---
Braised Chicken Chinese Style
Confined to staying at home due to the crisis of Covid-19 Pandemic. The best is to kill time by creating good recipes and sharing from my kitchen in Singapore to all. Please stay safe wherever you are. Today I share with you how I braised Chicken Chinese Style and serve with Mee Suah 面线 ("Mian Xian" in Mandarin).

For the chicken, I used 1/3 of a whole Chicken and cut to Bite Sized Pieces, 10 Chicken Feet with nails chopped off. I love chicken feet for its high collagen. However if you don't like Chicken Feet, you can just omit this and increase chicken to half a Chicken instead of 1/3 of Chicken. Season Chicken with 1 tsp Salt, 1 tsp Sugar, a few dashes of Pepper, 1 TBS Hua Teow Wine 花雕酒("Hua Diao Jiu" in Mandarin) and 1 tsp Sesame Oil. Do the same for Chicken Feet.

(click here for the full recipe)

#EatHappyLiveHealthy  
#EHLH
#CatherinaHosoiLifestyle  
#CulinaryHobbyClass  
#RecipesDevelopmentConsultancy
---
If you like my recipe, Please help to share out on your Facebook. Do explore this Blog@CatherinaHosoi.com for more ideas and interesting recipes.
Please subscribe to my BLOG www.CatherinaHosoi.com and get inspired to follow my Healthy Lifestyle and read all the Eat Happy Live Healthy健康愉食(EHLH) recipes that I created. Please also share out to your friends.
---
Braised Chicken feet with Mushrooms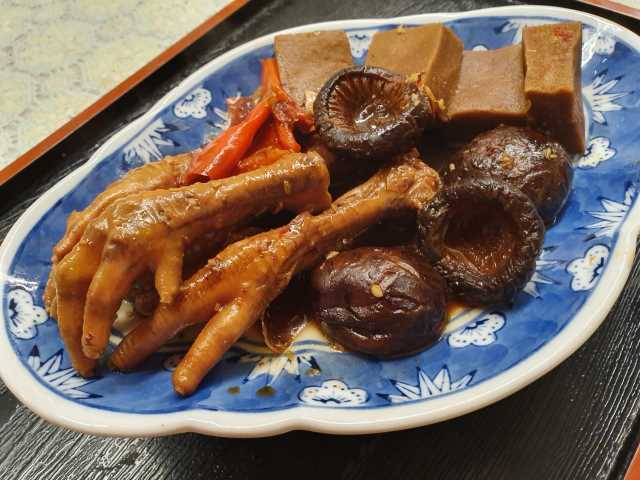 Recipe sharing time:  This is how I cook the Braised Chicken Feet, Black mushrooms with Kouya Tofu (Japanese Freeze Dried Tofu). 

First chop off the nails from 1 kg Chicken Feet and season with 1 tsp salt and two capfuls Hua Tiao Wine for 15 minutes, than rinse and drain. 
Next, cut 2 thumb sized Ginger to slices, cut the stems of 1 whole bulb garlic but leave the skin on, remove seeds from 6 Red Chillies and cut to short length. 

Meanwhile presoak 15 pcs of dried black mushrooms and cut away stems after soften. (Keep the mushroom soaking water for cooking) Soak Kouya Tofu (one packet, 5 pcs) to soften and cut each piece freeze dried tofu to 4 pcs. 

(click here for the full recipe)
#EatHappyLiveHealthy
#EHLH
#CatherinaHosoiLifestyle
#CulinaryHobbyClass
#RecipesDevelopmentConsultancy
---
Spicy Chillie Hot Chicken Back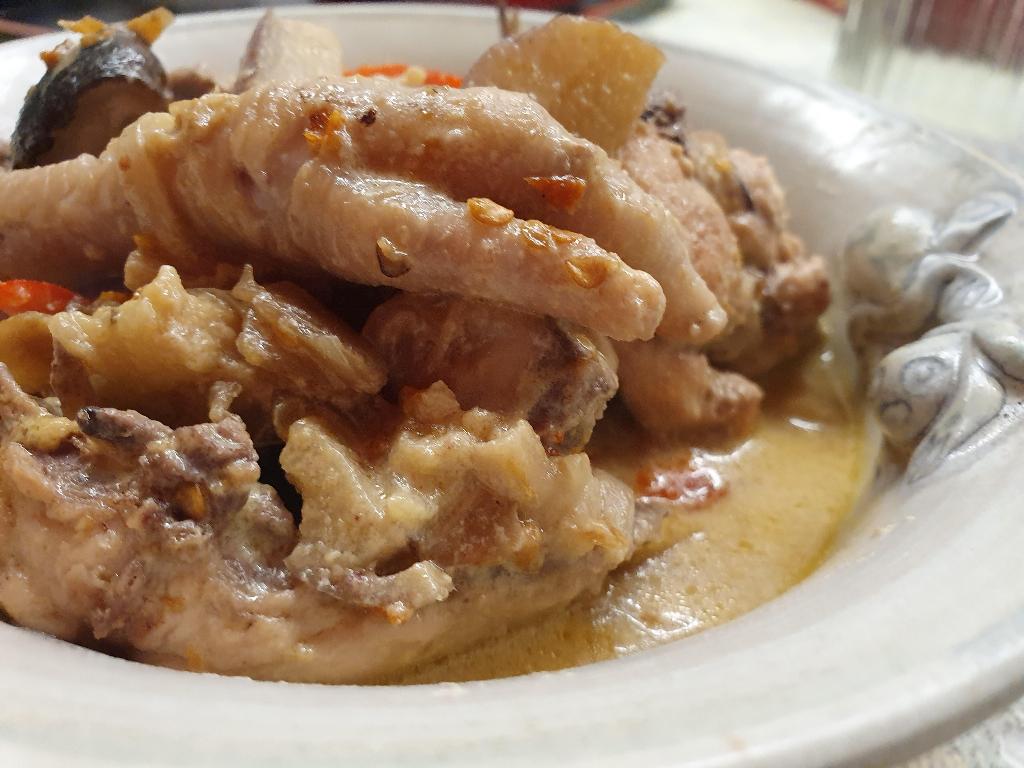 Recipe Sharing Time. My Lips Burning Spicy Chillie Hot Chicken Back with Onion, Red Chillie, Brinjal and Fresh Shiitake.

I use one Chicken Back (with bones and chicken meat) from 1 chicken & 2 pcs of Chicken Feet. Chop Chicken Back to pieces. For the Chicken Breast, I used it to make another dish for my Samurai, a Non Spicy Chicken Breast.

Cut half Onion to shreds. Cut half Brinjal to dices, cut 2 Fresh Shiitake to 4 pcs. Use a scissors to remove seeds from 1 Red Cillie and cut to shreds.

For Seasonings, I have INDRA FOOD brand Sambal Bawang Special (which I bought from Medan, Indonesia), 2 TBS AAA Brand Steaming Fish Sauce, 400 ml Meiji Milk and 1 tsp Sugar.

(click here for the full recipe)
#CookedSalmonFishHead
#EatHappyLiveHealthy健康愉食
#EHLH
#CatherinaHosoiLifestyle
#CreatorNRoleModelOfEHLH
#CulinaryHobbyClass
#RecipesDevelopmentConsultancy
---
Braised Chicken Feet with Shallots & Garlic
I love the gelatinous texture of Braised Chicken Feet. It is so tasty and full of Collagen. This is my formula worth keeping and trying out in your own kitchen.

I bought 40 Chicken Feet from the supermarket COLD STORAGE at S$1.90 per 10 pcs. First I need to chop off all the nails then rub with 2 to 3 TBS Salt, have a good rinse and drain dry.

Meantime I cut 2 thumb sized of Ginger to slices, remove skin from 3 Big Bulbs of Garlic, remove skin from 30 pcs Shallots, soak 5 Dried Chillies in hot water to expand, remove seeds from 3 fresh Red Chillies.

(click here for the full recipe)
#MySignatureBraisedChickenFeet
#EatHappyLiveHealthy健康愉食
#EHLH
#CatherinaHosoiLifestyle
#CreatorNRoleModelOfEHLH
#CulinaryHobbyClass
#RecipesDevelopmentConsultancy
---
Braised Chicken Feet with Gluten Roll
Hmm my kitchen smells so fragrant and inviting. Let me present to you my Signature Chinese Cooking using Chicken Feet (Yes, the Chinese loves Chicken Feet!)

I am using 10 Chicken Feet, 1 knob of Ginger cut to slices, about 10 big pips of Garlic (I have here 20 tiny ones from Thailand), 5 Dried Chillies, 1 fresh Red Chillie. 2 squares of Taukwa (Firm Soya Tofu) and 1 long roll of Gluten Roll stuffed with Black Fungus (this can easily bought from wet Markets in Singapore from stalls selling Taukwa).

First chop off the tips from Chicken Feet, rinse and dry. Marinate with 1/2 tsp Salt and some White Pepper. Lightly mash the Garlic. Cut Gluten roll into 2 and Taukwa into halves each.

(click here for the full recipe)
#MySignatureChineseStewedChickenFeetWithTaukwaGlutenRoll卤鸡脚豆干面筋
#CatherinaHosoiLifestyle
#EatHappyLiveHealthy健康愉食
#EHLH
#CreatorNRoleModelOfEHLH
#CulinaryHobbyClass
#RecipesDevelopmentConsultancy
---
To follow CATherina Hosoi's activities in Singapore and overseas, including recipes which she created, please like her Facebook page: www.facebook.com/CATherinaHosoiFanPage
Know more about CATherina Hosoi's cooking studio in Singapore by liking: www.facebook.com/CulinaryHobbyClass or visit www.culinary.com.sg
Interested to know more about CATherina Hosoi's resort activities in Bali? Visit : www.ubudgreen.com