Blessings to all readers here from my kitchen in Singapore, A new day to start a new week with Good Health, Joy and Peace. STAY AT HOME and cook nice healthy dish for your loved ones. Sharing with you Beef Cooked with Potato, Ginger, Onion & Red Chillie.
Preparation:
I have a piece of steak which I cut 150g to thin slices. I season that with 1/2 tsp Salt, 1/2 tsp Sugar, a dash of Pepper, 2 TBS Cornstarch and 3 TBS Hua Teow Wine. Than I cut 1 big Onion to wedges, slice 1 thumb sized Ginger to thin slices, remove seeds from 2 fresh Red Chillies and cut to big slices. I also remove skin from 4 medium sized Potaoes which I roll cut to thick slices. Finally I remove strings from 8 Sweet Beans.
Cooking :
First heat up 2 TBS Sunflower Oil in a non stick fry pan. Drop in Ginger slices to fragrant. Next add in half portion of Onion to saute for 1 min. After that add in Beef slices for a quick stir till colour changes, dish out and leave aside till later use.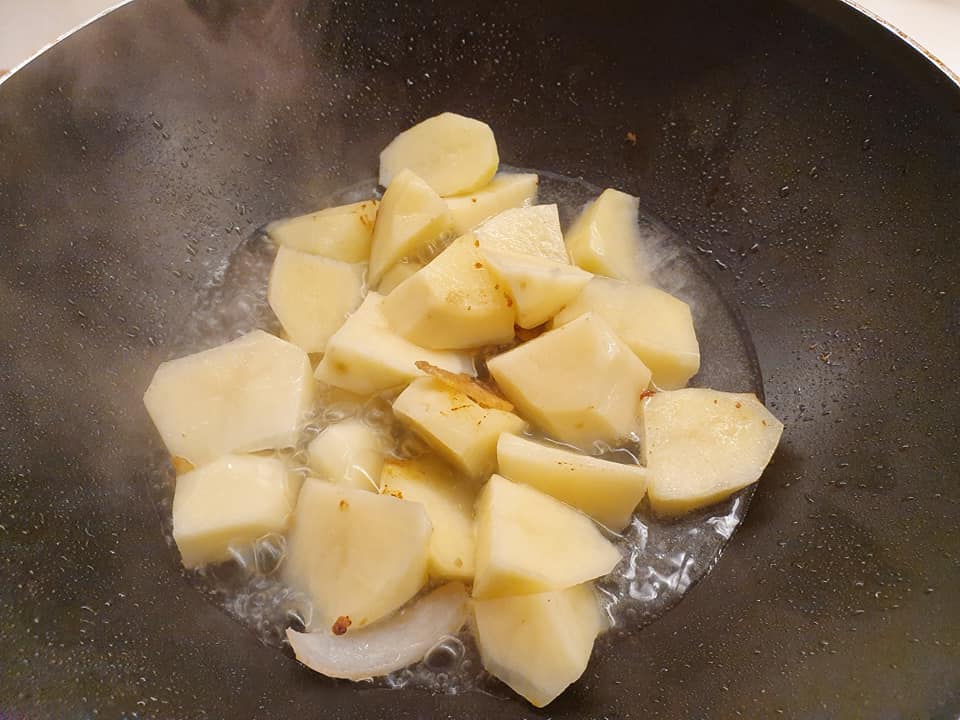 Pour in Potatoes to saute, add in 1/2 cup Water and cover with lid to boil till Potatoes are 80% cooked. Open lid and add in remaining portion of Onion and Red Chillies.
Pour in the Beef mixture (which was set aside earlier), add in 1/4 cup water, cover with lid, turn heat to low and simmer cook till gravy disappears.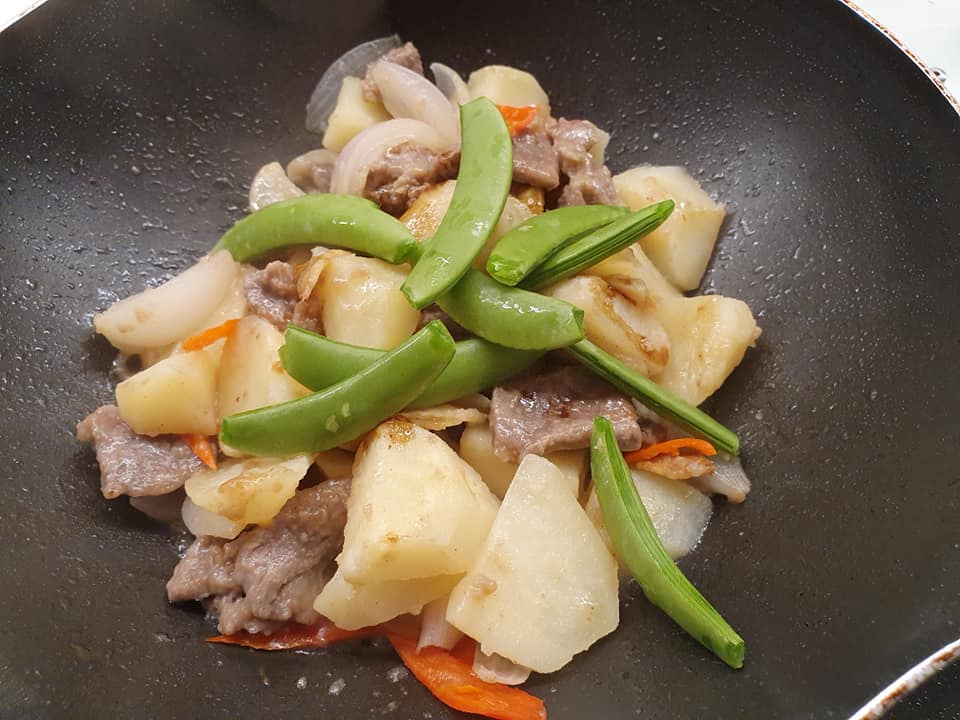 Open lid and add in Sweet Beans, 1/2 tsp Himalayan Pink Salt and 1/2 tsp Sugar, toss well and off heat.
This portion of Beef Cooked with Potato, Ginger, Onion & Red Chillie is for 2 persons. We eat this without Rice as Potatoes are our Carbo tonight. The Beef tastes juicy n tender. My Samurai loves this dish. Why not try cooking this simple dish for your family also?
#EatHappyLiveHealthy健康愉食
#EHLH
#CatherinaHosoiLifestyle
#CreatorNRoleModelOfEHLH
#CulinaryHobbyClass
#RecipesDevelopmentConsultancy