Blessed Saturday. Cooked this Azuki Bean Watermelon Rind Sweet Dessert Soup 'Tong Sui' 糖水 (In Cantonese literally means Sweet Water, it really means a Sweet Dessert Soup).
Preparation:
I have 1/2 cup Azuki Beans (red beans), 2 cups of cut Watermelon White part from the rind (that I saved up from my Watermelon and I kept it in the fridge), 3 TBS Dried Longan 龙眼干, 2 Pandan Leaves I grew from my small garden and 1/2 cup Rock Sugar.
Cooking:
In a pot fill up 1.8 Litres water, add in Azuki Beans to boil for 35 mins, using high fire to rapid boil first then lower down heat till the beans are nearly soft.
Add in white part of Watermelon rind and continue to boil till beans are soften.
Add Dried Longan and Pandan Leaves (split the leaves and tied to knots) in to boil for 10 mins to release the fragrance and flavour.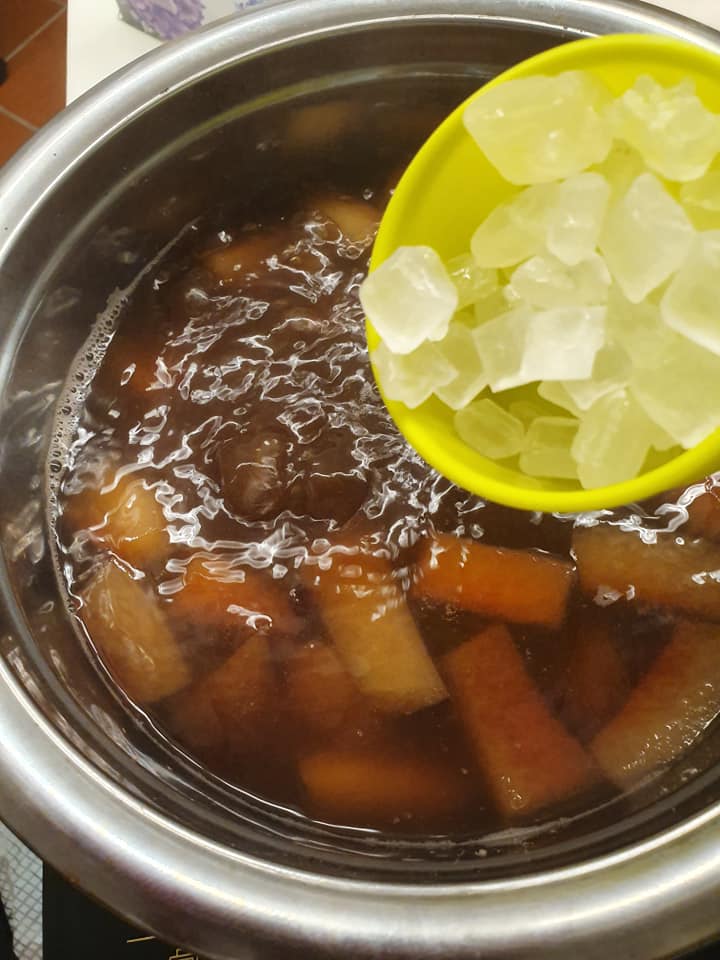 Lastly add in Rock Sugar to melt. The Azuki Beans are totally soft and tastes nice. Off heat and serving piping hot.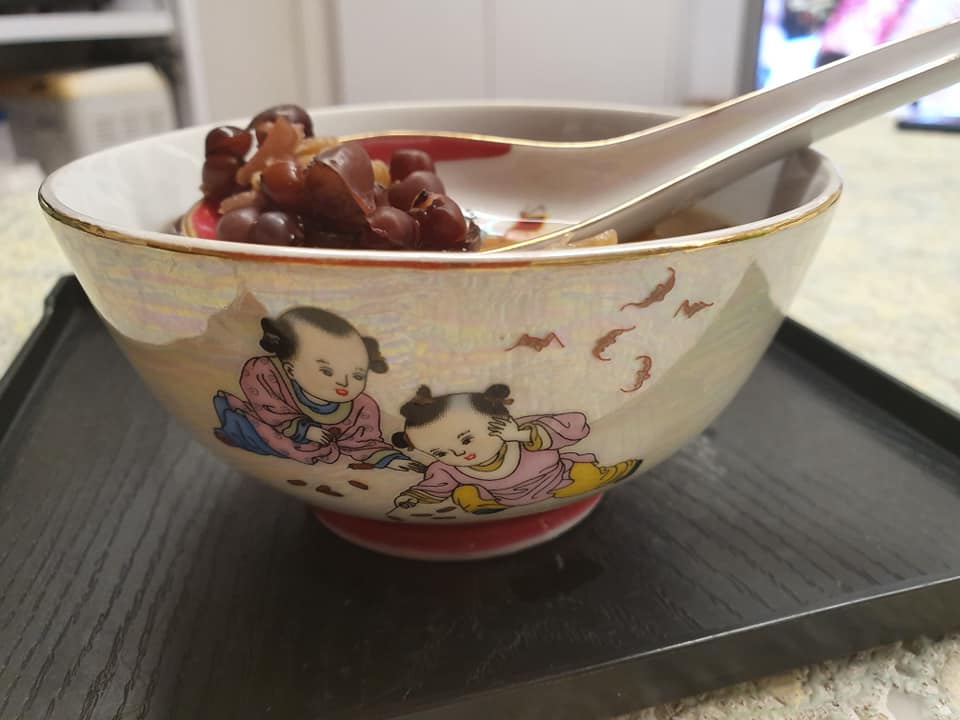 I serve this to my Samurai today as his 3.30pm Afternoon Tea Time. He enjoyed.
For more Watermelon Rind Recipes, click here: All about Watermelon Rind
If you like my recipe, Please help to share out on your Facebook. Do explore this Blog@CatherinaHosoi.com for more ideas and interesting recipes.
Please subscribe to my BLOG@catherinahosoi.com and get inspired to follow my Healthy Lifestyle and read all the Eat Happy Live Healthy 健康愉食(EHLH) recipes that I created.
Health benefits
Some benefits drinking this you may like to know:
Azuki Beans:
Azuki beans are rich in nutrients, such as fiber, protein and manganese. They are linked to several health benefits, including weight loss, improved digestion and a lower risk of type 2 diabetes and heart disease.
Watermelon rind:
For the white part of Watermelon rind, this contains more of the amino acid citrulline than the flesh. Citrulline is a valuable amino acid that converts to the amino acid arginine. These amino acids promote blood flow, leading to cardiovascular health, improved circulation, and according to research at Texas A&M University, erectile dysfunction improvement (you'd probably have to eat a lot of the fruit to get a Viagra-like effect, though).
Dried Longan (龙眼干):
The dried Longan have fiber. Fiber helps bulk stools and normalize bowel movements. It also improves overall bowel health. It may also lower cholesterol, improve gut flora, and help control blood sugar in people with diabetes.
Pandan Leaves:
As for Pandan Leaves, its benefit include: reduces pain from arthritis, lower blood pressure and help to control blood sugar level.
With so many benefits please do try to cook this Sweet Dessert Soup for your loved ones. Do refer to the Step by Step photos above. Happy cooking.
#AzukiBeanWatermelonWhiteFleshDriedLonganPandanSweetSoup #EatHappyLiveHealthy健康愉食
#EHLH
#CatherinaHosoiLifestyle
#CreatorNRoleModelOfEHLH #CulinaryHobbyClass
#RecipesDevelopmentConsultancy