Recipe Sharing Time. This is how I cooked a one dish meal of Green Curry Sausage, Prawn, Brinjal on Barley Grains and Short Grain Rice for Samurai and me as lunch.
Preparation:
Ingredients needed for this Dish of Green Curry Sausage and Prawn on Barley and Rice:

4 Big Prawns, Remove flesh and cut to shorter length, keep Prawn Head and Shell intact; 2 Sausages cut to smaller rounds; One Brinjal cut to bit size; One Onion cut to shreds and 2 Red Chillies to slices. (Leave some for garnishing)

I also need one small tub of Cooked Barley Grains which I saved from boiling Barley water and keep in freezer and one bowl of cooked Short Grain Rice.

Other ingredients include Butter for cooking, Bottled Green Curry Paste, 200ml Coconut Cream, Salt and Sugar to taste.
Cooking:
First, Saute a few slices of Red Chillie with the 4 Prawn Heads and shells with 1 TBS Butter. Discard prawn shells when turned colour. Now the fry pan is flavoured with the prawn taste.
Add in a small tub of cooked Barley grains (I always save the barley grains in the freezer after boiling for barley water). Add in 100ml water to heat up the frozen Barley. When water almost dried up add in 1 bowl of cooked short grain rice to heat through. Mix well.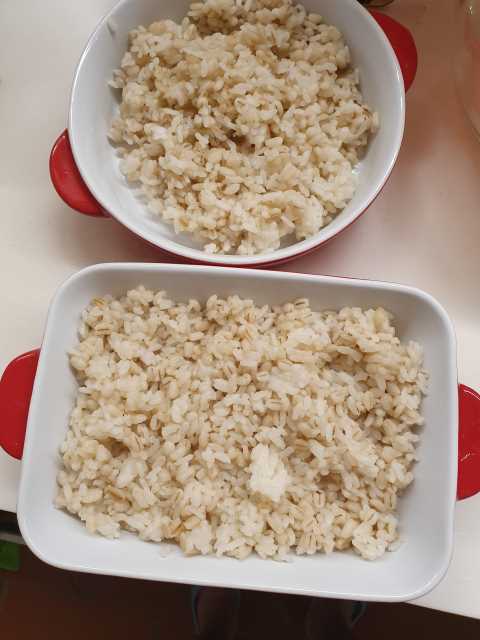 Put the Barley Grains Short Grain Rice mixture as one layer on the serving Pyrex dish.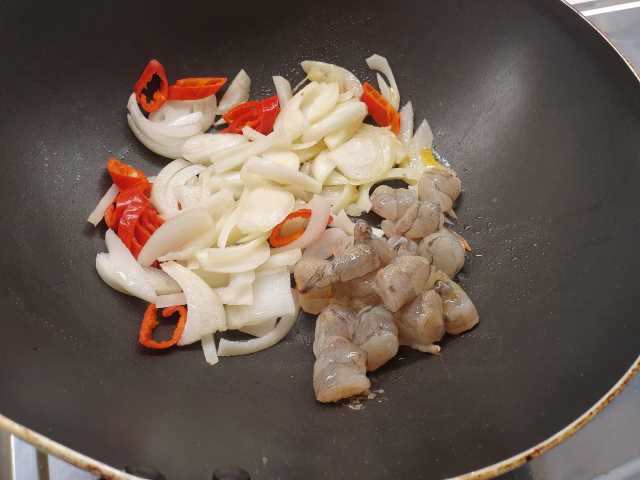 Rinse the fry pan, add in 1 TBS Butter, saute Onion shreds with Red Cut Chillies and 4 Big Prawns (cut to short length). Saute till onion turns soft.
Add in 1 Brinjal cut to bite sized, toss well and add in 150ml water, 2 tsp bottled Green Curry paste and 2 Sausages which I cut to rounds.
Add in Coconut Cream 200ml when gravy gets almost dries up. Adjust flavouring by adding a little Sugar and Himalayan Pink Salt to taste.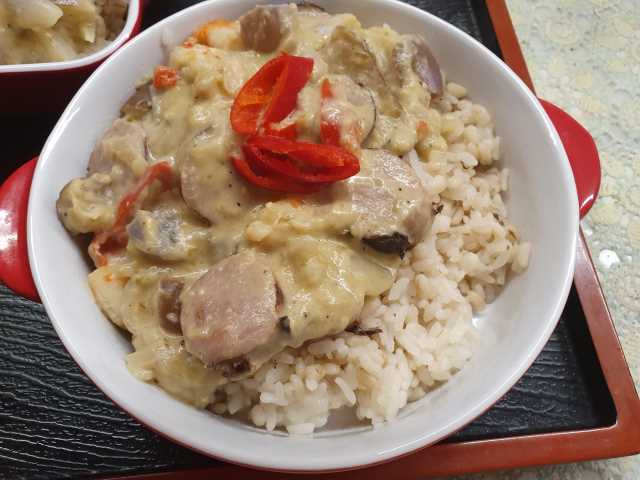 Off fire and transfer the cooked Green Curry mixture on top of the Barley Grains and Rice, garnished with Red Chillies and serve immediately.

I am licking my lips after eating. It tastes so satisfactory!
If you like my recipe, Please help to share out on your Facebook. Do explore this Blog@CatherinaHosoi.com for more ideas and interesting recipes.
Please subscribe to my BLOG@catherinahosoi.com and get inspired to follow my Healthy Lifestyle and read all the Eat Happy Live Healthy 健康愉食(EHLH) recipes that I created.
#GreenCurrySausagePrawnsBrinjalOnBarleyNRice
#EatHappyLiveHealthy健康愉食
#EHLH
#CatherinaHosoiLifestyle
#CreatorNRoleModeOfEHLH
#CulinaryHobbyClass
#RecipesDevelopmentConsultancy