Found some smoked sausages tucked in my fridge, so decided to make a Japanese Style Fried Rice using Barley Grains to go with my sausages.
Preparation: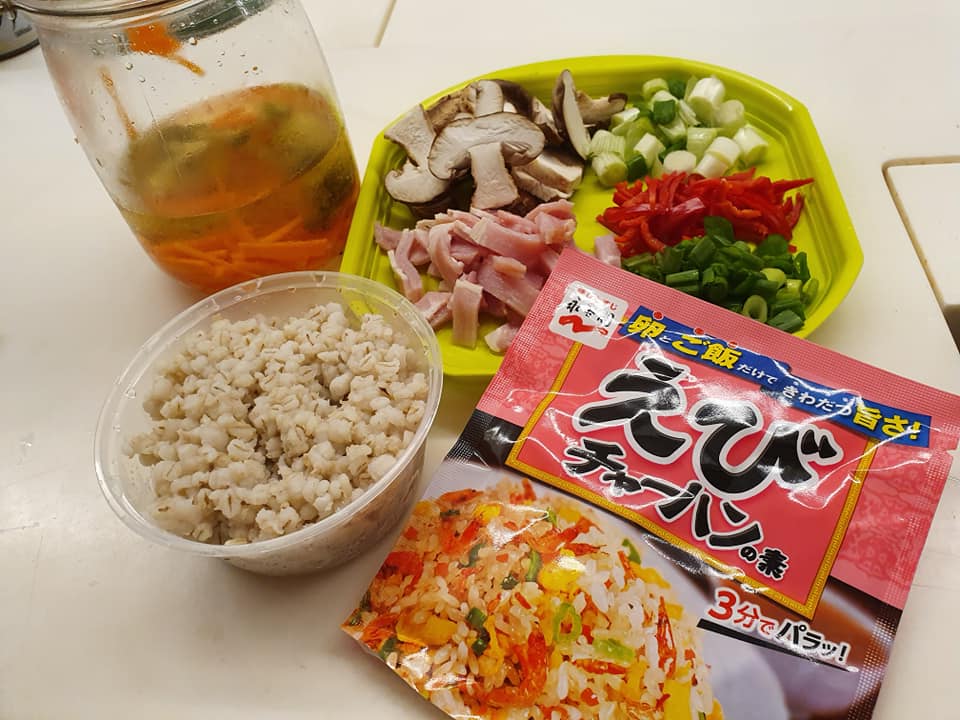 I have some boiled Barley Grains blessed by my friend, Susan Tan. If not, usually, I would save the Barley Grains from boiling Barley water/drink. Than I would keep the grains in freezer and thaw when needed. Barley is a good source of fibre and is low in GI.

First I cut 1 small bundle of Spring Onion to short length and divided white part from green part. Next I cut 3 Fresh Shiitake Mushrooms to julienne, 1 Red Chillie to short strips. Also cut 2 slices Back Bacon to short strips.

For seasoning, I am using 1 sachet Japanese "Cha-Han" seasoning granules Cha-Han means Fried Rice in Japanese. For those living in Singapore you can get this from Don Donki.
Cooking:
First, I boiled 4 pcs Johnsonville brand Smoked Sausages in water, each of us will get two each.
First heat up 1 TBS Butter, saute white part of Spring Onion and Red Chillie, next add in Bacon to fragrant.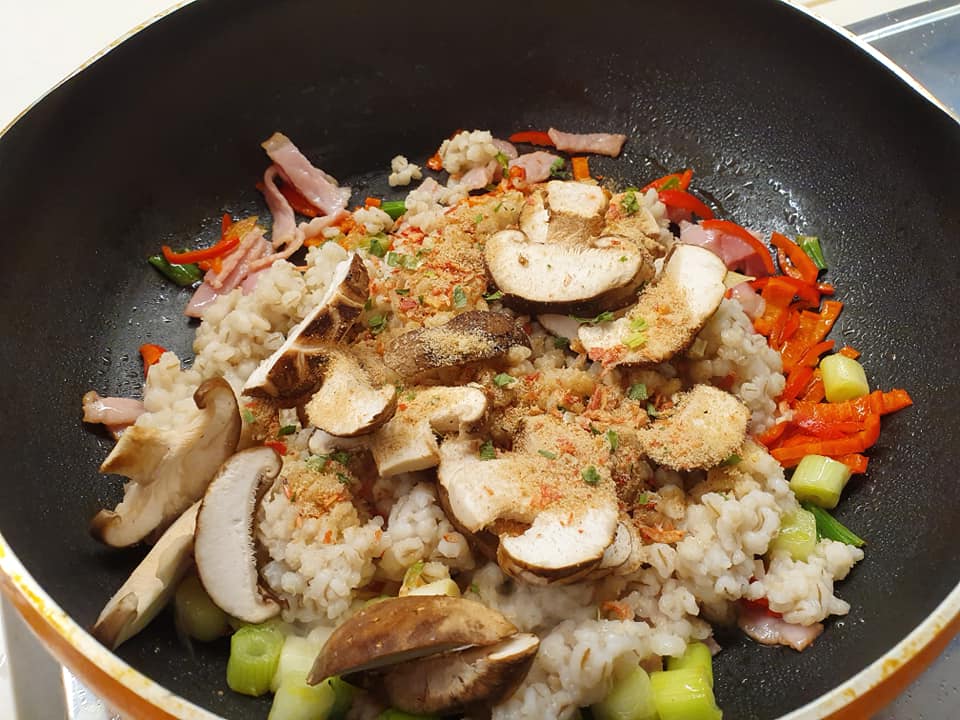 Then add in the boiled Barley Grains, 1 sachet Japanese "Cha-Han" seasoning granules and Shiitake Mushrooms. Mix well and cook till Barley Grains are heated up. Lastly off the fire and add in green part of Spring Onion to toss well.

Ready to serve with boiled Sausages and some pickled Carrot which I made.


If you like my recipe, Please help to share out on your Facebook. Do explore this Blog@CatherinaHosoi.com for more ideas and interesting recipes.
Please subscribe to my BLOG www.CatherinaHosoi.com and get inspired to follow my Healthy Lifestyle and read all the Eat Happy Live Healthy健康愉食(EHLH) recipes that I created. Please also share out to your friends.
#MySpecialFriedBarletGrainsInsteadOfRice  
#EatHappyLiveHealthy健康愉食
#EHLH
#CatherinaHosoiLifestyle
#CreatorNRoleModelOfEHLH   
#CulinaryHobbyClass   
#RecipesDevelopmentConsultancy