In times of Covid 19, we prefer to stay at home and cook more often. No hoarding of food at home though. Decided to cook Salmon Flakes, Long Beans Rice Pilaf today.
When I went to Japanese Restaurant for lunch 2 days ago I bought along my tupperware and packed the unfinished Rice home and kept in my freezer. Yes, it will be a waste to throw away the unfinished. I can always remake the rice into a yummy dish. I am now sharing with you how I do it. This is a Salmon Flakes, Long Beans Rice Pilaf.
Preparation:
I use the one portion of Japanese Cooked Short Grain Rice (which I packed home from Japanese Restaurant), 1 tsp chopped Garlic, 5 Long Beans (also known as Yard Beans) cut to 1cm length, 3 TBS Japanese Store bought glass bottled Salmon Flakes, a little Knorr brand Aromat Powder, 1 TBS Oil and a little Fukujin Tsuke, (Japanese redish made from pickled Daikon, Cucumber, lotus root etc).
Cooking:
Heat up Oil, saute garlic till fragrant. Add in Long Beans and saute till cooked.
Add in Rice and some Aromat Powder, toss well..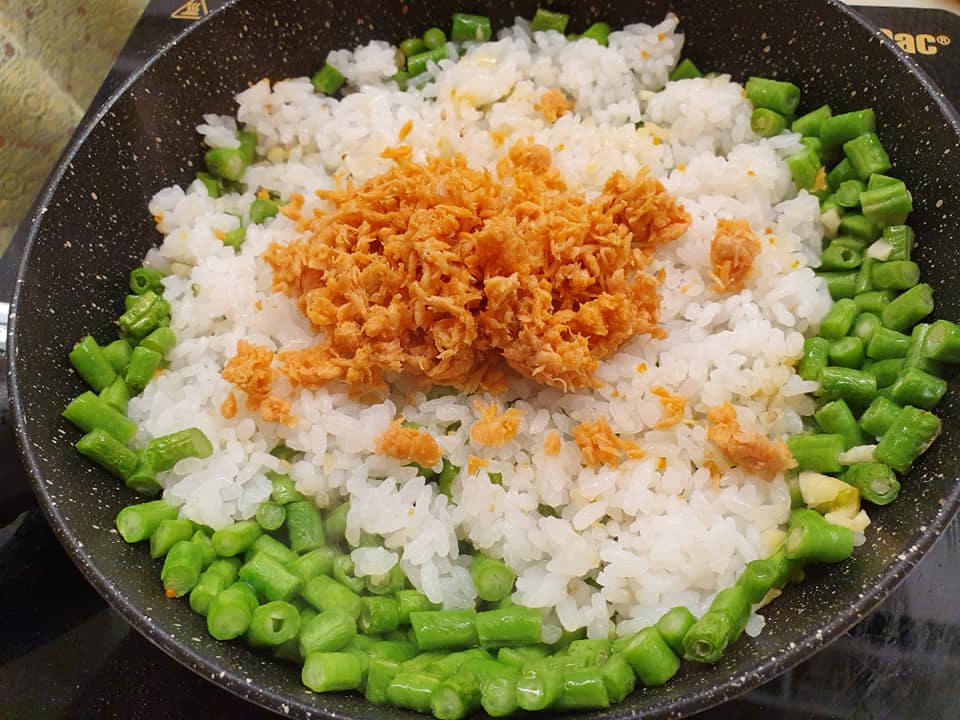 Finally add in Salmon Flakes to toss and heat through. No salt needed as the Salmon Flakes are salty and flavourful enough.
Serve Salmon Flakes, Long Beans Rice Pilaf with the Red Fukujin Tsuke at the side. My Samurai enjoys this Pilaf. Do follow the step by step photos above with caption. I hope you will cook this dish in your kitchen some days. Get the ingredients from online shopping if you cant get them easily from your nearby stores. Eat Happy Live Healthy EHLH.
If you like my recipe, Please help to share out on your Facebook. Do explore this Blog@CatherinaHosoi.com for more ideas and interesting recipes.
Please subscribe to my BLOG@catherinahosoi.com and get inspired to follow my Healthy Lifestyle and read all the Eat Happy Live Healthy 健康愉食(EHLH) recipes that I created.
#RemakePilafFromRemainingPackedRice
#EatHappyLiveHealthy健康愉食
#EHLH
#CatherinaHosoiLifestyle
#CreatorNRoleModelOfEHLH
#CulinaryHobbyClass #RecipesDevelopmentLifestyle