Blessed Thursday from my kitchen in Singapore. We choose to stay at home most of the time during this crisis of Covid-19 Pandemic. Everyday I follow the concept Eat Happy Live Healthy EHLH 健康愉食 which I created and share here to inspire all.
Today I cooked Pig Trotter Konbu Soya Bean Soup and pair it with 3 Kinds Rice (Brown Rice, RiceBerries & Japanese Short Grain Rice) which I sprinkled with Silver Baits heated up in microwave. (Shirauo in Japanese, rich in Calcium). I used Pig Trotter (or you can use any Pork Bone, Spare Ribs to substitute), Konbu (Sea Kelp), Soya Beans Soup .
Preparation: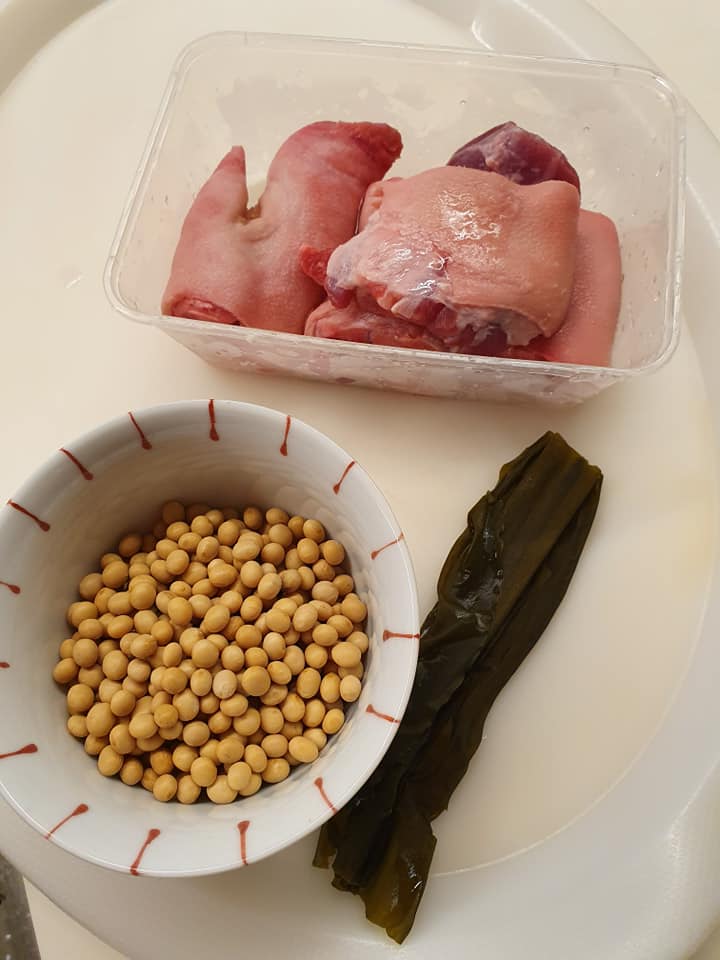 I have 300g Pig Trotter, 1 strip of Sea Kelp (Konbu in Japanese) 5 inches long and 1/2 cup Soya Beans.
Cooking:
Fill these into a pressure cooker with 8 cups Water and pressure cook for 50 mins. Release pressure and open lid. Add in Himalayan Pink Salt to taste. Skim away the fats and serve hot.
I pair my Pig Trotter Konbu Soya Bean Soup with 3 Kinds Rice (Brown Rice, RiceBerries & Japanese Short Grain Rice) sprinkled with Silver Baits
#EatHappyLiveHealthy健康愉食
#EHLH
#CatherinaHosoiLifestyle
#CreatorNRoleModelOfEHLH
#CulinaryHobbyClass
#RecipesDevelopmentConsultancy