Smart Cooking for Busy People by CATherina Hosoi. I called this One Pot Flavourful Rice.
Preparation:
Ingredients for 5 servings:
(A): Rinse 1 1/2 cups rice in a colander. Leave aside for 15mins to drain dry. Fill electric rice cooker with 1 1/4 cups water, add 1/2 tsp salt and stir to dissolve. Place the drained rice in. Grate 1 carrot and spread over the uncooked rice.
(B): Deseed 2 Red Chillies and cut to short pieces. Cut few leaves of Cabbage to bite sized. Cut 1 Leek to round pieces. Remove heads and black veins from 15 Prawns, season with 1/2 tsp Salt and a dash of Pepper.
Cooking:
Heat up 1/2 TBS oil in a non stick fry pan. Saute Leek and Red Chillies till fragrant. Add in Cabbage, 1 tsp Chicken Granule and toss well. Open a hole in the centre of the veggies and heat up d prawns till colour changes. Add in 2 TBS Hua Teow Wine and toss well. Off fire.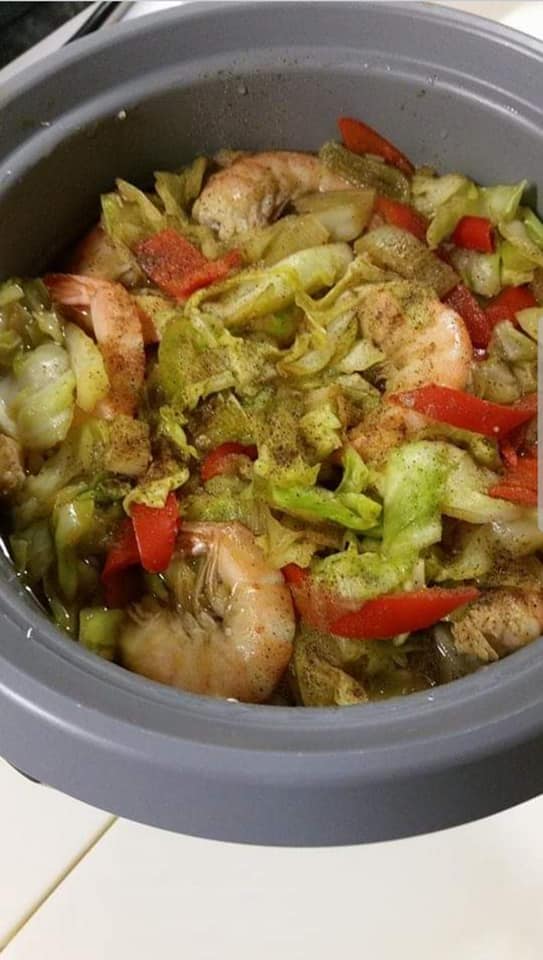 (C): transfer (B) Veggies and Prawns and place on top of the uncooked Carrot layer in the rice cooker.

Now turn on the switch of the rice cooker to cook the rice till done.
Before serving, toss the rice in the rice cooker with a pair of chopsticks and sprinkle a little pepper over.

Serve the rice in a nice serving bowl and arrange the prawns nicely on top.

Enjoy eating. If you like this dish please share this recipe with your friends.
Check my other recipes from my Blog@ CatherinaHosoi.com
If you like my recipe, Please help to share out on your Facebook. Do explore this Blog@CatherinaHosoi.com for more ideas and interesting recipes.
Please subscribe to my BLOG@catherinahosoi.com and get inspired to follow my Healthy Lifestyle and read all the Eat Happy Live Healthy 健康愉食(EHLH) recipes that I created.
#EatHappyLiveHealthy健康愉食
#EHLH
#CatherinaHosoiLifestyle
#CreatorNRoleModelOfEHLH
#CulinaryHobbyClass
#RecipesDevelopmentLifestyle