Raining day. Best to cook Noodle or make a Japanese Ojiya (Rice with savoury broth) at home. I first make a Bacon & Prawn side dish. For one recipe, I pair with Noodle in soup. For the other recipe, I made a Japanese Ojiya.
To make the side dish: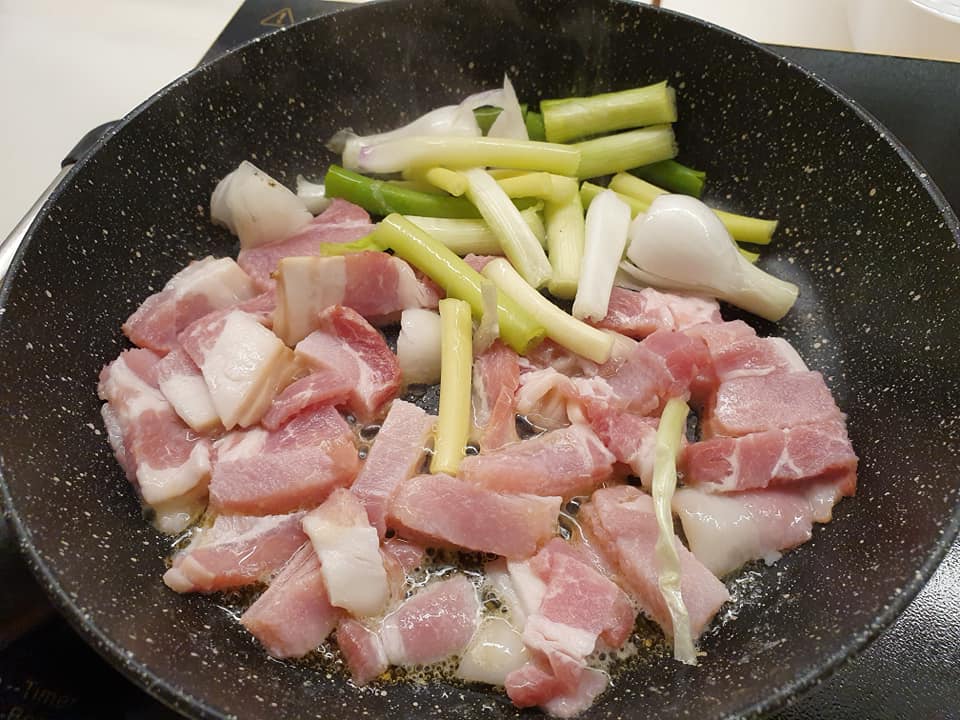 First part of this Side Dish:

I first cut 3 slices Back Bacon to finger width and slice to shorter piece. Next, I cut Spring Onion to short length.

Than I saute the Spring Onion and Bacon in 1 TBS Butter till Bacon released the nice aroma and the Spring Onions are cooked. Dish out for later use.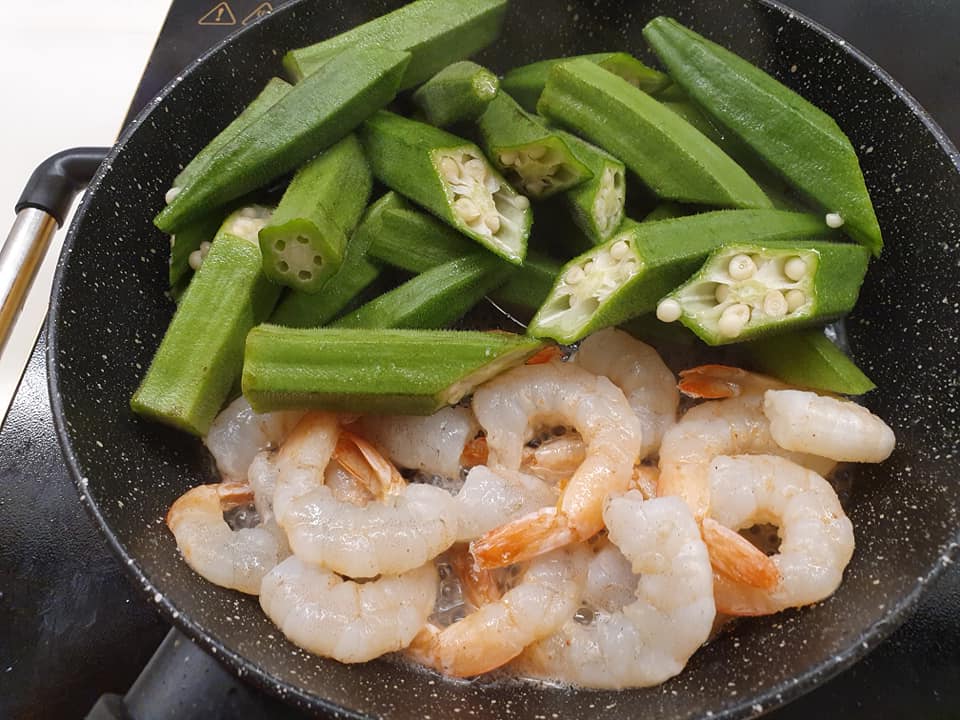 For the 2nd part of this side dish:

Season 200 g Shrimps with 1/2 tsp Salt, 1/2 tsp Sugar and a few dashes of Pepper. Cut 10 Okras (Ladies Finger) by removing the ends and cut diagonally to shorter length.

Using the same non stick Fry pan (after cooking part 1) without any oil just heat up Shrimps and Okra, cover with lid till completely cooked.

Dish out for later use.

You can combine Part 1 and Part 2 to make a simple side dish by itself, or serve as Topping for Soup Noodle OR turn it into a Japanese Ojiya.

Style 1: Soup Noodle
For cooking 1 packet of MYOJO Brand Prawn Tanmen, bring 1 1/2 cup water to boil with Noodle and the small pack of seasoning together for 2 mins to cook till al dente.

Transfer to a serving bowl, topped with the cooked Bacon & Spring Onion, Shrimps and Okra. Serve immediately
Style 2: Japanese Ojiya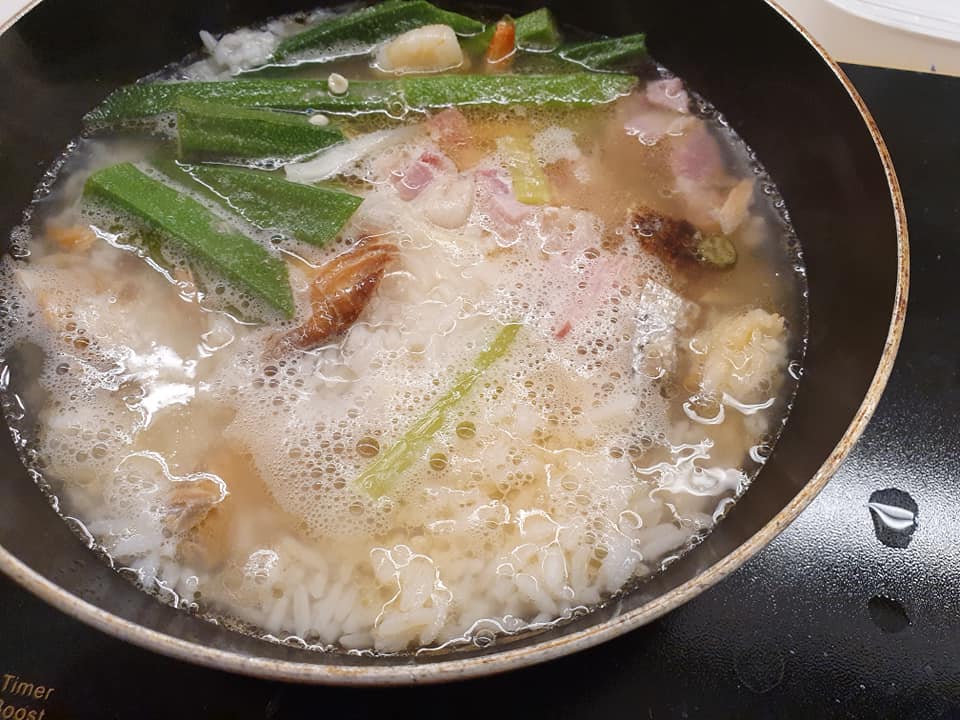 For cooking the Japanese Ojiya, bring 1 1/2 cups water to boil with 1 cup cooked remainder rice (which I kept in the fridge), put in the cooked Bacon and Spring Onion, Shrimps and Okra and tear in 1 sheet of Nori (seaweed)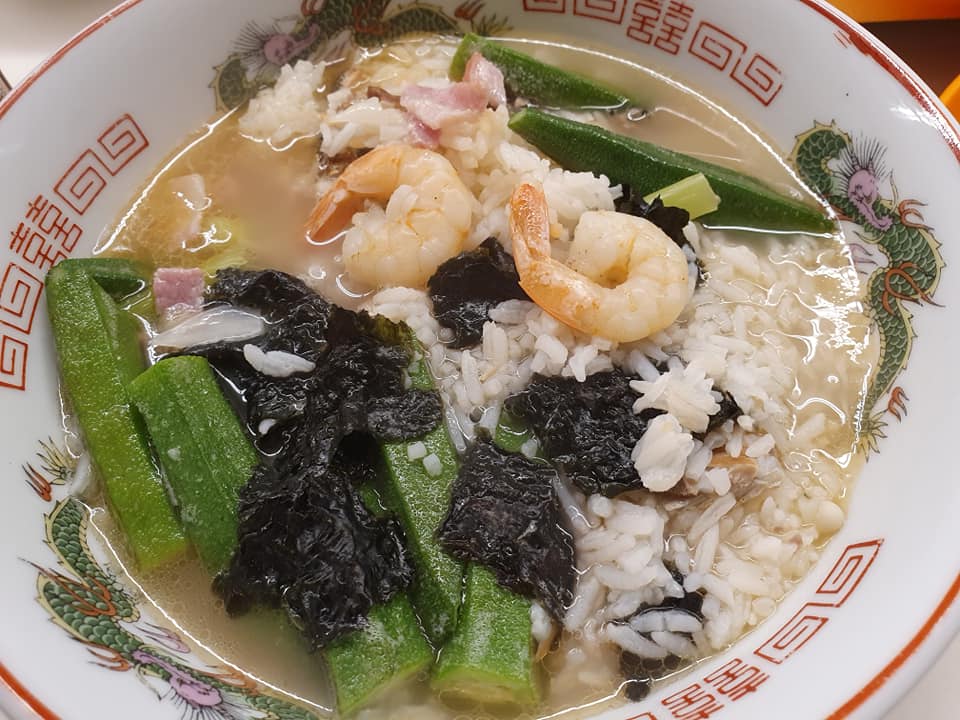 Once boiling, off heat and serve immediately.

A quick meal I prepared for my loved one using one side dish to make two different dish.
Do explore this Blog@CatherinaHosoi.com for more ideas and interesting recipes.
Please subscribe to my BLOG@catherinahosoi.com and get inspired to follow my Healthy Lifestyle and read all the Eat Happy Live Healthy 健康愉食(EHLH) recipes that I created.
#EatHappyLiveHealthy健康愉食
#EHLH
#CatherinaHosoiLifestyle
#CreatorNRoleModeOfEHLH
#CulinaryHobbyClass
#RecipesDevelopmentConsultancy