I love Fish Maw! Using my secret formula's GEISHA CAT'S SPECIAL GINGER SAUCE I cooked Fish Maw, Potatoes with Sweet Peas flavoured with Oyster Sauce. Here is how I did it:
Preparation:
First soak and soften 200g Dried Fish Maw in hot boiling water. When water becomes cool, have a few rinse and squeeze out water. Then use scissors to cut Fish Maws to finger width strips.

Remove skin from 6 big potatoes and slice to thick rounds. Remove seeds from 2 Red Chillies and cut to smaller pieces. Remove strings from a packet of Sweet Peas.
For seasoning, I am using GEISHA CAT'S GINGER SAUCE, Oyster Sauce, Hua Teow Wine and some Sugar.
Cooking: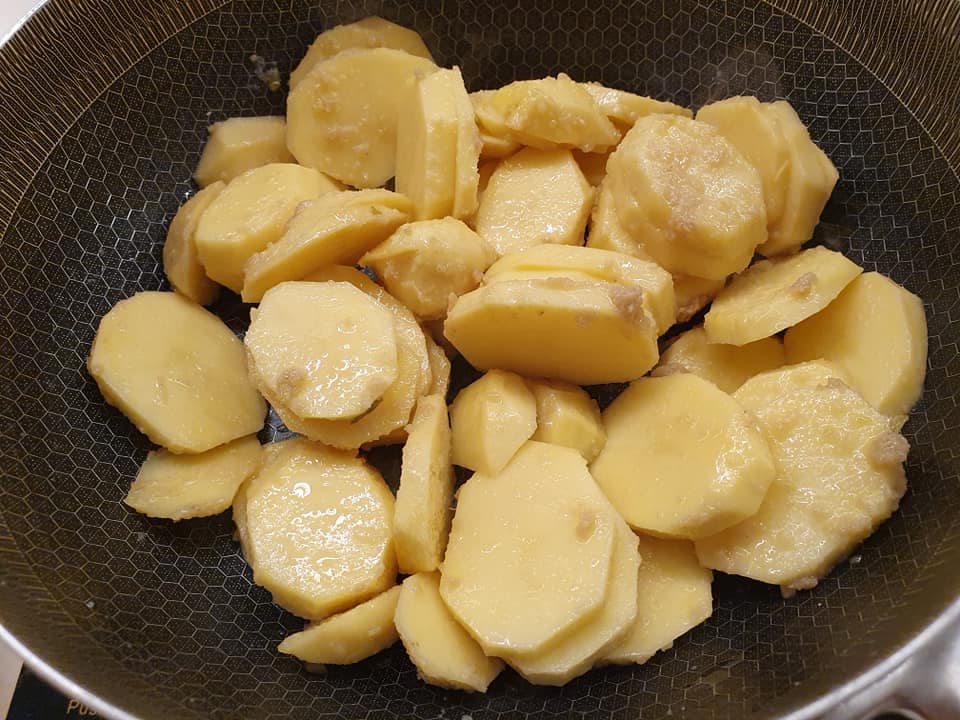 In a non stick fry pan heat up 2 TBS Oil with 1 TBS GEISHA CAT'S GINGER SAUCE. Drop in Potatoes to saute and toss well.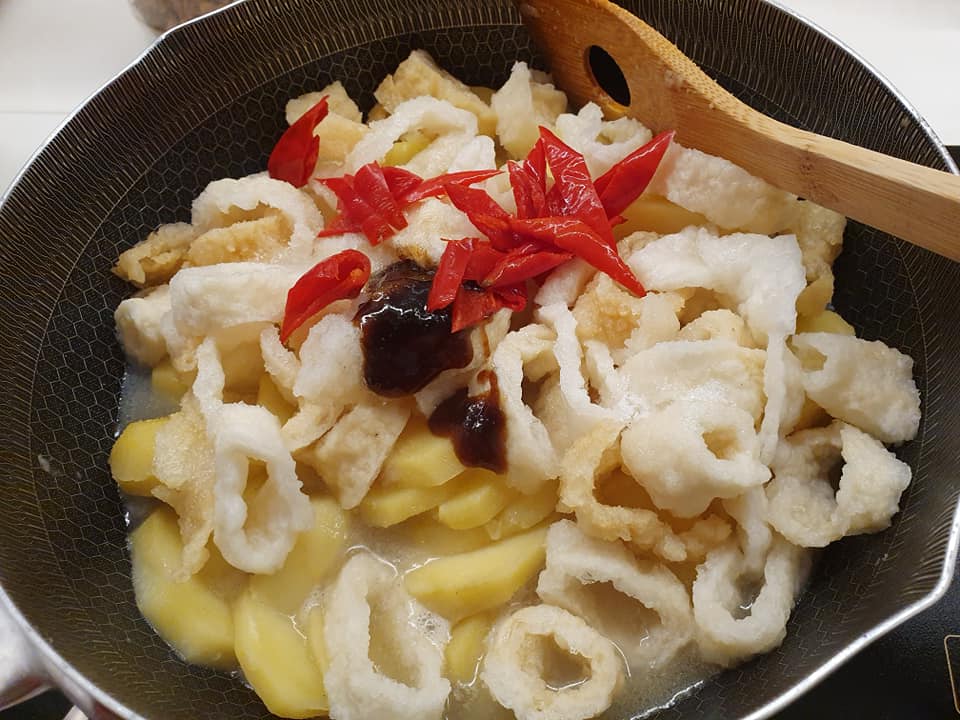 Drop in Fish Maws and Red Chillies. Add in 300ml water, cover with lid and cook till Potatoes are 90% cooked and liquid nearly dried up.
Open lid and add in 1 TBS Oyster Sauce, 1 TBS Hua Teow Wine and 1 tsp Sugar, toss well. Lastly add in Sweet Peas to heat through.
Off fire and ready to serve. Arrange nicely on a big serving plate. Notice I did not add in Salt as my Ginger Paste is salty.
My Samurai loves this dish and we are not serving with rice as there is enough carbo from the Potatoes.
Check my other recipes in my Blog@CatherinaHosoi.com
If you like my recipe, Please help to share out on your Facebook. Do explore this Blog@CatherinaHosoi.com for more ideas and interesting recipes.
Please subscribe to my BLOG www.CatherinaHosoi.com and get inspired to follow my Healthy Lifestyle and read all the Eat Happy Live Healthy健康愉食(EHLH) recipes that I created. Please also share out to your friends.
#EatHappyLiveHealthy健康愉食
#EHLH
#CatherinaHosoiLifestyle
#CreatorNLiveModelOfEHLH
#CulinaryHobbyClass
#RecipesDevelopmentConsultancy