Blessed Tuesday to all readers. From my kitchen in Singapore I am sharing how to cook this Claypot Barley "Porridge" with Leek, Corn, Silver Baits (Shirauo in Japanese) in Salmon Broth, using Salmon bones, Ginger and White part of Spring Onion. Good cooking needs passion and patience!
Salmon Broth
First I marinate 200g Salmon bones with 1 tsp Salt, 1 tsp Sugar, a few dashes of Pepper and 3 TBS Hua Teow Wine. Than I cut 1 thumb sized Ginger to slices and cut the white stems from 8 stalks of Spring Onion.
Heat up 1 tsp Sunflower Oil and 1 tsp Sesame Oil in a non stick pan. Drop in Ginger to fragrant in oil for 2 mins, add in White part of Spring Onion to saute for 1 min, then add in Salmon bones to fry till both sides are cooked .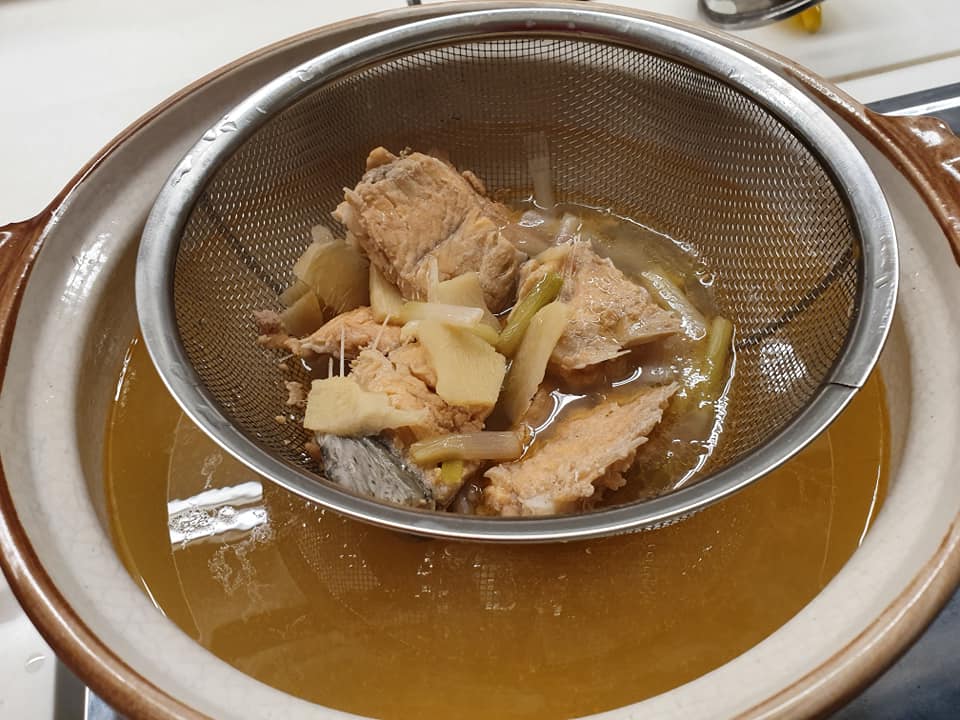 Pour in 1,000ml Water, cover with lid and bring to a boil rapidly. Turn heat to medium and continue boiling for 25 mins. Off heat and strain the Salmon broth. Salmon Broth is ready.
Barley "Porridge"
First, I cut 1 Leek to rounds, shave Corn Kernels from 2 Sweet corns, rinse 3 TBS Dried Silver Baits and cut 8 stalks of Green Spring Onion finely (the white part was used for the salmon broth). Get ready 2 rice bowls of Barley Grains from the chiller which I saved from boiling Barley drink a few days ago.
Next I transfer Salmon Broth into a Claypot and turn on the heat. First I drop in Leek to boil in the broth till fragrance released.
Secondly, Add in Barley grains and Corn Kernels to boil for 5 mins.
Lastly, add in Silver Baits and Green Spring Onion just heat through and off heat. As the Dried Silver Baits are salty, there is no need to add in salt anymore to the Barley "Porridge".
Serve this Claypot Barley "Porridge with Salmon Broth piping hot. A very nutritious dish is ready. Very yummy.
#EatHappyLiveHealthy健康愉食
#EHLH
#CatherinaHosoiLifestyle
#CreatorNRoleModelOfEHLH
#CulinaryHobbyClass
#RecipesDevelopmentConsultancy