Bak Kut Teh again I cooked for my loved ones. This time instead of using herbal pack, I am using herbs which I bought from Medical Hall which some of my reader requested.
Preparation: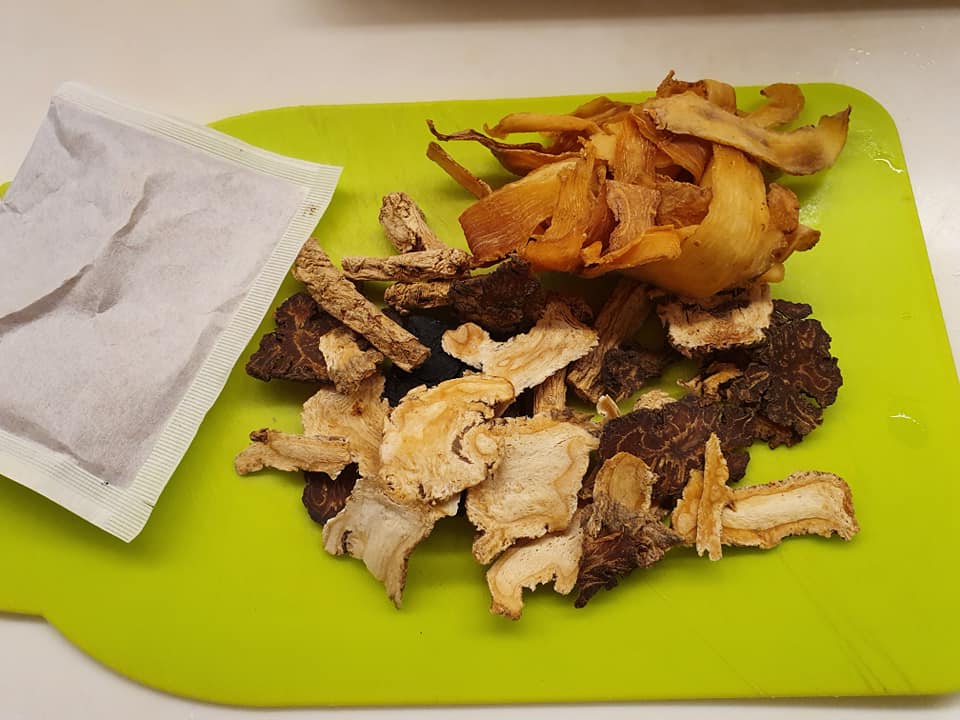 Please refer to the image above for the herbs prescription. Also instead of using Pork Ribs to boil the soup, I made my own meat balls.

This is how I make my meatballs: I used 500g minced Pork which I seasoned with 1 TBS Salt, 1 tsp Sugar, a few dashes of Pepper, 2 TBS Hua Teow Wine花雕酒,3 TBS finely ground Oatmeal and 1 TBS Cornstarch.

Mix condiments with Pork well. Use a spoon to scoop the minced meat to form little meat balls.
Other ingredients for this soup: a handful of dried Soya Sticks, 10 Red Dates without seeds and 20 pips Garlic.

Cooking:
First, I first boil 10 cups of water in a big pot to a rapid boil, then add in a handful of dried Soya Sticks, 10 Red Dates without seeds, 20 pips Garlic and the herbs. Bring them to a quick boil, add in Homemade meat balls to cook.
After boiling for 5 mins, turn heat to low and simmer for 1 hour. Towards the end of cooking add in Himalayan Pink Salt to taste.

We serve this Bak Kut Teh with Homemade Meatballs with toasted You Tiow油条and pair up with a plate of Baby Chye Sim小菜心. I blanched the veggies with salt added in hot boiling water, drained and drizzle some *MIZKAN brand Sesame Sauce over. A very satisfying meal.
#EatHappyLiveHealthy健康愉食
#EHLH
#CatherinaHosoiLifestyle
#CreatorNRoleModelOfEHLH
#CulinaryHobbyClass
#RecipesDevelopmentConsultancy